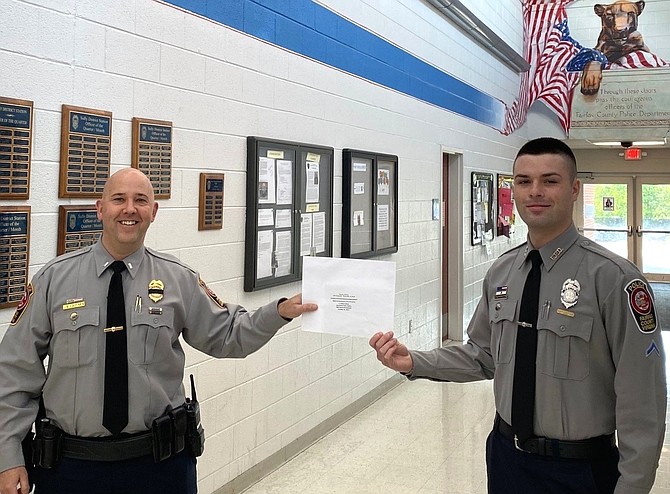 It's pretty special for a police officer to be selected as his station's Officer of the Quarter. And in PFC Thomas Rubinstein's case, he's received this honor twice – once in fall 2018, and recently, when he was named the Sully District Police Station's Officer of the Quarter for the first quarter of 2020.
He was nominated by Lt. James Glassman Jr., who praised Rubinstein's work ethic. Glassman described him as "a diligent, hardworking officer who's a three-year veteran of the Fairfax County Police Department and the Sully District Station. He frequently focuses his time on proactive enforcement efforts to keep the community safe by patrolling neighborhoods and catching crime as it happens.
"PFC Rubinstein's attention to detail, hard work, dedication and proactive enforcement efforts are an example of outstanding police work which continues to keep the Sully and Fairfax County communities safe."
—Lt. James Glassman Jr.
"His dedication to this goal is unwavering," continued Glassman. "In the first quarter of 2020, Rubinstein made 18 criminal arrests, 10 of which were for drug- related offenses. One significant case he worked occurred on Jan. 14. While on routine patrol, he observed a car running without lights. It was parked on a service road and occupied by two men."
Curious about it, Rubinstein parked his cruiser nearby and approached the car to speak to the occupants who, wrote Glassman, "appeared very nervous. Rubinstein immediately recognized the smell of marijuana coming from the vehicle. He knew instantly from his training and experience that these individuals were engaging in the use or sale of illegal drugs."
He then searched the vehicle and found five large plastic bags containing a total of 2 pounds of marijuana; a digital scale; brass knuckles; plastic bags used for drug-packaging and distribution; and various smoking devices. As a result, Rubinstein arrested the men and charged each of them with three counts of felony possession of marijuana with the intent to distribute, plus one count of carrying a concealed weapon.
The young officer's work did not go unnoticed; and eventually, Glassman nominated him for the station's Officer of the Quarter. Said Glassman: "PFC Rubinstein's attention to detail, hard work, dedication and proactive enforcement efforts are an example of outstanding police work which continues to keep the Sully and Fairfax County communities safe."