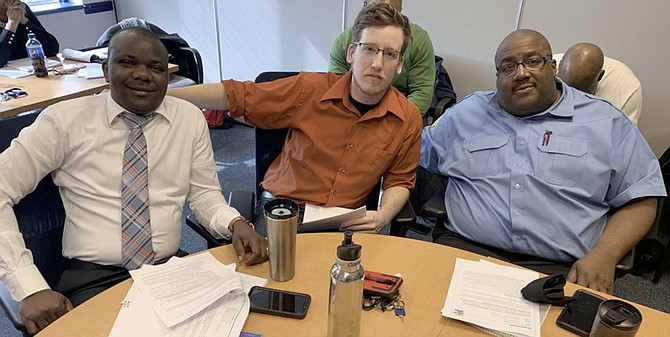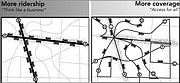 The month of February showcased a host of initiatives and challenges for DASH, Alexandria's publicly funded bus system, as it rolls into 2019 and beyond.
DASH, which moves 4 million riders over 1.7 million road-miles per year, plans to overhaul its routes and fleet, aiming to transition entirely from diesel to electric buses. DASH's owners — the City Council — received updates on these and other undertakings at an annual shareholder meeting on Feb. 12. At the same time, DASH's bus drivers, among the region's lowest paid, are focused on enhancing pay and benefits. The Amalgamated Transit Union, which drivers elected as their representative in November, began collective bargaining with DASH on Feb. 19.
REIMAGINED ROUTE NETWORK
DASH is deep into the community engagement portion of a two-year comprehensive redesign of its services, dubbed the Alexandria Transit Vision.
"It's essentially wiping the slate clean," DASH General Manager Josh Baker told council at the stockholders meeting. "If we were to decide what transit needed to look like today, what would it look like?" The question boils down to: "Would you prefer to walk farther [to a stop, but] have a bus come more often [the 'ridership model']? Or would you prefer to have a bus come closer to you less frequently [the 'coverage model']?" He says community input so far leans toward the former."
Council voiced no definite preference. Amy Jackson expressed concern that students and senior citizens might not be able to walk long distances to bus stop. Mayor Justin Wilson said the summer Metrorail maintenance shutdown — which DASH plans to mitigate by reinstating mothballed buses — presents an "opportunity" to try new methods "as experiments."
DASH hopes to retain a new base of customers from the surge of Metro orphans.
GREENER AND SMARTER TECH
Going green comprises a major pillar of DASH's future plans. DASH began purchasing "clean" diesel (lower emissions, eco-friendlier) buses in FY 2018. DASH is still spending down $18 million previously allocated for bus replacement, with another $21 million earmarked over the next decade, according to City Manager Marks Jinks' recent FY 2020 budget proposal.
Clean diesels are a stepping-stone to total electrification of the fleet and supporting infrastructure. This second transition aims to take place over the next 5-10 years, beginning as early as FY 2020, pending grant funding.
While electrification accords with the city's commitment to reduce greenhouse gas emissions, the cost is considerable and sources of funding remain uncertain.
"The cost of electric buses is double the cost of a clean diesel bus," said Jinks. Moreover, other municipal systems that have gone electric find "they can't use one electric bus and run the whole day. So they might need two buses … to cover a whole day, whereas they before had one. So you have a $2 million cost versus a half-million dollar cost."
DASH is currently proceeding on the "assumption" that electricity will be cheaper than diesel, pending a cost comparison study, said Baker.
Funding for electric buses is "to be determined" in Jinks' proposed budget. The state could provide much of the money. Baker thinks the state "very likely" will soon pay to replace six of DASH's oldest, dirtiest diesels with new electric busses, "as well as the infrastructure."
DASH will continue installing Pedestrian Collision Avoidance Systems, which alert drivers to pedestrians in blind spots. With the state picking up 96 percent of the price tag, DASH has already outfitted two buses, and plans to upgrade 17 more. Upgrading the whole fleet would occur through capital replacements, with the systems factory-installed.
LABOR UNREST
Chris Townsend, a union organizer, called fleet electrification "transit jewelry." He lamented that the shareholder meeting didn't address the "acrimony" leading to the drivers' unionization in the first place.
"DASH is second from the bottom [among six regional competitors] in starting pay rate, 20-year average rate, and 20-year earning potential," according to an October report from Baker. The 20-year earning potential for Metrobus and Fairfax Connector drivers exceeds that of DASH drivers by 28-31 percent. About two-thirds of DASH drivers "work overtime to make ends meet" and about a third work a second job, according to a union survey.
"We have families we have to support," said Didier Balagizi, a DASH driver and immigrant from Congo. He thinks DASH's priority should be to take care of its "family" first, before making heavy capital investments.
"We need to make ourselves a priority," said Tyler Boos, another DASH driver.
In its opening bid, using its collective bargaining agreement with Metro as a model, the union proposed bringing DASH pay and benefits in line with Metrobus. That would include, among other things, raising DASH drivers' wages, shortening their climb up the pay ladder, and converting their retirement plan from defined-contribution to defined-benefit.
Neither Balagizi and Boos felt the Feb. 19 collective bargaining opener, which both attended, went very well. They both worried that negotiations could drag on for more than a year, after which time their federally certified vote to unionize in November would expire.
While not the tensest meeting he's been party to, Townsend said things got "pretty red hot" at moments.
Baker was more upbeat, saying: "We are very pleased to start this process and look forward to positive outcomes in our future meetings. … It is too early in the process for any central points to become clear, however we remain fully committed to working together to establish a fair and balanced contract."
Funding pre-union pay reforms, now nullified pending a collective bargaining agreement, "was the board's top budget priority for FY 2020," said David Kaplan, DASH's board chair. "The [DASH] board is committed to doing all we can to ensure fair and equitable compensation for everyone who works to make DASH a vital part of our city and regional transit network."
With no new applicants, council unanimously re-appointed all nine board members.
For more, visit www.dashbus.com and www.alexandriava.gov/TES.