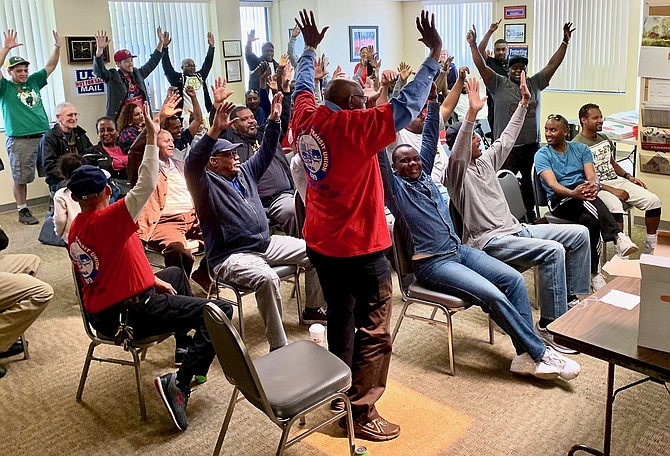 DASH bus drivers voted to authorize a possible strike at an Amalgamated Transit Union Local 689 meeting on Saturday, April 27.
The union hopes the threat of a strike, on the brink this summer's shutdown of Alexandria's four Metro stations, will work in the drivers' favor at the collective bargaining table.
"We're in a hell of a position," said DASH driver Alphonza "Big Al" Clements. "It's about us and our families. …We've got to exploit this opportunity for what it's worth."
"[Negotiations are] just not going anywhere, unless we make them," said DASH driver Tyler Boos.
The union and DASH management have been negotiating DASH pay and benefits, among other things, since February, following the drivers' vote to unionize in November. DASH offers lower pay and slower pay progression compared to several other regional bus systems, especially Metrobus. DASH drivers want their pay and benefits to mirror what Metro offers.
DASH offers starting pay of $17 per hour and top pay of $29, achievable after 20 years of employment. Metrobus offers starting pay of $19.68 and top pay of $32.80, achievable after seven years (some union literature incorrectly states five years). Those figures will rise to $20.28 and $33.79, effective Jan. 1, 2020. That's according to wage increase factors stipulated by an arbitration board last summer, applied to base wages in Local 689 and Metro's previous collective bargaining agreement, which expired in 2016. An updated agreement incorporating the arbitrator's stipulated awards is currently "in the final stages of approval" an expected in a matter of weeks, according to Metro spokesperson Ian Jannetta.
"Out of the 130 operators there are 98 who are at or less than $21.51," said union organizer Chris Townsend.
For comparison, according to the city government's Office of Housing: An average one-bedroom apartment in Alexandria requires $32.84 per hour, assuming rent is kept at 30 percent of gross income, a common rule of thumb for household budgeting. Though 73 percent of low- to moderate-income households spend more than that proportion, "at the expense of healthcare, education, daycare and savings."
"Right now you don't get anything guaranteed to you [for retirement]," union organizer John Ertl told DASH drivers Saturday. "Unless you're able to put away your wages. … [But] who's able to save out of 17 bucks an hour when rent is what it is? Groceries, the price of gas, the price of everything is up in this area."
Marvin Falwell, who's driven for DASH for 34 years, says he and his wife haven't been able to save sufficiently for retirement. They financially assist their two daughters, "because this is a hard world for women. … They have kids to take care of," he said.
Falwell worked two jobs for seven years, "until my body said: stop," due to the long hours. He says some younger DASH drivers work two jobs to make ends meet.
For retirement, as for wages, the union wants DASH to offer parity with Metrobus.
DASH currently offers a defined contribution plan, including employer matching up to a maximum of five percent. But DASH makes no baseline contribution: if an employee contributes zero, DASH contributes zero.
Of DASH employees, 62 percent contribute some amount to their 401(k) plans, and 40 percent contribute more than four percent, according to DASH General Manager Josh Baker in February.
Metrobus offers a defined benefit plan, to which employees contribute three percent of their wages and the employer contributes 14.6 percent of its payroll, according to union financial officer Esker Bilger. Metrobus retirees then collect pension allowances for life.
The union wants DASH not to switch to a defined benefit pension, but rather to contribute a comparable 14.6 percent of each employee's wages to his/her 401(k). The employer contribution would constitute a retirement savings floor, even if the employee contributed nothing.
DASH negotiators counter-proposed contributing two percent of wages, according to Ertl.
The union thinks another $2.8 million to DASH from the city government would achieve the wage-and-benefit parity they seek, according to statements at a recent budget public hearing. Baker estimates the added cost to the city would come closer to $4 million, according to an April 29 memo.
"It has become evident that a deadline has been set by the Union to finalize a contract prior to the summer Alexandria Platform Improvement Project. While we too would like to see this, we cannot rush a complex process such as this," said Baker. "We must hold strong in our resolve to move forward working in good faith to reach a collective bargaining agreement, without being pressured by artificial deadlines."
Baker declined to comment on contract proposal specifics. The city administration did not respond to a request for comment.