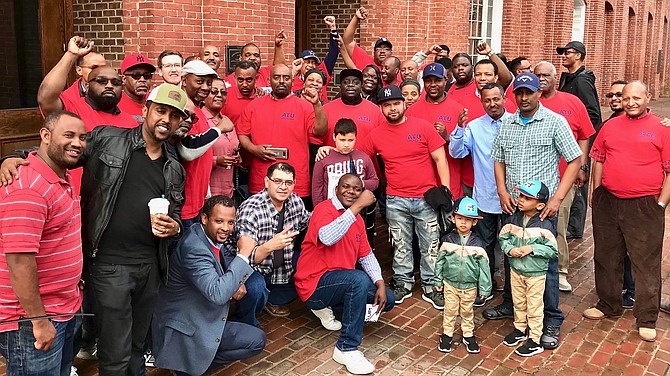 Continuing recent organizing efforts, bus drivers and school custodians asked City Council to allocate more money in Alexandria's budget at a public hearing on Saturday, April 13.
Though council has known of the drivers and custodians' situations, the groups' specific budget requests came too late. Council's deadline to propose additions and deletions to City Manager Mark Jinks' budget was Friday, April 12. Extra funds explicitly for DASH and custodians didn't make the final 15 "add/delete" proposals [see page 4], on which council will vote next month. A proposed addition of $100,000 to the schools' allocation could potentially go toward maintaining some custodial positions, if the School Board were to decide to use the money that way.
DASH DRIVERS PUSH FOR PAY RAISE
In search of better pay and benefits, drivers for DASH, Alexandria's largely city-funded bus system, unionized under the Amalgamated Transit Union in November. They and DASH management have been trying to hammer out a collective bargaining agreement since February.
"DASH operators are the lowest-paid fixed route operators in the region," according to union literature. "[They] are paid between $3 to $10 per hour less than their peers at the Fairfax Connector, the DC Circulator, the Loudoun County Connector and at WMATA Metrobus. They have a 20-year wage progression. …[Others] in the region reach top pay after only 5-8 years."
The union reckons an additional $2.8 million from the city would bring DASH wages and benefits up to par.
To petition council for that amount in the FY 2020 budget, more than 30 drivers and others attended Saturday's hearing.
Illustrating a theme of respect, recurrent throughout the public testimonies, Marvin Falwell, a 34-year veteran DASH driver, said: "I get more respect out on the street than I do at DASH. …City hall needs to appreciate the drivers. It's not an easy job; it's getting harder every day."
Arthur Wright, a 19-year DASH veteran, said: "It's not easy operating that bus. And then you get off the bus at the end of the day and you realize that you don't even have enough money. I have to work extra days just to pay my rent…. It wears on you. My wife's sick. I'm tired of working all these hours."
Didier Balagizi, a DASH driver from Congo, said: "I have brothers and sisters back there, and also here I have a family to support. It is hard. Do you want me to drive eight hours, ten hours, and then after work I'm going to go drive for Uber for another eight hours? …Is that safe? It is not."
Alphonza "Big Al" Clements, a DASH driver, said: "The sign of a good employer is [not having] a high turnover rate."
But, according to Everett Warren: "When I started with DASH, we had 18 people in my class. …There's only four left. The other 14 started and went to a better-paying job."
The union also wants an investigatigation into what they deem a pattern of DASH hiring anti-union consultants. And they want two DASH drivers, whom they think DASH unfairly terminated, reinstated.
"We have been pleased with our [collective bargaining] progress thus far," said DASH General Manager Josh Baker.
Union organizer Chris Townsend takes a less optimistic tone, saying that, without more progress to the union's satisfaction, drivers will take a strike authorization vote on Saturday, April 27.
"I think the city owes it to give you a proper compensation," said Councilman Mohamed "Mo" Seifeldein. He called on DASH to make bargaining headway before the summer Metro shutdown.
The Alexandria Democratic Committee Labor Caucus also expressed support for the drivers' efforts, including toward "a fair wage and benefit package," according to the caucus' co-chairs Russ Davis and Sean Casey.
SCHOOL CUSTODIANS RESIST PRIVATIZATION
Hoping to preserve their jobs against privatization, school custodians asked council to appropriate additional money to the School Board.
In 2007 the School Board agreed to privatize janitorial services through attrition — voluntary job changes, retirement — of school-employed custodians. However, this year, Superintendent Dr. Gregory Hutchings proposed cutting the process short, laying off some 30 remaining custodians in one fell swoop. Though he's said he aims to improve cleaning efficiency and not to cut costs, the transition would save the schools about $900,000, according to an earlier estimate from the schools' administration.
Dawn Lucas of the Education Association of Alexandria, an employee representation organization, told council on Saturday: "Our custodians are hard working and dependable employees. …[They] should not be penalized because [the school system] did not develop and follow an attrition plan. …While I understand the City Council does not have line item authority in the [schools'] budget, several School Board members have expressed a desire to keep the custodial positions if funding were made available. …They deserve to be treated with dignity and respect."
Jamar Hines, a custodian, who testified before council with his son at his side, said: "I show my children that hard work will always keep you on the right path. We work hard. We were told that if you work hard, you can continue your job. That promise has been broken now. …[A job fair facilitated by the school system] was kind of disrespectful. …They didn't have a plan for our attrition, and they don't have a plan for our future."
Sharena Hollins, a 17-year veteran school custodian, said losing her healthcare benefits would hamper her daughter's medical treatments.
"When all of you ran for office, all of you here told us you care for the citizens, the children, the community, and now you have a chance to show us," she said. "Put your words into action and please add funds…so we all can keep our jobs."
The Alexandria Democratic Committee also passed a resolution in favor of existing custodians retaining their positions.