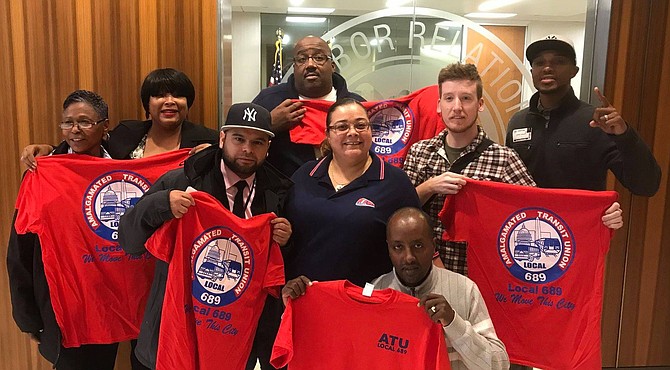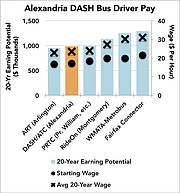 The Amalgamated Transit Union, representing local DASH bus drivers, will begin collective bargaining negotiations next week, on the heels of a successful unionization effort in November.
DASH drivers voted overwhelmingly to unionize — 97 in favor, 13 against, 21 abstentions — in a Nov. 15 election overseen by the National Labor Relations Board. They'll fold into ATU Local 689, which represents transit workers, including Metro employees, throughout the region. Local 689 in turn affiliates with the Amalgamated Transit Union, which covers the U.S. and Canada.
The union and DASH management will begin collective bargaining negotiations on Tuesday, Feb. 19. DASH General Manager Josh Baker thinks the process could take most of a year.
Negotiations come in the wake of several points of contention last fall between drivers, the union, and DASH management.
PAY AND BENEFITS
DASH pay is "lower" and "slower" than other regional bus systems, said Tyler Boos, a DASH driver. DASH drivers' top pay grade, which takes 20 years to reach, is $29 per hour. That compares to $34 and 5 years with WMATA Metrobus, and $32 and 5 years with Fairfax Connector, according to Chris Townsend, a union organizer.
"Unfortunately, we are simply not yet in a stable enough fiscal position" to raise and shorten the pay scale, DASH General Manager Josh Baker told employees in an all-hands Aug. 30 memo. In October, he proposed increasing wage rates by a dollar and halving the time to reach the top pay grade, beginning in FY 2020. The proposal is now tabled, pending a collective bargaining agreement.
"Since the day I got here [about two years ago], pay has been one of the main items of discussion, and it has been a priority of mine," Baker said. "We started working on it, but it's unrealistic to be able to do something in that period of time." He also cited budget constraints, saying, "The pie is so big, what we can do is only so much. How we slice that up, I'm happy to look at different ways. But ultimately the pie is the pie."
DASH receives about three-quarters of its operating revenues from the city government, the rest from passenger fares other other sources.
The union also wants a more generous retirement plan for drivers, who don't get a city pension.
DASH isn't technically a city operation, but is a nonprofit transit company. Though City Council owns all the company's stock, elects its board of directors, and allocates city money to it, the company is a separate, independent entity. DASH in turn contracts its workforce, including drivers, through Transit Management of Alexandria, a sub-corporation owned by First Transit, a firm.
The city's decision to organize DASH this way "had nothing to do with [avoiding] pension liability," said city spokesperson Craig Fifer. The main reason is that "nationwide contractors like First Transit maintain significant resources that are more efficient at economies of scale."
Under its 401(k) plan, DASH matches employees' retirement contributions dollar-for-dollar up to 4 percent, and 25 cents per dollar up thereafter up to 5 percent. DASH can also approve a discretionary supplemental contribution up to 2 percent, contingent on available budget.
According to Baker, 40 percent of DASH employees contribute more than 4 percent of their pay to their 401(k) plans, 19 percent of employees contribute 2-4 percent, and 3 percent of employees contribute less than 2 percent — a 62 percent overall participation rate.
Some drivers say that low pay prevents their taking advantage of the full employer match.
For example, Boos contributes one percent. He says he "had hoped to increase it each year but found my yearly raises only keep up with rising bills." He prefers not to put other savings in his retirement account "because that money is too hard/costly to access and I sometimes need it because I'm largely paycheck to paycheck."
PERCEIVED RETALIATION
A second point of contention is the firing of Latonya Robinson, a DASH driver, in January. The union believes DASH fired her over trumped infractions, in retaliation for her relatively prominent pro-union activism, and thinks she should get her job back.
Robinson was fired on Jan. 4 for infractions on Dec. 5. Infractions included "insubordinate behavior ["foul language" directed at a supervisor] and violation of the zero-tolerance electronic device [cell phone] policy," according to her termination letter.
According to Robinson: While standing outside her bus during a layover between runs, she argued on the phone with a dispatcher about her bus' positioning relative to another bus at her location. Her bus was parked, without passengers, idling to keep warm. She re-entered her bus upset from the phone call she'd just had, plus other mounting tensions, and took out her phone to call the dispatcher back. But she changed her mind and put her phone away before making the call. She didn't follow the dispatcher's instruction to reposition her bus because the other bus had already pulled away, and so "there was no need."
Company policy prohibits using phones "while on and operating" a bus. Though Boos thinks other drivers commonly use their phones while onboard a stopped bus on a cold day. Usually management would "look the other way," but "they didn't look the other way for her," he said. He believes "100 percent" that her firing was retaliatory. "The whole concern with phones, on paper, is safety. … If it's really a safety concern, how do you wait a month to fire somebody for it? You basically view them as a ticking time bomb, but you let them roll around the streets for a month? That doesn't make any sense."
Even though she makes more money in her new job driving for a Metrobus contractor, Robinson wants her DASH job back.
"I was born and raised here in the city. I rode DASH all of my life. … I know these streets and I know the people," she said.
Baker declined to comment on specific personnel issues, but denied any retaliation, saying: "If I ever was to find a case where an individual was retaliated against, regardless of the reason, … I would take swift and immediate action."
PERCEIVED MANAGEMENT INFRINGEMENT
Townsend wants a fuller investigation into Baker's use of American Labor Group, a labor relations consulting firm, leading up to November's unionization vote. Baker hired the firm for "legal representation" (costing $16,200) and to provide "educational consulting activities" (costing $28,800) to DASH employees, according to a Nov. 27 memo. But Townsend and others believe the consultants were really "union busters" brought in to thwart the unionization effort.
"It is my personal opinion that we have absolutely no need for a union here," said Baker in an Nov. 4 memo to all bus operators. Nevertheless, "I am confident that the group we hired is committed to providing you with unbiased, neutral information and does not engage in persuasion," he said subsequently.
Services listed on American Labor Group's web site include "direct union avoidance;" "employee card-signing mitigation;" and "counter-union organizing drives" designed to "help [employees] reach the conclusion on their own that the union's sales pitch is not what it's cracked up to be."
But Baker says he hired the firm only to help clarify labor law and answer questions. He terminated the firm's services on Nov. 10, after learning of a negative perception about the firm's activities, he said.
"Those [advertised services] were not the services I asked for. … I was very clear with them, I am OK if the union is here. And I think I made that very clear when I let them go," he said. He didn't attend any presentations the consultants gave to groups of employees prior to the November unionization vote, saying, "my very presence would have been coercive."
Boos, Robinson, and veteran drivers Charles Barrett and Lonnell Glover all believe they were deliberately excluded from these presentations. Boos thinks the presentations intended to "pick off the more the more vulnerable, more swayable drivers," and to keep out drivers favorable toward the union. Barrett thinks "they knew whom to approach with this, and they knew whom not to approach," including "several senior guys."
"The vote tells the story. … If in fact that's what was happening, it was totally ineffective," said Baker. "I terminated their services long before they had the chance to meet with every driver."
American Labor Group declined to comment, citing attorney-client privilege.
At the time, various public officials expressed concerns about perceived infringements on DASH drivers' right to organize. They include then councilpersons-elect Mohamed "Mo" Seifeldein, Elizabeth Bennett-Parker, Amy Jackson, Canek Aguirre; then School Board member-elect Michelle Rief; state Del. Mark Levine (D-45); and U.S. Rep. Don Beyer (D-8).
In a letter to DASH drivers the day before their unionization vote, Beyer said: "I am aware of and appalled at the unjust treatment of DASH bus employees by management. … You should have the freedom to form a union and negotiate higher wage and benefits, without fearing consequences from your employer. Unions are a key piece of our economic recovery. They ensure that working people have a voice in discussions over work conditions, and they play an important role in the long-term debate about how we structure our economy so that benefits are shared more equitably. … I will fight efforts to undermine workers' rights and I stand with you in these endeavors."