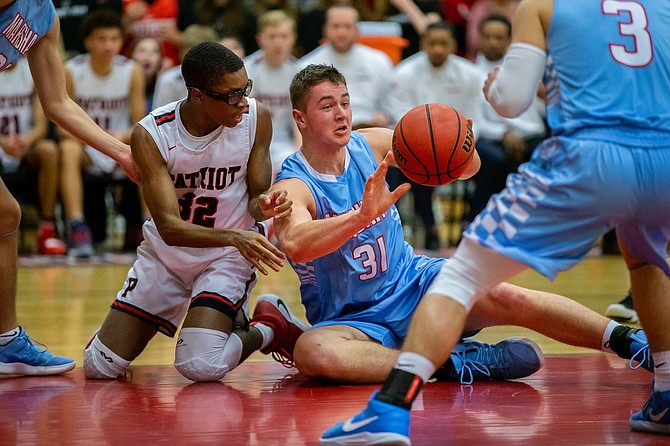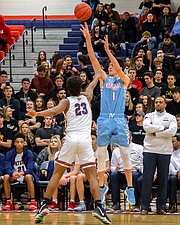 Hagen Vandiver scored 21 points, including 4 three-pointers, and Zack Blue added 17 for the Patriot Pioneers as the Pioneers held on for a 61-54 victory over the Marshall Statesmen on Feb. 25 in the semifinals of the Northern Region 6D tournament.
Vandiver connected on the first of his three pointers in the 1st quarter and scored half of his team's 10 points. Teammate Yusef Salih also sank a shot from long distance, but it was Marshall who opened a 13-10 first quarter advantage behind Daniel Deaver's 10, 1st quarter points. Jack Taylor added a 3 pointer.
In the 2nd quarter, Patriot made 9 field goals, five of which were three pointers. Jackson Ford, Yusef Salih, and Zach Blue each connected from long range with a three, while Vandiver scored 5 points in which he was successful on two from downtown. That shooting was enough for Patriot to overcome the early deficit and to take a 34-21 advantage. Jack Taylor's 5 points paced Marshall for the quarter.
Marshall would go back to Deaver who add 8 more points to his total. The Statesmen's Ryan Schlaffer would score 4 points in the 3rd quarter helping Marshall to narrow their deficit to 45-35 by quarter's end. Hagen Vandiver again led the Pioneers in scoring for the quarter accumulating 5 points. Jackson Ford added another 3 pointer for the Pioneers. Devon Parrish added his fourth basket of the game in the quarter.
Marshall scored 19 points in the final quarter. Daniel Deaver again scored 8 points. Ilias Hwang scored 5 points, and Jack Taylor added 2 three pointers. Hagen Vandiver led Patriot in scoring for the quarter. Vandiver would score 6 of those points from the charity stripe while converting on Patriot's only successful three pointer of the quarter.
Patriot was led by Vandiver with 21 points, and Blue's 17. Marshall was led by Deaver who scored 29 points, and Jack Taylor's 16. For the game, Patriot made 10 field goals and 10 three pointers.