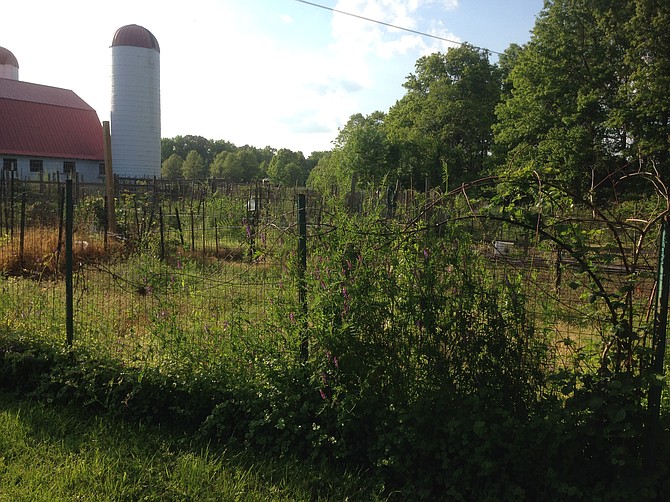 At the Grist Mill Park Master Plan Revision meeting there were two features currently at the park that drew a lot of attention from the attendees: the barn and the mulch pile.
Both are prominently displayed upon entry to the park and there were lots of suggestions for the barn, but for the mulch pile, just make it go away. The barn is a traditional red barn with silo and amongst limited number of barns remaining in Fairfax County where 100 years ago were common when it was largely a farming area. "The barn is useful and should be preserved," said Glen Fastinger, who suggested using it for storage for the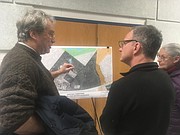 gardeners in the county garden plots next to the barn or renting spaces for kayaks and canoes. Jim Carmalt suggested a dinner theater, while Tom Girard suggested a teen center.
This was the first meeting in a series of steps to determine what the community wants to do with the park to keep it a viable part of the area off Mount Vernon Highway. "This is the first meeting I a relatively long process," said Judy Pedersen, the public information officer at the Fairfax County Park Authority. Supervisor Dan Storck reiterated that feeling. "This is our opportunity," he said, "how else can we better utilize the space that's there?"
Parking was another issue that many were concerned about and during a popular Saturday, there were cars on the grass, roadside and where ever they could squeeze in. Patricia Wheeler lives right across the street and sees that "it gets crazy," she said. "If we're downstairs watching TV, we catch every set of headlights," she said.
Jim Hurley read the ad for the meeting and was concerned about the "dynamic park," wording that was loosely placed in the description. He didn't want any features that could make it like a noisy amusement park. "Keep it as green as possible," he said. Lighting was another improvement element, but some were worried about that as well. With Richmond Highway a mile down the road, the area was already drenched in light. Ted Thompson asked how "it will impact are already not-dark sky," he said, and then cited work with the International Dark Skies Association.
According to the loose schedule that was on one of the slides, the final decision on the park improvements will go to the park authority board in the winter of 2019 and then will be put into action "as funding becomes available," said Andy Galusha, the FCPA project manager.
A few parks a year begin this process and the work eventually gets completed. "It's a continual updating process," said Samantha Hudson, the Park Planning Supervisor. Franconia District Park was looked at last year for example, and recently got improvements to its trails, lighting and public garden plots.
The Park Authority is accepting Grist Mill comments through email at parkmail@fairfaxcounty.gov or phone at 703-324-8662.