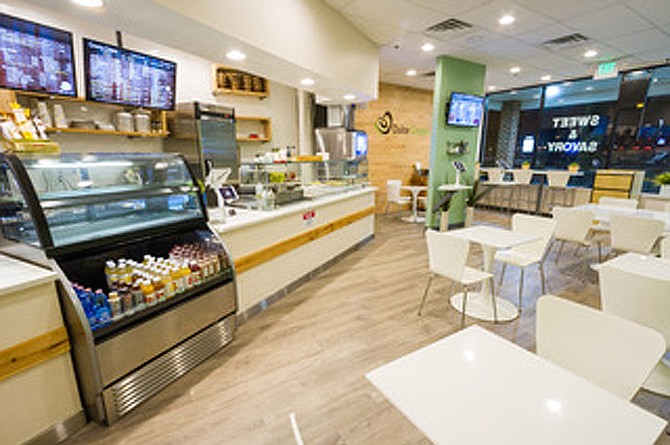 As soon as local resident Alexandra Loeffler received her bachelor's degree in Marketing at 23 years old, she began working hard on a business plan for the next two and half years. Her dream was to open up a fast-casual restaurant in Fairfax offering healthy European-style crepes. What she discovered during her marketing research was that quality was her best business plan.
"We're going to keep it simple but we're going to do it well," she recalls saying. "Less is more here."
At 27 years old, Loeffler opened "Dulce Crepes," which means sweet crepes in Romanian, her mother tongue. She and her husband Paul began serving sweet and savory crepes, as well as vegan crepes, two-and-a-half years ago.
The trendy restaurant, a mashup of convenience and high quality, offers an option to order at touch screen self-ordering kiosks and to have crepes home delivered. It also serves coffee, espressos, smoothies and other beverages.
Some customers like James Dalby in Fairfax said there's no crepe shop like it in the area. He said the crepes and coffee are some of the tastiest he's ever had.
"A lot of people told me I didn't have enough experience and I wasn't going to make it," she said. The restaurant industry is one of the hardest and most competitive markets, she said.
But "I wanted to challenge myself. And in this area, food is always going to do well," she said. "It's so diverse. The only way this is going to work [in Northern Virginia] is because so many people are from around the world here."
LOEFFLER, who was born in Romania and moved to the U.S. when she was 16, graduated from Fairfax High School and went on to receive her bachelor's at George Mason University in 2012.
Loeffler, now 30, said that she chose crepes because they are so versatile and easy to custom-make. She also loves them.
"I grew up with crepes," she said, explaining that she learned to make them from her mom. "That's one thing I know how to do.
"I'm so thankful for my mom because she cooked for us and she really took the time to teach us how to eat right," she said.
Becoming an entrepreneur was never a question in Loeffler's mind. "I used to play store [as a child in Romania]. I would gather stones and use them as money. I loved to manage [the store] and make it look pretty," she said. "I've always had an entrepreneur mindset."
All of the ingredients that Dulce Crepes uses are top-of-the-line, she said. "It's all in the ingredients. We don't cut corners when it comes to ingredients."
For example, the jams and lemon curds, from France and Portugal respectively, are made from fruit and cane sugar. The crepes' batter is made with milk from "Trickling Springs Creamery," a company that prides itself in grass-fed, heritage breed cows, no hormones, and "clean milk." Dulce Crepes doesn't use preservatives or processed butter. And the flour is the best quality available on the market, said Loeffler. "The flour is what makes the batter."
Loeffler uses almond milk for the gluten-free crepes which could double as lactose-free.
"You get the real thing. Literally what you would get out of your own pantry, you'll get here," she said.
Loeffler is a bit of a perfectionist, making sure she works alongside her employees until they get it just right and taking the tiniest detail into consideration, like creating the right ratio and using the right kind of syrup for their coffee. "It's an art," she said. "It takes a little bit of skill."
FOR ASPIRING female entrepreneurs, Loeffler said that being innovating and capitalizing on trends are some qualities to possess.
"Don't be afraid to take risks and be willing to work a lot. It's a lot of hard work when you're first starting out. Know how to manage difficulties. You'll face a lot of problems and challenges but have a lot of perseverance," she said. "There are times I wanted to give up but I have to keep going and innovating."
Loeffler hopes to expand one day into food trucks, festivals, and the retail market. "But I'm talking about down the road." For now, she said she's enjoying the moment.
"Loyal customers appreciate what I'm doing. That's a reward in itself," she said. "I'm not trying to get rich. I just want to create something new, different and something good for you."
Dulce Crepes is open every day from 8 a.m. - 9:30 p.m. For pricing, the menu or to place an order, visit http://www.dulcecrepes.com.