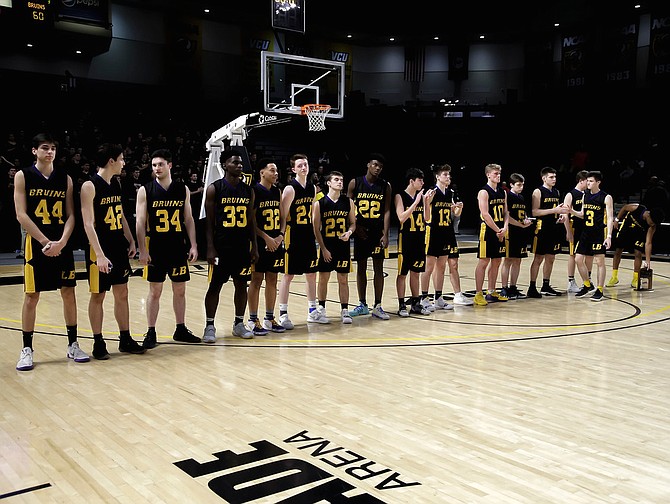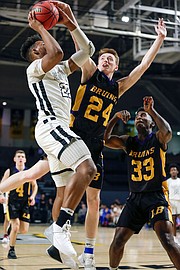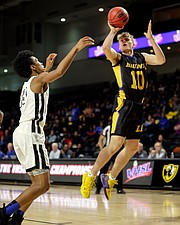 The (25-2) Landstown Eagles and the (26-3) Lake Braddock Bruins met up for the Virginia 6A State Championship on March 6, at the Siegel Center on the Campus of Virginia Commonwealth University. The Bruins advanced to the title game after defeating last year's Virginia Class 6 State Champion, South County 78-71. Landstown, from Virginia Beach, arrived at the final defeating Oscar Smith 64-60 in double overtime.
The Eagles started with the game's first two points, but Jimmy Anderson's 3 pointer put Lake Braddock up 3-2 with 6:23 in the opening quarter. That would be Lake Braddock's only lead of the game. The Eagles outscored the Bruins 19-10, after playing the first eight minutes.
In the 2nd quarter Michael Christmas #23 was successful on a 3 pointer to put the Eagles up 22-10 with 6:20 in the quarter. Landstown went up by as many as 17 points and take a commanding 40-28 lead at halftime.
In the 3rd quarter the Eagles continued to not be phased by Lake Braddock's pressure, outscoring the Bruins 19-16 with quarter to play, leading 59-44.
In the 4th quarter Landstown went up by as many as 21 before game's end, but Lake Braddock would get the game to within 7 points, 59-52 with 6:08 to play. Landstown then scored 10 consecutive points to put the game away. Landstown outscored Lake Braddock 20-16 in the quarter for a 79-60 win. Landstown was led by Michael Christmas who scored 27 points and 8 rebounds. Lamont Oliphant added 13, Christian Jones 11, and Donald Hand 10. Lake Braddock was led by Quentin James 20 points. Nick Margraf added 11.