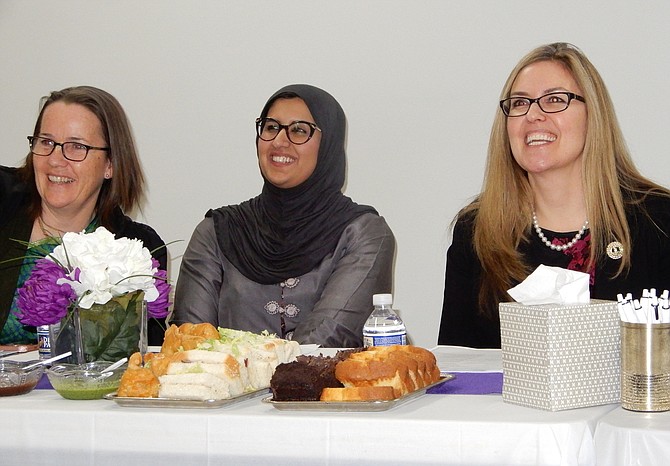 A former prosecutor, advocate for abused children and now a congresswoman, U.S. Rep. Jennifer Wexton (D-10) was the keynote speaker at Saturday's interfaith event about women, faith and public service.
Addressing the crowd at the Mubarak Mosque in Chantilly, she said, "Interfaith events like this build community. A lot of people have never been to a mosque, but they're places of understanding. And this mosque – just like any other place of worship – is a pillar of our local community."
Furthermore, said Wexton, "The Muslim community is part of the American community. Muslim Americans are Americans, so thank you for caring for your neighbors and lifting up our community."
Too often, she said, "The Muslim community is the scapegoat of demagogues and others with dangerous rhetoric causing fear and division. So threats and harassment of Muslim Americans have surged. This type of rhetoric is inexcusable and has no place in our society."
"We are one, American family. And when one part of that family feels unwelcome or unsafe – when we lose sight of the fact that our diversity makes us stronger – it diminishes the greatness of America. Hatefulness and bigotry in any form is contrary to our values. Despite our differences in race, faith or creed, we are all Americans."
Wexton also noted how proud she is to be serving with the first, two, Muslim Americans elected to Congress. "Our diverse, freshman class in the House is changing history," she said. Mentioning the diversity in her own house, too, Weston said she was raised Catholic, her husband is Jewish and they celebrate both Christmas and Hanukkah.
"I find faith in other women – the trailblazers who paved the way for me and others to run for office," she said. "But progress is not inevitable, and we're still fighting for things including reproductive freedom and paycheck equality."
Also important, said Wexton, are all the women who advocate passionately for issues they believe in. "You don't have to run for office to make a difference," she said. "An example is the group, Moms Who Demand Action for Gun Sense. Just last year, the House of Representatives passed a background-check law, and that's an example of how women in action can make an impact."
She, too, went to Alabama in 2018, and stood on the Edmund Pettus Bridge with U.S. Rep. and former Civil Rights leader John Lewis. It was there that, on March 7, 1965, some 600 Civil Rights marchers were brutally attacked by state and local lawmen and driven back to Selma, where they'd begun.
"John Lewis told me how faith got women through their toughest times," said Wexton. "He said the Civil Rights movement was born in black churches, and people's faith gave them strength." So, she told the gathering on Saturday, "There are always challenges – but our faith in ourselves, our community and our future will get us through."
Then, summing up the event's message was Akavish Khan, president of the Women's Association of the Ahmadiyya Muslim Community, which hosted the program. "Our motto is 'Love for all and hatred for none,'" she said. "Helping others and serving people in need are antidotes to injustice."