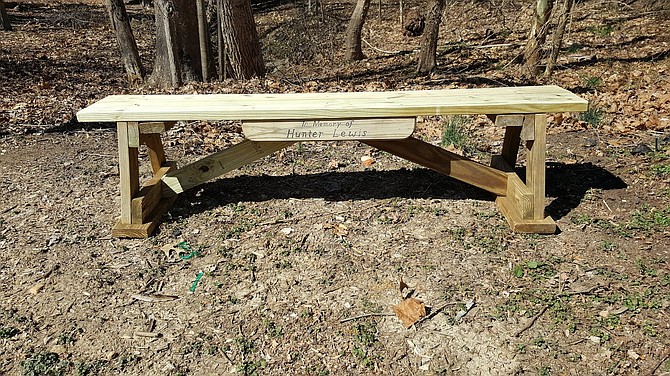 To honor a fellow student, fix the outdoor worship area, and fulfill Eagle Scout requirements, Hayfield Secondary School senior Joseph Larsen spent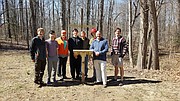 a Saturday recently at the Faith Fellowship Assembly of God off Telegraph Road, raking, clearing, sawing and hammering with much success.
With clear skies above on March 16, Larsen recruited friends, family and other Scouts to help gather 75 bags of leaves and debris in their mission at Faith Fellowship. A bench that was dedicated "In memory of Hunter Lewis" was also rededicated with new paint and Dremel work. "Everyone working together made all of the difference in the world," Larsen wrote in a thank you note he sent out that evening. Hunter Lewis was also a Scout in the same troop and died in a car accident while on summer vacation in years past.
The group that helped included Jim Larsen, Theresa Larsen, John Larsen, Robert Williams, Ryan Williams, Kenny Ngo, Jonathan Wier, Susan Hayden, Max Hayden, Alexander Hayden, Susan Burnell, Eric Burnell, Sean McLaren and Logan McLaren. At the lunch break, pizza was delivered from Kingstowne Papa John's Pizza.
Larsen is part of Boy Scout Troop 1519, sponsored by the Hayfield Farms Citizens Organization, and Larsen has two more projects in April that will be part of his Eagle Scout requirements. After graduation this spring, he heads to the U.S. Marine Corps on June 18.