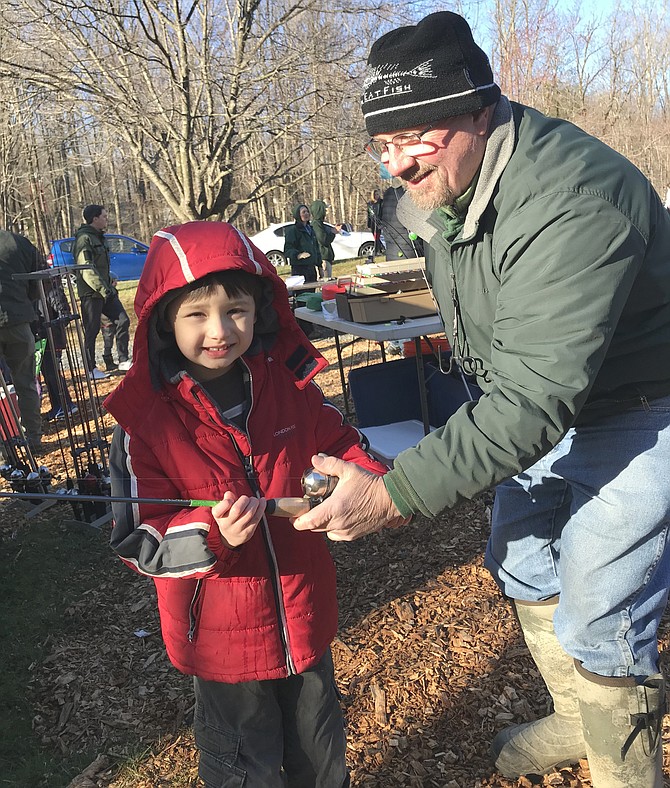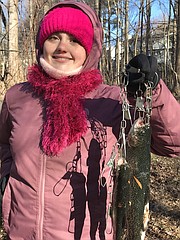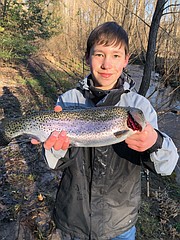 Reston Association hosted its annual Kids' Trout Fishing Day at Snakeden Stream off Soapstone Drive on Saturday morning, March 23. Earlier in the week, Trout Unlimited stocked the cold-water stream with large adult rainbow trout, some measuring upwards of 17 inches, to ensure favorable fishing for first-time anglers.
Bradley Wang, 6, of Reston arrived with brother Dan, 4, and his parents. Both boys were game for the adventure and willingly took the free rods out for a spin. Neither boy had ever fished before. "This is a free event, and the goal is to get children out in nature. Because of the high volunteer effort here, inexperienced anglers can learn how to fish. For many of the children, this is a first time experience to fishing," said William Peterson, Reston Association Watershed Management.
John Odenkirk of the Department of Game and Inland Fisheries, a partner group with Reston Association, agreed. "Our goal is to bring recreational fishing to the children in Reston. It's amazing the number of children that have shown up despite the weather," said Odenkirk.
Dylan Leygraaf, Regulatory Specialist at Wetland Studies and Solutions, Inc., waited near the stream. He explained how the recent stream restoration for Snakeden Branch reduced bank erosion, minimizing the down cutting of the streambed."We built the stream bed back up to control the flow using boulders and soil mixes to reduce erosion and connect the stream to its flood plain," said Leygraaf.
Trout Unlimited members helped measure and clean the day's catch. Nico Ladenburg, 13, of Reston brought one of the most significant catches of the day up to the cleaning table. The trout measured 17 inches. Asked how he caught such a large fish, Ladenburg said, "I've been fishing since I was four. I cast the bait about four feet upstream, and then slowly retrieve. My favorite bait is a trout magnet. I plan on cooking my trout with butter and a wedge of lemon all wrapped in aluminum foil."
A few moments later angler Julia Cartwright, 15, of Reston showed off her hefty catch of three trout. "I used a spinner with gold bait. It's a yellow pasty mass you roll up, and it has sparkles in it," she said. "The real secret is to get here early because as more people come, the fish get scared."
Snakeden Branch is a stream located near 2303 Soapstone Drive in Reston on public property. Teens and adults ages 16 & up must have a Virginia State Fishing License, Freshwater only, available online at www.dgif.state.va.us.