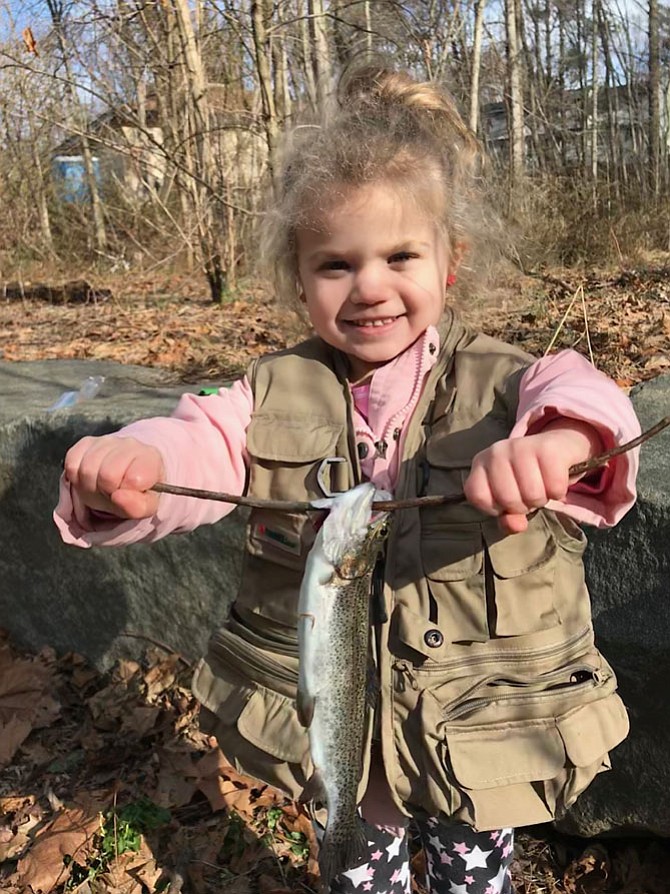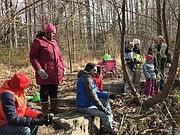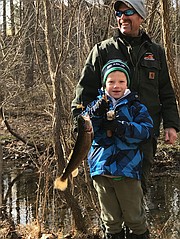 Reston Association held its Annual Free Kids' Trout Fishing Day, Saturday, March 24, 2018, from 8 a.m.-noon along a section of Snakeden Branch Stream in Reston. Wetland Studies and Solutions restored that area in the spring of 2009 as part of the Northern Virginia Stream Restoration Bank.

RA invited children ages 3-15 to learn how to fish, a life-long love of many Restonian parents and grandparents who wanted to pass the joy of fishing onto the next generation.
Sponsors Wetland Studies and Solutions, Reston Association, Friends of Reston, the Virginia Department of Game and Inland Fisheries, Northern Virginia Trout Unlimited, and the Wildlife Foundation of Virginia acted as partnering hosts, the result of strong working relationships during the stream's restoration project. During the project, in-stream rock structure, log vanes and a planting plan reduced the continued bed and bank erosion offering long-term stabilization.
Volunteers from the sponsoring organizations taught the children how to use the loaner equipment. To make the event even more child-friendly, the Northern Virginia chapter of Trout Unlimited stood ready to clean and fillet the day's catch.
Chances of the children catching a fish or the limit of four fish were high. Two days before, each pool in the stream had been stocked with rainbow trout donated by Wetland Studies and Solutions, Incorporated. Seven-hundred-fifty fish, many over a foot and half in length, had been dumped bucketful by bucketful in the stream's dredged pools.

"Fishing is my favorite day of the year," said Olivia Gallihugh, 4, of Manassas, as she stood on the bank wearing her little fishing vest. "I like to go fishing with my dad."
Finn Skelton 6, of Reston, came with his grandfather, Brent Clark, who was familiar with WSSI and their work. Clark was the person who in 2011 came up with the idea of "a fishing derby" after walking along the stream's banks after it was restored.
As his grandson pulled a large trout out of the water, Clark said, "This is all about the kids and getting children connected to the outdoors."