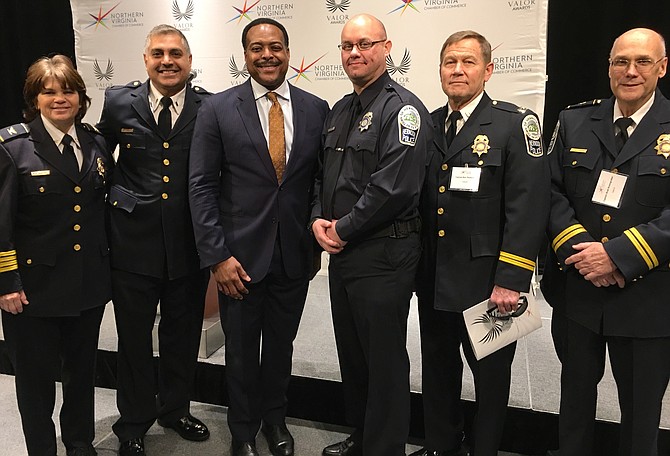 During the 41st Annual Valor Awards held Friday, March 22 at the Hilton McLean Tysons Corner, the Northern Virginia Chamber of Commerce recognized more than a hundred public service heroes for rising above and beyond the call of duty. Among those honored were two members of the Town of Herndon Police Department, Lieutenant Si Ahmad and Police Officer First Class Chris Parker.
"Honestly, I feel like I did what any other officer would have done. In our line of work, we are put in a position to be able to help people. And that's what we try to do," said Lt. Ahmad. The Chamber awarded Lifesaving Certificates to PFC Parker and Lt. Ahmad.

"PFC Parker responded to a report of an unresponsive subject and immediately began chest compressions. Lt. Ahmad arrived moments later and assisted with administering lifesaving measures. The two assisted until Fairfax County Fire & Rescue transported the victim to Reston Hospital. Even though the victim passed away, PFC Parker and Lt. Ahmad's quick actions and composure under pressure provided the victim the best chance of survival," stated Herndon Police Department.
"Fundamentally, it is every officer's hope that they can help in a difficult set of circumstances. We train to be prepared for situations like this in an effort to achieve the best possible outcome," said PFC Parker.
Leon Harris, News Anchor at NBC4, acted as emcee during the Valor Awards. Many state and local officials sent their congratulations or attended the event in person, among them U.S. Representative Jennifer Wexton (D-10) and Fairfax County Board of Supervisors Chairman Sharon Bulova.