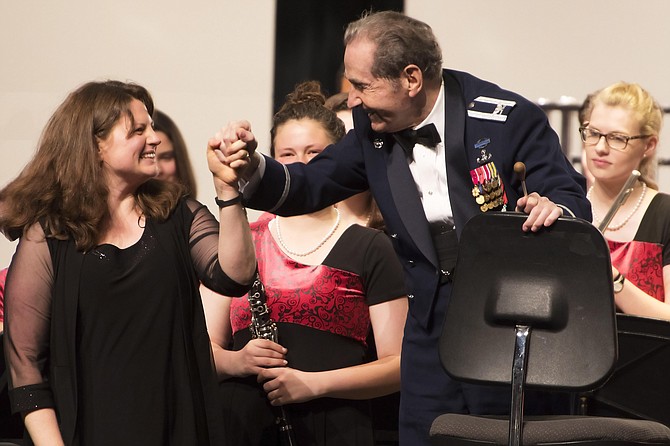 In less than a month, the Pride of Herndon Marching Band will stand on the shores of Omaha Beach in Normandy, France, to play at the 75th anniversary of D-Day, one of only 10 performing groups in the United States given this privilege.
This past Friday, members of the marching band were peppered throughout the three bands and four ensembles that played at the Herndon High School Spring Concert, and members of the Herndon community were treated to a festival of jazz, classical, hymns and a rousing closing march.
Highlights of the show included a guest appearance by Buddy Deshler, a professional musician who once played for Herndon Band Director Kathleen Jacoby. Deshler dazzled the crowd in Gale, a piece written specifically for him, ably backed by the Herndon Symphonic Winds. Band parent Margaret Jamborsky, who has dedicated close to two years of research on members of the U.S.S Herndon, was awarded the Community Builder Award from the Herndon Masonic Lodge for her service in making the Herndon community a better place.
The crowd rose to its feet as Jacoby announced the final two numbers, and the Herndon Wind Ensemble's guest conductor, Colonel Arnald Gabriel. Col. Gabriel, who commanded the internationally renowned U.S. Air Force Band, Symphony Orchestra, and Singing Sergeants from 1964 to 1985, took the stage to a rousing standing ovation, then led the band in the Hymn to the Fallen, while images of the soldiers from the U.S.S Herndon played across the auditorium wall. Incredibly, Col. Gabriel also was a 19-year-old gunnery sergeant at the D-Day Invasion. The concert ended with Col. Gabriel conducting the Wind Ensemble in the Salute to the Armed Forces, while members of the audience stood as the portion of the song representing their branch of the military was played.
This year, on June 6, pause for a moment, and think of the thousands of people who sacrificed their lives that day, and the students of Herndon High representing the Herndon community through the marching band, and remember the Herndon motto, "In our past lies the hope of our future."