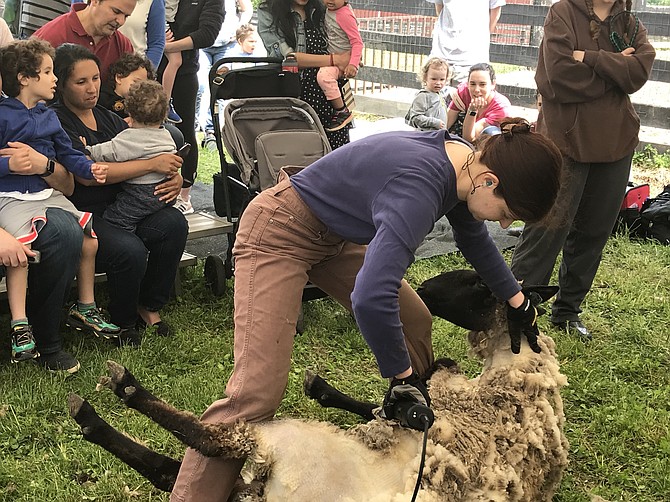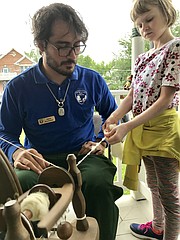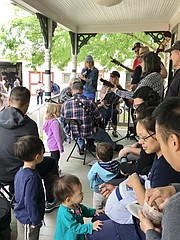 On the Saturday of Mother's Day weekend 2019, families and individuals across Northern Virginia visited Frying Pan Farm Park in Herndon to celebrate Spring Farm Days, 1930s style. The event featured down-home activities, many involving the farm's herd of sheep. Net proceeds from ticket sales helped support the mission of Friends of Frying Pan Park, a 501(c) 3 charitable organization.
"The Friends of Frying Pan Park use the funds to support the costs for food and vet care for the farm animals," said Yvonne Johnson, Park Manager at Fairfax County Park Authority Frying Pan Farm Park.

A posted Schedule of Activities allowed the estimated 1,200 ticketed attendees to choose hands-on opportunities and step back in time to spring on a farm, and enjoy an acoustic jam of bluegrass music performed on the Kidwell Farmhouse porch. Musicians Sam Chessman of Reston on Bass, John Zulcen on Guitar, Nancy Miller of Herndon on autoharp, Terry Miller of Herndon on guitar, Lacy Hazlewood of Herndon on guitar, Randy Ihara, of South Riding on banjo and Debbie Billodeaux of Oak Hill on guitar, performed for event attendees.
CHILDREN AND ADULTS churned ice cream, milked a cow, made cheese and got up-close and personal to the farm's baby animals especially the young lambs and pigs. Ongoing opportunities presented chances to watch the art and craft of smithy Nicholas Kimball in the Moffett Blacksmith Shop and demonstrations of antique farm equipment and wood stove cooking.

In the front paddock, Patrick McNamara, Naturalist/Historian Senior Interpreter at Frying Pan Farm Park narrated as professional sheep shearer Katie Cannon kept Elie the sheep safe and comfortable. Cannon let her legs do the work. She moved through different positions making long cuts of fleece along the sheep's side and back, holding the wool back with her leg.
The Linus family, formerly of Burke, dad Abe and children Ingrid, 9, and Linus, 5, stood nearby on the farmhouse porch overlooking the paddock. They discovered another part of the processing wool from sheep to shawl experience, taking carded rovings and spinning the fleece into yarn. Jason Buchanan, Frying Pan Farm Park Maintenance, instructed Ingrid. "Let it slip through your fingers," Buchanan said to Linus who watched the wool fibers twist together between her pinched fingers and thumb to form a string of yarn.
Abe Linus said his family always returns to Herndon for Spring on the Farm and wouldn't miss it. "We come every year," Linus said.
The Mai family of Fairfax sat on the Kidwell farmhouse porch beside the Linus' eating their lunch and enjoying the bluegrass music by "Frying Pan Farm Park Acoustic Farm. "We are out here on weekdays and came today for the animals," said dad TG.
NEAR THE OLD Middleton barn, Jennifer Shipley lifted daughter Natalie, 2, onto a toy tractor. For her, the event proved an excellent chance to have fun with others. "We came with friends," she said, glancing over at Luke Browning, 4, and Brooke Browning, 2. Beside her Sue Neff and the BIG FUN, bluegrass band performed.
"It's wonderful to see the community come together to support this fundraising event while learning about agriculture and sharing memorable experiences," said Johnson.
Fairfax County Park Authority operates Frying Pan Farm Park, which preserves and interprets farm life of the 1920s to 1950s using appropriate tools and methods to produce an immersive experience. Located at 2709 West Ox Road, Herndon, the park also offers its Acoustic Farm, acoustic jams held semi-monthly on the first and third Sundays from 1 to 4 p.m., classes, camps, equestrian events and more. Visit www.fairfaxcounty.gov/parks/frying-pan-park for more information.