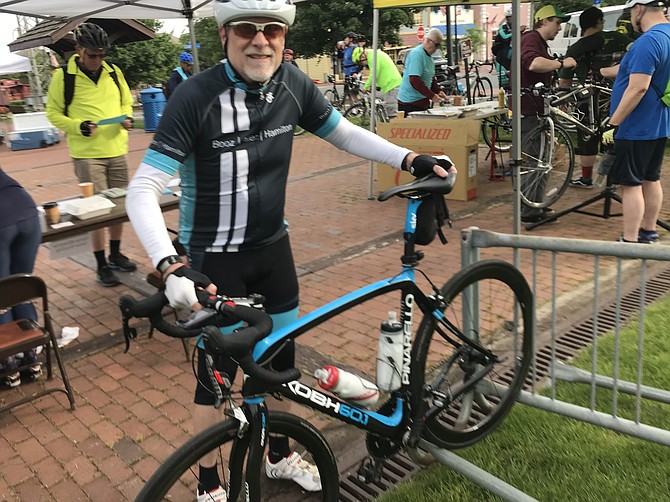 "Thanks for taking part in a wildly successful Bike to Work Day. If this was your first time participating, as it was for over 100 of you, congratulations. Hope this is the start of a regular thing," wrote Cindy Roeder, Director of Parks and Recreation in Herndon to all 460 officially registered riders at the Herndon Pit Stop who participated in the 2019 Bike to Work Day.

Commuter Connections, the Washington Area Bicyclists Association (WABA) and local governments, including the Town of Herndon Parks and Recreation Department, hosted one of the nation's largest Bike to Work Day events. At the Herndon pit stop sponsored by Parks and Recreation and A-1 Cycling, many riders from surrounding communities arrived to start their day and end their day, wheeling to work.
Held Friday, May 17, 5:30 a.m. -10 a.m. and again 4:30 p.m.-6 p.m., the Herndon pit stop located on the Town Hall Green and off the W&OD Trail proved a popular destination.
The annual celebration was meant to increase awareness and expose people to the benefits of bicycling to work for transit.
"What a beautiful day for a ride," said Tim Taylor of Chantilly who stopped in Herndon. "I work from home but came here to get my t-shirt. Then I'm heading back home to work."
Antonio Gajo of Ashburn said, "I've been doing it for four years. I work at Sprint in Reston. I normally bike in the summer because the kids are in school, so I don't have to drive them."
"If you missed out on a t-shirt, we do have some left over, available first come, first served. They are available at either A1 Cycling, 2451 Centreville Rd, Herndon, or at the Herndon Community Center, 814 Ferndale Ave. We are both open daily. Call or email if you want to check for a specific size or have one left at the counter for you," Roeder wrote to all registered cyclists.
Raffle Winners are Rich Bajusz, Tamara Drpic, Sunil Behera, Tina Pai, Antonio Radilla, Don Lehr, Melania Stopper, Nick Georgas, Zhihong Zhang, Krishna Bhimnathini , Susan Berger, Jon St Onge, Dave Lennon and Leo Khang. All of the prizes will be available at A1 after Tuesday, May 21, reported Roeder.