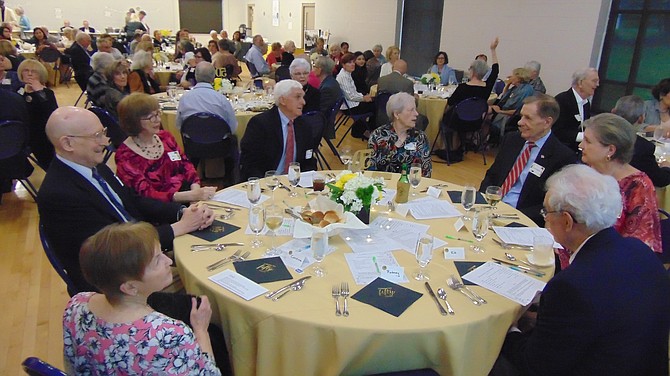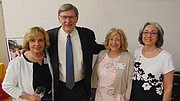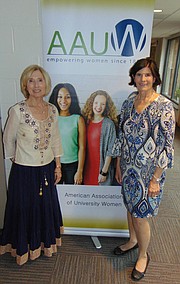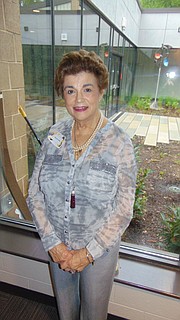 It was a night of pure nostalgia. Almost 100 guests helped celebrate the 50th Anniversary of the McLean branch of the American Association of University Women (AAUW) last Saturday, May 11, 2019, at the McLean Community Center. Highlights of the evening were the return of 19 past branch presidents, two of whom came from New Mexico, one from New Jersey, and one from Miami. The total membership is roughly 120 members; one member who was honored, Suzanne Watts, will be 97 years old in June.
THERE WERE GREETINGS from Virginia AAUW Co-President Leslie Tourigny. Supervisor John Foust (Dranesville) presented a Proclamation from the Fairfax County Board of Supervisors honoring the club for its work over 50 years. There was a 1969 Trivia Quiz, a video and scrapbooks from 1969, as well as musician Rodney Kelley who played tunes from that era. Event Chair Caroline Pickens gave a "Back to 1969" presentation and highlights of the Branch's 50 years. The catering was provided by Kimberly's Corporate Catering and a cake came from Balducci's; "My Florist" did the floral centerpieces.
According to co-President Myrtle Hendricks-Corrales: "We're celebrating 50 years of our branch and the work they have done to support the mission of AAUW, which is to advance equity for women and girls. And we're celebrating all the successes we've had with our scholarships and our international fellowships," she said.
Co-President Betsy Schroeder said: "We give awards to high school girls, juniors who have demonstrated excellence in math or science in their schools. Tonight, we have with us our STEM award winner (Hana Abouelenein) who had the best project by a girl in the Engineering category in the Fairfax County Science Fair."
Added Judy Page, STEM Chair for the AAUW McLean area branch: "This year's winner created a project related to creating a neural network that would help differentiate cancerous from noncancerous skin cells. We find that by recognizing young women at the high school level in engineering, we're able to encourage them to pursue further studies in science, math and engineering."
Hendricks-Corrales added: "We also have members who have been going down to Congress for 20 years every Thursday; we're part of the national AAUW Lobby Corps, and we lobby for legislation that helps women and families – like Title IX, Equal Pay, and all equity for women."
According to Pickens: "One of the major things AAUW does is a used book sale, which for the past 13 years has grossed more than $40,000. The money goes to fellowships and scholarships to women who are going back to college, who never finished for one reason or another. They offer $4,500 to $5,000 scholarships for women to Trinity University, Marymount University and George Mason University."
WHEN THE CLUB STARTED in 1969, it had 15 women; by the time they were chartered, that number grew to 35. Within three years, they had 120 members who joined. "So, it was obviously something that a lot of women were interested at that time; it was a very fertile time from 1969-1970," said Pickens.
Elaine Lailas was one of those first AAUW women members. A lifetime AAUW member, she flew in from Miami to be at the celebration; she now lives part-time in Leesburg and was an original member of the Springfield-Annandale branch in the late 1960s and was instrumental when the McLean branch was starting.
"I came from a very large branch – Springfield-Annandale – and the McLean branch became a large branch itself. I was the state president of AAUW here in Virginia and then I joined this branch, and being very active in the branch, when I arrived here (McLean) in 1982, I was asked to run for the National Board, but I also was with the AAUW Legislative Committee, and was on the Lobby Corps," she said.
The 50th Celebration Committee was composed of: Aroona Borpujari, Margie Broderick, Bettie Clark, Maureen Donahue, Angela Ehemann, Mary Anne Graham, Mimi Gronwald, Carol Langelier, Mary Lou Melley, Diana Parsell, Sultana Parveen, Doris Shank, Peggy Stotz, Janet Taylor and Caroline Pickens.