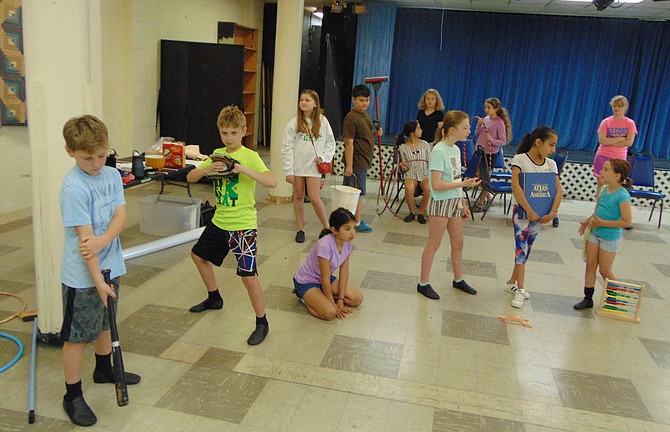 With a cast of 26 children, Encore Stage & Studio and Kid Pan Alley is presenting the world premiere of "The Talented Clementine" from May 31 to June 9. Clementine gets nervous when her third-grade teacher announces that her class will be putting on a talent show to raise money for the spring trip. She can't sing or dance or play an instrument like her talented friend Margaret, and what talents she does have would not work on a stage. Clementine must find an act, any act, to perform before the night of the big show. But with only a few days to do so, can she put it together in time?
According to Music Director Sarah Markovits: "This is actually a collaboration that Encore is doing with Kid Pan Alley of Little Washington, Va. Paul Reisler actually composed and wrote this show specifically for this show at Encore. It's a world premiere children's musical based on the Clementine Books by Sara Pennypacker."

She added: "This was such a unique thing because it was being written and composed while we were in rehearsal, so things were being changed and edited to work well with the kids we had. That was the biggest challenge — trying to figure out what was going to work best with this cast and work with the composer to make this songs work."
Added Co-Director Amanda Nell: "It has been difficult to work on a world premiere production when there's nothing to go off of. It's never been done before. It was left up to our creative liberties to determine which direction to take the characters and how to shape the show completely," she said.
She added: "It's been great to bring this story about third-graders to our students to be the first people to put on this show and tell the story in a musical form as it is a world premiere production."
Nyla Elder, 12, of Arlington plays the lead role of Clementine. The Williamsburg Middle School sixth-grader said, "Clementine has a really big imagination and doesn't really pay attention in class but she notices the little things. She's very smart but she can't really focus that well. She always likes to be moving. She thinks she doesn't have any talent but really she has lots of talents; she just hasn't discovered them yet."
As far as challenges, she said: "It's very hard sometimes to portray a third-grader because I'm three years older than that. I have to preserve my vocal cords; I have to mouth the words, and kind of lip sync."
Alannah Hjelm, 13, of Arlington plays the role of Margaret. The Williamsburg Middle School seventh-grader said: "She is kind of obsessed with herself; kind of stuck up and she is talented at everything and she's Clementine's best friend in the show."
She said some of her challenges were that some of her lines are silly. "It's like taking it seriously and actually acting — acting serious even though the lines are silly," she said.
Sofia Parfomak, 14, of Arlington plays the role of Mrs. D'Matz. The St. Ann Catholic School eighth-grader said: "I believe she is a really outgoing teacher who really cares for her students and wants them to have fun learning and not being dragged down by school. She's trying to be their friend and also a mentor."
As far as challenges, she said: "I'm a very introverted person and Mrs. D'Matz is very outgoing and goofy and tries her best to entertain people. I have to put away my personal feelings of acting goofy and act the way Mrs. D'Matz would if she were talking to a bunch of third-graders."
"The Talented Clementine" will be performed at Gunston Arts Center – Theatre One. Performances will take place Fridays, May 31 and June 7 at 7:30 p.m.; Saturdays, June 1 and 8 at 11 a.m. and 3 p.m.; and Sundays, June 2 and 9 at 3 p.m. Tickets are $15/adults; $12/children students, military and seniors. Gunston Arts Center – Theatre One is at 2700 S. Lang St., Arlington. Visit www.encorestageva.org.