The last time Senate Minority Leader Dick Saslaw had a primary opponent, Jimmy Carter was in the White House and the Bee Gees were at the top of the charts. Ever since then, Saslaw has avoided any primary opposition in a district that is one of the most solidly Democratic seats in the commonwealth. In that time, he's earned a reputation as a tough-as-nails lawmaker who is liberal on social issues but business friendly. Campaign-finance records show he's taken about $350,000 from utility monopoly Dominion since 1996, when the Virginia Public Access Project started compiling records. When asked about his campaign-finance disclosures, Saslaw turns the question around.
"Do you really think anybody owns me given my financial situation?" asks Saslaw. "Do you know why I get this money? Because I'm the party leader. I'm the person who's supposed to raise money for the caucus, OK? Do you really think that influences my vote?"
This year, for the first time since 1979, Saslaw has primary opposition. Not just one opponent, but two. The minority leader has long attracted opposition from the liberal wing of the Democratic Party. This year, though, though, Democrats believe they are on the verge of seizing the majority. That creates a sense of momentum for Saslaw, who would become majority leader. But it's also created a kind of energy for the liberal wing of the party that opposes Saslaw's business-friendly approach.
"If somebody like Dick Saslaw is facing one challenger, then the anti-Saslaw vote will organize around that one challenger," said Quentin Kidd, a political science professor at Christopher Newport University. "When you get more than one — in this case two — it increases the odds of Saslaw winning that primary. And I think the odds are in his favor anyway."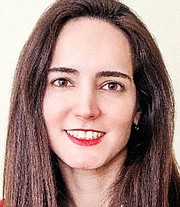 YASMINE TAEB, 39, is a native of Tehran, Iran. Her family came to America in 1987. She has a bachelor of arts in political science from the University of Florida and a juris doctorate from Penn State. As a lawyer, she works in legislative affairs and calls herself a "peace lobbyist." Until recently, she was senior policy counsel for the Washington-based Center for Victims of Torture, where she led advocacy for refugees and asylum seekers. She resigned that position to focus full time on the campaign. She is a member of the Democratic Socialists, although she prefers to call herself a progressive Democrat — a worldview she says supports getting corporate money out of politics and increasing access to healthcare and housing while "fighting for working families."
"Our district is the most liberal Democratic district in Virginia and yet it's represented by one of the most conservative Democrats in the General Assembly," says Taeb. "I'm running because our voters deserve to have a representative who will fight for working families and defend Northern Virginia's diversity, and our voters deserve to have someone representing them who is more aligned with their values."
If elected, she says, she would repeal Virginia's right to work law that limits the power of unions. She says she would also work to outlaw corporate contributions to political campaigns. And she says she would pursue abolishing the death penalty in Virginia. Ultimately, she says, she would be free of the kind of influence she believes corporate donors have on Saslaw — a theme that she weaves into almost every position she takes on the campaign trail.
"I am going to be prioritizing human rights issues and making sure that I'm fighting for the most vulnerable in our communities and making sure that our voters know that they take priority over corporate interests," says Taeb. "I'll do everything I can to ensure that the political process is made more fair and more accessible to ordinary Americans."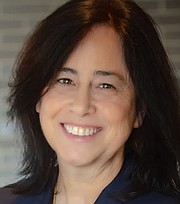 KAREN TORRENT, 60, is a native of Red Bank, N.J. to a Scottish mother and an Argentenian father. Her father was not an American citizen and did not have a green card, so her family had to leave the country for several years. They lived in Argentina and Canada before moving back to the United States, where they settled in Dover, Ohio. She has a bachelor of arts in political science and economics from Baldwin Wallace College in Ohio, where she played tennis. She has a master's of public policy from the University of Michigan and a juris doctorate from the University of Minnesota Law School. Professionally, she's served in positions ranging from a trial attorney with the United States Department of Justice in the Environmental Enforcement Division to staff counsel to the House Energy and Commerce Committee under Chairman John Dingell. She also worked on the 2008 Obama campaign, later becoming a lobbyist for the Environmental Law and Policy Center and a general counsel for Secure Futures Virginia before opening her own firm, Torrent Energy Consulting.
"We need to put Virginia on a sustainable path to combat the climate risk, and the good news is that we can do that by embracing the clean energy economy," says Torrent. "We have 12 years go get our act together, and I would rather spend the next four years doing that rather than spending them with the status quo of allowing Dominion to do our energy future."
If elected, Torrent says she would work to change how Dominion is regulated, moving away from kilowatt per hour and instead moving toward price performance guarantee.
She also wants the General Assembly to mandate and finance bus rapid transit on Route 7, connecting to the Amazon campus in Crystal City. Ultimately she would like to see a grid modernization docket similar to states like Minnesota, Michigan and Maryland. Essentially that would change the pricing model for Dominion, rewarding energy efficiency instead of kilowatts per hour. She would also like to see the General Assembly create economic incentives for transit-oriented development. She would also like to extend the General Assembly session to 90 days a year rather than the current breakneck speed. When asked about Saslaw, she recalls her experience representing ratepayers before the Supreme Court of Virginia challenging the constitutionality of the rate freeze bill.
"During that oral argument, one of the justices who formerly worked for McGuire Woods representing Dominion turned to me and said, 'Ms. Torrent, the remedy you are seeking is to elect people to the legislature who will not pass rate freeze bills,'" says Torrent. "So here I am."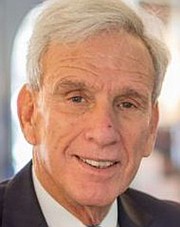 DICK SASLAW, 79, is a native of Washington, D.C. After graduating high school in Chevy Chase, Md., he enlisted in the Army, where he served for two years before receiving an honorable discharge in 1960. He has a bachelor of science in economics from the University of Maryland. He spent a year at the Naval Air Systems Command before moving to the private sector, working for a defense contractor and later selling real estate. In 1980, Saslaw bought his first gas station — a business that eventually expanded to nine gas stations. In 2007, he sold off most of the stations, although he still owns one in Chantilly. He also owns rental property at Braddock Road and Backlick Road.
"As majority leader, I think I could do an awful lot not only for the people of the 35th District but Northern Virginia and the state," says Saslaw. "We can direct more money toward K-12. I think we can finally get through some of these bills that would bring some sense to our gun laws. And we need to try to see if we can steer some more money to higher ed."
His first political campaign was in 1974, when Saslaw was a 34-year-old contract administrator for Reston electronics firm named H.R.B. Singer. He ran against Mount Vernon Supervisor Herb Harris and Del. Frank Mann (D-5) for the Democratic nomination to run against incumbent U.S. Rep. Stan Parris (R-8). Saslaw lost that primary to Harris, who went on to unseat Parris in an anti-Watergate wave election. The next year, Saslaw set his sights on the 19th District of the House of Delegates, an open seat vacated by Republican James Tate. Saslaw prevailed against a crowded field of four other Democrats, including future Mount Vernon Supervisor Gerry Hyland — a campaign that he won on a $5,000 budget. As a House freshman, Saslaw responded to a rape case in his district by making it easier for juveniles to be tried as adults.
After serving two terms in the House, he decided to run for a state Senate seat vacated by retiring Sen. Omer Hirst (D-35). Saslaw faced former Fairfax County Board of Supervisors Chairwoman Jean Packard, who was trying to make a comeback after being unseated by Republican Jack Herrity.
Saslaw, then a 39-year-old real estate salesman, told voters he would take a more active role in watching the operations of the State Corporation Commission to prevent utility rate increases caused by mismanagement. He won that primary and went on a lengthy career in the Virginia state Senate, where he has served as majority leader and minority leader depending which party has the majority.
During his time in the Senate, Saslaw modified the alcohol-to-food requirement for restaurants to reduce the regulatory burden for businesses. He also passed a law that allows local governments to sell bonds and finance their own roadbuilding, although it was limited to $15 million during a three-year period. He also passed a law that creates an add-on tax for a newly created tax district along Route 28, an effort that later cost him $8,000 a year as a gas station magnate. He has opposed efforts to overturn Virginia's right to work law, which dates to the 1940s.
"I don't make any apologies for being pro-business," says Saslaw. "Take a look at a look at the business attraction of Northern Virginia versus the Maryland suburbs. Are you kidding me? We are considered to have one of the most favorable work environments in the country."
If reelected, Saslaw says his top priority would be gun control — reining in the National Rifle Association and the Virginia Citizens Defense League, two groups he says owns the Republican Party. He says Virginia needs universal background checks, and the legal age to purchase firearms should be raised to 21. He says laws that restricting access to abortion clinics should be overturned, and he says he would steer $1 billion more to K-12 education and $500 million more toward higher education.
"We're going to have to figure that out," says Saslaw. "I don't want to talk about higher taxes right now."