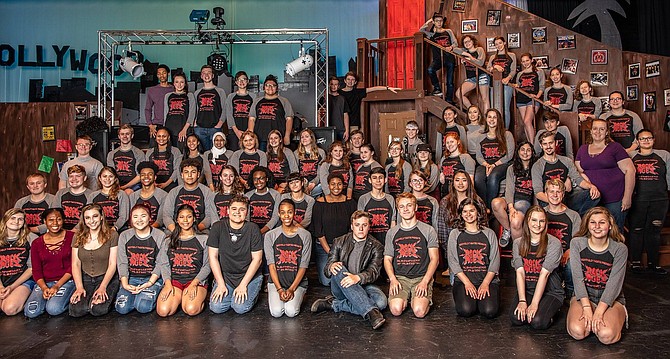 The performances have been given, the critics have written their reviews and the ballots have been cast for the 2019 Cappies, honoring the best in high-school theater. And Westfield High's "Rock of Ages" garnered a whopping 24 nominations.
The 20th annual Cappies Gala for the National Capital Area will be held Monday, May 27, at 7 p.m., in The Kennedy Center in Washington, D.C. And since one of Westfield's two dozen nominations was the coveted, Best Musical nod, its actors will get to perform a scene from the show during the gala.
Westfield's other nominations are as follows:
Lead Actress in a Musical: Keeley Rogers;
Supporting Actor in a Musical: Harry Schlatter;
Comic Actor in a Musical: Alan Gutierrez-Urista;
Male Vocalist: John Henry Stamper;
Female Dancer: Bridgette Carey;
Featured Actor: Colin Brown;
Featured Actress: Lauren LeVine
Ensemble in a Musical: Westfield's Ensemble;
Stage Crew: Sarah Bourgeois, Hayden Cutler & the Bourbon Room Employees;
Stage Management: Lauryn Bailey;
Sets: Braeden Anderson, Nora Lewis;
Costumes: Alan Gutierrez-Urista;
Lighting: Mary Clare Bernier;
Hair and Makeup: Grace Jenkins;
Special Effects and/or Technology: Ray Panzer;
Marketing and Publicity: Oscar Lazo, Cassie White.
Beverly D'Andrea, Julia Tucker and Oscar Lazo each received individual nods for Andy Mays Rising Critic. Grace Jenkins, Lizzy Maisel and Sarah Bourgeois were each nominated for Maryland Theater Guide Returning Critic, and Westfield's whole critic team received a nod for Critic Team.
"We are honored to receive the nominations and recognition the Cappies organization bestowed on our program this year," said Westfield Theater Boosters Vice President Carol Cutler. "And it clearly reflects the depth of talent at Westfield."
She also stressed that the 24 nominations were divided equally among three areas. "Seven nominations were earned in the Cappies Critic categories, recognizing our critics' tireless work throughout the entire, school year as individuals (Rising and Returning Critics) and as a team," said Cutler.
"'Rock of Ages' also captured amazing, non-performing categories, such as Stage Management, Stage Crew, Sets, Lighting, Special Effects, Costumes, Hair/Makeup and Publicity/Marketing," she continued. "And the show's cast members shined, too, in the performing categories, such as Lead Actress, Male Vocalist, Supporting Actor, Comedic Actor, Featured Actress, Featured Actor, Female Dancer and Ensemble."
In the past, said Cutler, Westfield has not been as widely recognized with non-performing nominations, as "It is difficult to capture how much effort and work goes on behind the scenes. For those categories, the students are required to prepare large, tri-fold boards reflecting the inspiration, planning and implementation of their ideas. This year, they made a concerted effort to showcase their work – resulting in Cappies nominations in eight of the 11 non-performing categories."
Furthermore, she said, "Director Rachel Harrington's selection of 'Rock of Ages' for Westfield's Cappies show proved timely, with the recent resurgence of '80's music. The onstage exuberance and interactive improv proved contagious, as evidenced by the show's record-setting Cappies nominations."
"It is exciting to have so many individual students attending the Cappies Gala this year," added Cutler. "And as a Best Musical nominee, Westfield's entire 'Rock of Ages' cast will perform 'Don't Stop Believin'' on The Kennedy Center stage. It will be a very special experience for all involved."