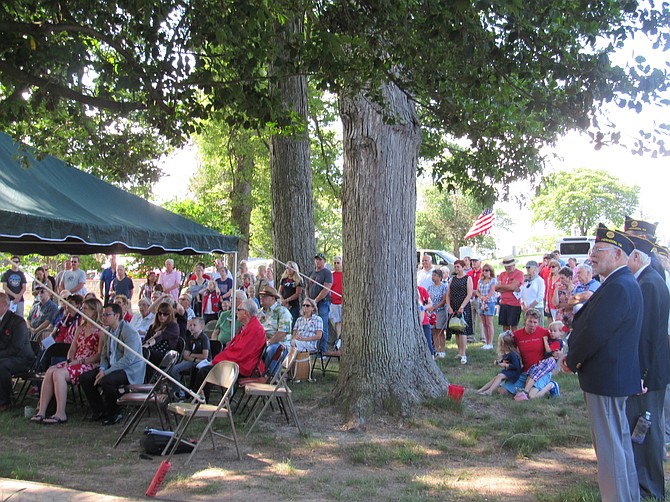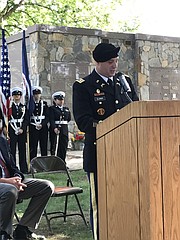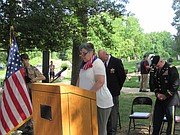 "In preparing for today, I realized that I was able to enjoy a normal week thanks to the blanket of freedom and liberty that was given to me by the fallen warriors of the past… Many gave the ultimate sacrifice. That is why we are here today. We are here to remember and honor what they did to keep us a free nation," said Post Commander of The Wayne M. Kidwell American Legion Post 184 Herndon/Reston David R. Womack.
On Monday, May 27, Post 184 hosted the Town of Herndon's Memorial Day Ceremony at Chestnut Grove Cemetery. Following a welcome by Herndon Vice Mayor Sheila Olem, Donna Pence gave the Invocation. "Though their names may fade with the passing of generations, may we never forget what they have done," Pence read quoting, "Memorial Day Prayer," written by Rev. John Gundlach.
Herndon High Navy Junior ROTC Color Guard members, Nicole Gonzalez, Elisa Castro, Eleisa Cruz and Ximena Ramirez presented the Colors, followed by the Reston Chorale singing the national anthem.
COMMANDER WOMACK led attendees in the Pledge of Allegiance and then provided his remarks. Womack said people were there, in a beautiful cemetery on the morning of the unofficial start of summer, to remember and honor what service members killed in action or who later died from injuries sustained in action, did to keep the United States of America a free nation.
"And that, I think, was one of their biggest fears. The fear of being forgotten. The fear of people not remembering the sacrifice and the cost. Not for the accolades and the glory. But just to be remembered. To tell the stories of their honorable actions in the face of the enemy...I see many young people here today. They are from the Herndon High School NJROTC Color Guard... Or the Troop 1570 Scouts, securing our flags. Or the other young men and women in the crowd from all parts of our community. They are being taught the importance of remembering at a young age, which is so commendable. And that is my generation's responsibility. To teach the importance of this day to the next generation."
Commander Womack introduced guest speaker United States Army Lieutenant Colonel Joseph Elsner. Womack said that Lt. Col. Elsner served as the Community of Action Branch Chief of the Joint Improvised-Threat Defeat Organization.
Lt. Col. Elsner said that since the founding of the United States, 1.1 million service members lost their lives in combat. "Currently, less than 1 percent of the population has served in the Armed Forces. Because of this, there is a growing distance between your average American and the military. Americans are most likely far removed from current conflicts and operations across the globe."
He said his intent was not to bore those listening with statistics or a history lesson. "It does not matter if you are a Soldier, Sailor, Airmen, or Marine, the experiences that we share on the battlefield absolutely embody the statement, Brothers in Arms...The experience of combat is something that creates incredible bonds between service members."
LT. COL. ELSNER shared stories of service members he knew, beginning with the story of Army Staff Sgt. Ricky A. Kieffer. "A good fisherman stationed in Iraq," he recalled and added that when it rained there, it poured. "I remember coming out of our barrack buildings one day, and there is Ricky Kieffer, tossing a small weight with his fishing pole into one of the large, swimming pool sized puddles. I asked SSG Kieffer the dumb question, 'Catching anything?' He stated, 'Just passing the time, Sir. Just passing the time. Besides, need to stay in practice for when I get home.' A week later, Tuesday, 15 March 2005, while leading his soldiers, SSG Ricky A. Kieffer, Michigan Army National Guard, attached to the 720th MP Battalion, was shot and killed by a sniper as he was preparing his squad to depart a checkpoint."
Lt. Col. Elsner told the story of Army Second Lieutenant Matthew Coutu. "He looked like he could bench press a Buick… He loved the Army, his unit, and his soldiers. He reminded us every day that he was committed to being the best and that he took care of his platoon... Second Lieutenant Coutu, 2nd Platoon Leader, 64th Military Police Company, was killed in action on 27 June 2005 by small arms fire while investigating a roadside bombing in Baghdad, Iraq." Lt. Col. Elsner told similar stories of other service members, and he shared something they all had in common, the same words used by their families to describe them: "...great guy, amazing father, true patriot, loyal husband, loved life, very positive".
"From Normandy to Kandahar, Gettysburg to Fallujah, the faces of the fallen that we have stood shoulder to shoulder with in combat will be forever burned into our heads. To all of our fallen comrades, if you are listening up there, we will never forget the price you paid," said Lt. Col. Elsner. "Over time, things will change. We will find ourselves in different locations than our predecessors. Our equipment and our training absolutely have and will continue to change. Other things will never change. We will, always, remember those who have paid the ultimate sacrifice in defense of our great nation," he said.