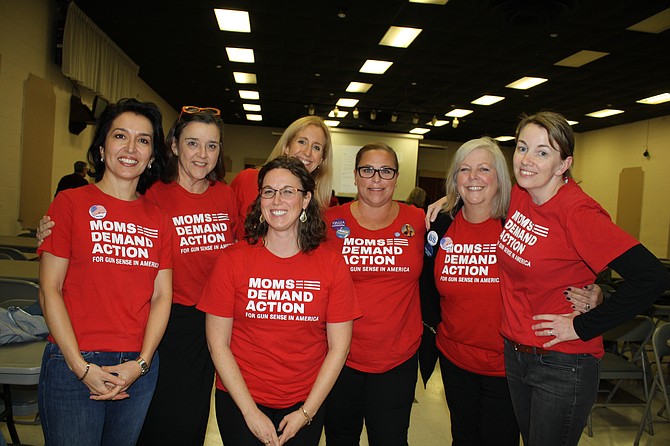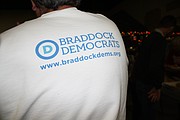 Pizza and smiles dominated the Fairfax Elks Lodge on election night, as area Democrats won big in Fairfax, with the Fairfax County Board of Supervisors shifting further into blue.
Jeff McKay won the Chairman race, getting 67 percent of the votes, while Supervisor Pat Herrity (R-Springfield) hung on to keep his seat in the Springfield District. Rodney Lusk will take over as Lee District Supervisor, while Supervisor Dan Storck (D-Mount Vernon) was uncontested in Mount Vernon.
The results were slow coming in at the party in the Elks Lodge main hall, but as they came in, the applause grew for each office. U.S. Rep. Gerry Connolly (D-11) and Del. Vivian Watts (D-39) greeted the packed room.
Roberta and Jack McKay, Jeff's parents, were glad they could finally vote for him as he ran for Chairman, an at large office, since they live in Mount Vernon and couldn't vote for him as Lee District supervisor. They've seen his interest in politics grow since Jeff was in high school, and were glad to spend time with their grandchildren while Jeff shook hands at the polls.
"Somehow he knows a lot of stuff," said Jack McKay. Everyone in the family had a Jeff McKay for Chairman tee shirt on.
A sea of red tee shirts identified the local "Moms Demand Action" group. The action they refer to is preventing gun violence. They were focused on the Dan Helmer-Tim Hugo race.
"We're the boots on the ground," said Heather Foglio, a Fairfax resident that supported Helmer. "[Hugo] voted against every gun safety bill," she said. Helmer won with 54 percent of the vote. Hugo was the last Republican representing Fairfax County in the General Assembly.
Jordana Schmier spent the last few weeks knocking on doors with her sons Avery Kane, 12, and Jeremy Kane, 9, and brought the boys to the victory party to let them experience the other side of campaigning. "It's an opportunity for them to see how many care about what we did, knocking on doors," she said.
Avery Kane hopes, "it means that there are no shooters in the schools," he said.
Delegate Kathy Tran (D-42) was there with her children too, and came right from the polls in her district where there was a big turnout. Tran said top issues for her constituents included healthcare, guns and women's rights. "I think we've done everything we can do," she said early in the evening, and that turned out to be right on target. Tran won her seat by 57 percent.