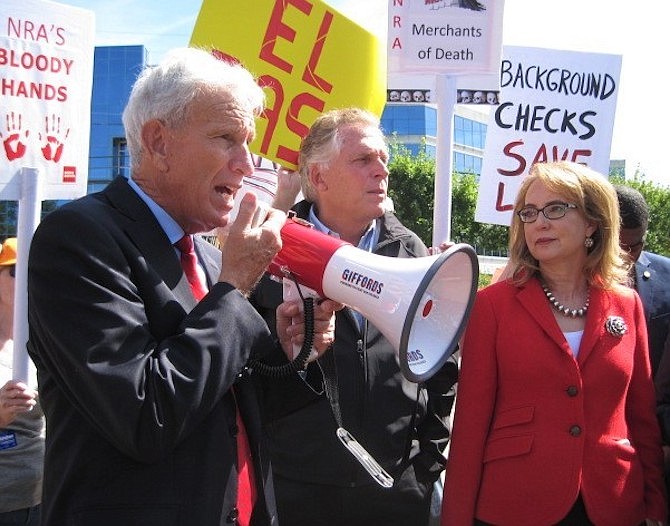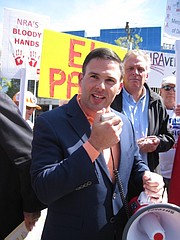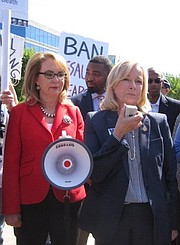 At high noon Friday, Sept. 20, a lady with true grit stood up to the National Rifle Association in Fairfax and introduced candidates who earned her confidence as gun violence prevention champions at next year's Virginia General Assembly.
Former Arizona Congresswoman Gabrielle "Gabby" D. Giffords was on a three-day visit to Virginia through Sept. 22 to help campaign for 40 state and local candidates her political action committee supports, and lead a roundtable discussion about gun violence Saturday in Virginia Beach with survivors, gun violence prevention activists and politicians on the Nov. 5 ballot.
About 50 people attended the Sept. 20 event in Northern Virginia, held on the sidewalk across the street from the headquarters of the nation's largest gun rights lobby. Former Virginia Gov. Terry McAuliffe and Virginia Senate Minority Leader Dick Saslaw (D-35) helped Giffords rally support for candidates committed to ending America's gun violence epidemic.
McAuliffe, Commonwealth governor from 2014 to 2018, expressed pride in receiving an "F" grade from the NRA when he ran for that office. He said he pushed 26 gun violence prevention bills and "every single one of them went down at 6:30 in the morning in a Republican subcommittee without a recorded vote."
"They didn't even have the courage to put their name behind it," McAuliffe added. He refers to the seven-member Subcommittee No. 2 of the House of Delegates Committee on Militia, Police and Public Safety. Two Democrats are outnumbered by five Republicans, who are known to kill gun violence prevention bills each January at the start of the regular session at the Virginia General Assembly.
McAuliffe also was rankled by the failed July 9 emergency gun session called by Gov. Ralph S. Northam in the wake of the mass shooting May 31 — when 12 people were gunned down while conducting ordinary government business on a Friday afternoon before closing time inside a Virginia Beach municipal building. The shooter used a silencer on one of his .45-caliber handguns, according to online reports.
Republicans adjourned the special session July 9 within 90 minutes without discussing Gov. Ralph Northam's package of proposed firearm safety measures.
"Virginia is going to lead the nation on common-sense gun control," McAuliffe said and has no doubt the candidates standing behind him are going to win Nov. 5 and restore both House and Senate chambers of the General Assembly to the Democratic Party.
As McAuliffe introduced "the next Senate Majority Leader," he called the NRA a disgrace to Virginia and said, "if you don't like our new bills, you can move your headquarters somewhere else because we don't want you here in the Commonwealth anymore."
Sen. Saslaw supports universal background checks, and said, "We should know who we're giving guns to." He also supports red flag laws. Saslaw added if a person must be 21 to drink, they must be 21 to buy a gun. Assault-style weapons, he says, need to be taken off the streets.
Speaking as a U.S. Army veteran, Saslaw was trained to fire all types of military weapons with high-capacity magazines, including the M1 .30-06 caliber semi-automatic rifle which helped the Allies win World War II. The gun fired eight rounds of ammunition in a single clip and was the primary weapon that defeated the Germans, the Japanese and the Italians, he said.
"Why do you need a magazine that holds 40 and 50 rounds of ammunition," Saslaw asks, "unless you're hell-bent for killing a lot of people in a real hurry … We need to ban anything more than 10."
Saslaw — who has served Falls Church and parts of Fairfax County and the City of Alexandria since 1980 — is running unopposed.
As he introduces Giffords, Saslaw said: "Hers is a story of hope, resilience and strength. … John Wayne may have made that movie 'True Grit,' but this is who it applies to."
GIFFORDS met with hometown constituents outside a supermarket Jan. 8, 2011 in Tucson, Ariz., where a gunman shot her in the head then fired at the crowd, killing six people and wounding 13 — including the Giffords.
Since then, media reports have updated the progress of a determined woman working hard to recover and become a stronger force for change. Giffords is a champion of the gun violence prevention movement started decades earlier by former press secretary Jim Brady, who also survived a bullet in the head during an assassination attempt on President Ronald Reagan March 30, 1981.
Brady and his wife, Sarah, pushed for gun control and achieved a victory with the Brady Handgun Violence Prevention Act, enacted in 1993 under the Bill Clinton administration. The federal law requires background checks on citizens who buy firearms and a five-day waiting period on gun purchases and formed the National Instant Criminal Background Check System.
Following the Dec. 14, 2012 mass shooting at Sandy Hook Elementary School in Newtown, Conn. — where 20 schoolchildren and 6 adults were slain — Giffords and her husband started their own gun violence prevention advocacy.
Sandy Hook also is the tipping point for area residents, who hold monthly protests at the NRA. Sept. 14 marked 81 consecutive months of protests along the sidewalk at NRA headquarters at 11250 Waples Mill Road. They honor the memory of the 26 children and staff who died at Sandy Hook from a Bushmaster XM15-E2S semi-automatic rifle that shoots 45 rounds of .223 caliber bullets per minute, according to online reports.
It's the same powerful AR-15 style rifle reportedly used by the Beltway Snipers during their killing spree in 2002 that claimed the lives of 17 people, including 10 area residents.
"These are scary times," Giffords said. "Stopping gun violence takes courage. The courage to do what's right."
"Fight, fight, fight," Giffords said. "Be bold. Be courageous. The nation's counting on you."
Del. Kathleen J. Murphy (D-34) told participants she started the gun violence prevention caucus at the House of Delegates because her brother was murdered by robbers on a sunny afternoon in Phoenix, Ariz.
Stephen Johnson was fatally shot at his workplace May 21, 2002. Murphy said he was the father of five children. Murphy attended his daughter's wedding recently. As her niece walked down the aisle with her brothers, they stopped at an empty seat reserved for their late father. The bride picked up a portrait of Johnson placed on the seat and kissed the image of her dad.
"It broke my heart," Murphy said. Her late brother had served in the military and had a gun in his office.
"He knew how to use it and he's still dead," Murphy said after Friday's press conference. She has served parts of Fairfax and Loudoun counties since 2015 and is opposed by Republican candidate Gary G. Pan of Great Falls. McAuliffe says he's a long-time McLean resident who lives in Murphy's district.
She knows she has his vote.
Fairfax County resident Dan Helmer stands among local candidates endorsed by Giffords. He is trying to unseat Del. Timothy D. Hugo (R-40), who has represented parts of Fairfax and Prince William counties since 2003.
Hugo is the Majority Caucus chairman Helmer blames for shutting down the July 9 emergency gun session. The gun violence prevention measures proposed by the governor were scuttled into the Senate Committee on Courts of Justice for further study until a Nov. 18 lame-duck session.
Helmer said Hugo "has killed 70 pieces of reasonable gun legislation the last two years alone and every single piece of reasonable gun legislation that's faced the General Assembly in the 17 years he has been in office."
Following the press conference, Helmer said he is a West Point graduate and a lieutenant colonel in the U.S. Army reserves. He carried military assault rifles during his service in Iraq and Afghanistan. Helmer knows civilians don't need these types of weapons.
"I've seen what they can do."
OTHER LOCAL POLITICIANS endorsed by Giffords PAC are Virginia House Minority Leader Del. Eileen Filler-Corn (D-41) and Del. Kathy K. L. Tran (D-42), both of whom serve parts of Fairfax County. Filler-Corn, who has served since 2010, runs against two challengers: Independent John M. Wolfe and Libertarian Rachel D. Mace.
Tran, who has served since 2018, faces Republican Steve P. Adragna Nov. 5.
All seats in the Virginia House of Delegates and Senate are on the ballot Nov. 5.

In his closing remarks at the Sept. 20 NRA rally, McAuliffe urged people to vote: "If you don't think your vote counts," McAuliffe said, "in 2017, we lost control of the House by the winner being picked out of a bowl because it was a one-vote difference."