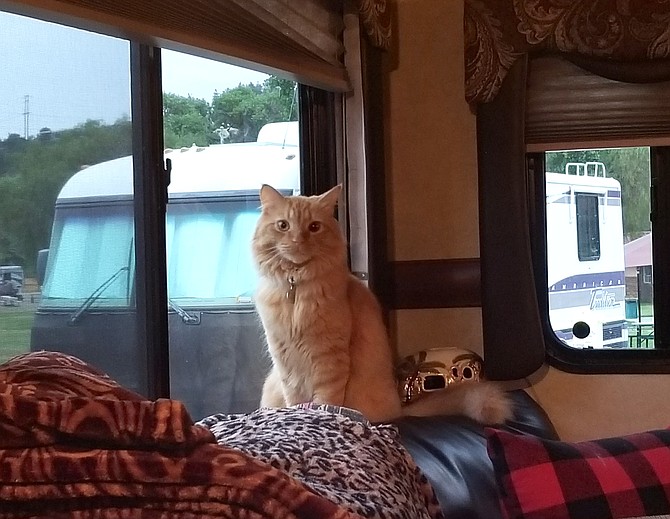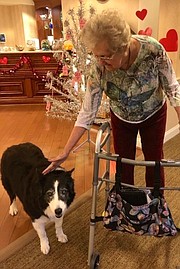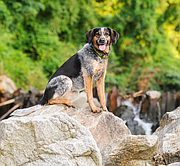 When the 2020 Animal Welfare League of Alexandria's photo calendar comes out this fall, the adorable face of a cattle dog named Abby will adorn the cover. She was the top vote-getter in this year's calendar contest, and will be Alexandria's Animal of the Year for 2020.
But Abby might as well have a second title: Therapy dog of the year. Adopted as a puppy five years ago by Diana and Nick Gritti of Alexandria, Abby had arrived at the Vola Lawson Animal Shelter through a special relationship with Potomac Highlands Animal Rescue, based in West Virginia.
Abby, then known as Ladybug, was the last of her litter of puppies to be adopted from the shelter. "She was a bitty puppy, sitting there in a huge kennel, looking at us with her dark eyes," recalls Diana Gritti. "We just fell in love with her."
The Grittis soon realized they had brought home a very smart, very sensitive dog, one that seemed to understand exactly what people were saying, even full sentences. Abby was also open to learning from the Grittis' other dog, an older miniature pinscher named Fitch, and became quite protective of him. "If I scold Fitch, Abby steps between the two of us," Gritti says.
Abby's greatest talent emerged at around age one, when Gritti's daughter needed consolation after breaking off her engagement to be married. "My daughter just lay on the couch for three days, distraught, and Abby lay beside her with her head on her chest and would not leave her. My daughter suggested she might have a talent for therapy."
Abby has now become an official therapy dog through the People Animals Love program earning her American Kennel Club therapy dog badge after more than 80 visits to local nursing homes. Her niche, Gritti says, is engaging residents of the facilities' memory units, where people receive care for dementia. For residents who express interest in her visits, Abby stands on her hind legs and places her front paws on the arm of their wheelchairs, allowing the residents to pet her. "It's amazing — some of the people don't talk or move until they see a dog and then they reach out and become verbal," Gritti said.
"At first when we would go to the homes, I think Abby was doing it to please me. She would often look up at me for approval," Gritti said. "But now, when I get her bandana out before a therapy session, she gets very excited and she is a whole different Abby. She seems to really enjoy it."
Abby is just one of several AWLA alumni to find adventure after their time at the shelter. A Belgian Malinois name Zara joined the Alexandria Police Department six years ago, and a Belgian shepherd called Kahn went to work for the D.C. Central Detention Facility. Another AWLA canine alumna named Katie is now the official animal-in-residence of Sunrise at Mount Vernon senior living community.
Katie, thought to be an Australian shepherd/border collie mix, was introduced to Hannah Drexler of Sunrise when she stopped at the shelter about a year ago, looking for a new pet who could visit with the residents of the senior living center. The AWLA staff suggested Katie. A mellow 13-year-old, Katie fit in with the residents right away, Drexler said, and now has free run of the building, sleeping in the memory care "neighborhood" at night. Drexler and her assistant, Patty Bragg, take turns feeding and walking Katie during the day.
Katie spends much of her days on the center's first floor, but has learned how to take the elevator to the activity room on the second floor, said Drexler, who is Activities and Volunteer Coordinator. "When she wants to go back downstairs, she just waits for someone to come along and press the elevator button," she said. "She's really queen of this building."
Drexler says that Katie is drawn to the residents and that they feel just as strongly about her. "They'll ask, 'Where's my dog?' when they don't see her in their hall," Drexler recalls. "She's just the happiest dog. She always has a smile on her face."
A three-year-old long-haired, orange cat named Ranger is having his own kind of adventures as the ideal travel companion for his people, Paul and Carolyn Taylor of Woodbridge. Ranger had been returned to the shelter by previous owners who said he was mischievous and had a habit of chewing on wires. But the Taylors couldn't get him out of their minds after meeting him at the AWLA in May, even though they had been seeking a kitten. It was his relaxed, friendly demeanor that attracted them, Paul Taylor said, and the couple's two sons agreed. They adopted him.
They quickly trained Ranger to wear a harness and walk with a leash, and they were soon on the road with him in their RV camper — first short trips to Harpers Ferry and northern Pennsylvania and then a cross-country journey to San Diego. Ranger continued his mellow ways as they traveled those thousands of miles, lying quietly in his carrier until their evening stops, when he emerged to take in the sights out of the camper windows.
"We have absolutely loved Ranger," Taylor said. "He is a bit mischievous, but we haven't seen any destructive behavior. We're happy we were able to take this wonderful cat and give him a home. He's an important part of our lives."
The Animal Welfare League of Alexandria is a local 501(c)(3) organization. Operating the Vola Lawson Animal Shelter, which is Alexandria's only open-access animal shelter, the AWLA touches the lives of more than 6,000 animals every year, including strays, lost pets, local wildlife, rescued animals and animals surrendered by their owners. The AWLA is committed to addressing animal homelessness, promoting animal welfare and serving as an educational resource for the community. More information can be found at AlexandriaAnimals.org.