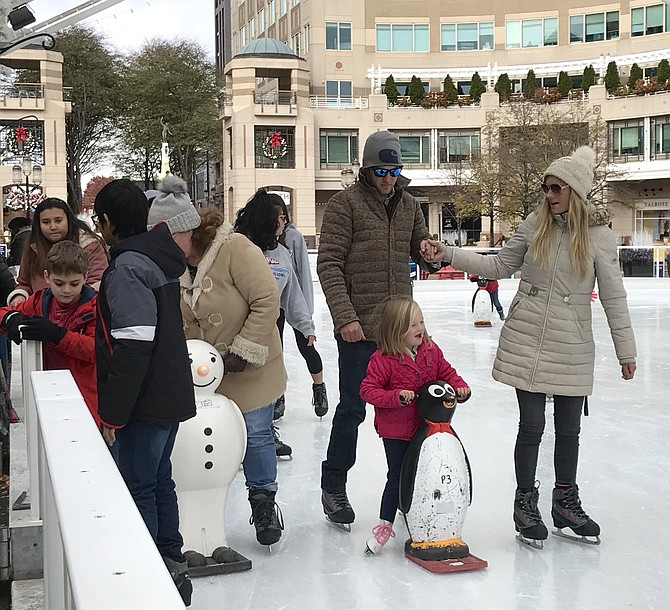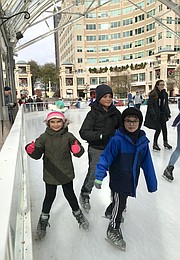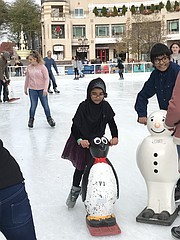 Want to skate outdoors and breathe the fresh air? Maybe get the benefits of burning up to 500 calories an hour while improving blood pressure, heart rate and mood? Grab the puffy coats, warm gloves and perhaps a helmet for little tykes and head to Reston Town Center. Its Ice-skating Pavilion opened Friday, Nov. 8 with nonstop, seven-day a week skating, now through mid-March and extended holiday hours.
On Saturday afternoon, the skate shop proved fully stocked with rentals of more than 500 pairs of hockey and figure skates in sizes 8 toddler's through men's 13. In addition to skates, the shop offered ice-skating training aids for children to assist them in getting their balance and confidence. The aids were multi-sized fiberglass penguins and snowmen with glides for feet and handlebars on their heads. The products stabilized new skaters, giving them confidence on the ice. Parents no longer had to strain their backs to hold up their children but could skate beside them instead.
The Wilson twins, Jack and Isabella, 7, and brother Dominic, 9, hit the ice that afternoon while parents Richard and Cynthia thought it best to watch from the sidelines. "Ice-skating brought us to Reston Town Center… We decided not to skate ourselves, didn't want to hold them back," said dad Richard with a grin.
Cole Hilling and Savannah Myzk brought Denver, 5. Myzk explained she had ties to Reston, her mother worked there, and she hadn't been back in years. However, today proved the perfect opportunity to return and take Denver skating.
For Isha Maruf, 8, the day held double merit, first time on the ice, and it was her birthday. "I never did this before," she said. One of the rink's penguin ice-skating aids gave Maruf something to hold on to while she got a feel for the ice. "I can do this," she said taking small glides.
Located at 1818 Discovery Street in the heart of Reston Town Center, known for its dining and shopping options, the rink is open to novice and experienced skaters. Highlights of special ice-skating events offered at the rink include Friday Rock the Rink, Saturday Cartoon Skate and Thursday College Night as well as lessons, private party availability and a Work Perk Program. For hours, pricing and additional information visit restontowncenter.com/skating/ or contact the Skating Pavilion hotline: 703- 709-6300.