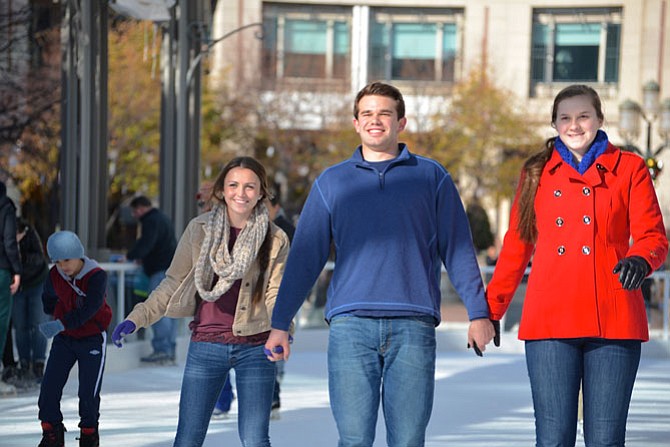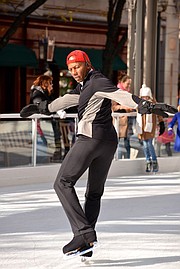 Meteorologists around our region have been gleefully talking about the earlier-than-normal return of Polar Vortex-like weather for weeks, but the forecast for the Reston Town Center Ice Skating Pavilion this past weekend was appropriately chilly, with brilliant blue skies overhead, holiday decorations all round, and buckets of fun on the ice.
The 2014-2015 winter skating season in the outdoor rink is underway, to the delight of skaters of all ages and all levels of proficiency, from near and far. From November until March, the Pavilion management offers a variety of skating options and atmospheres. Saturday mornings are a great time to bring the young ones (and the young-at-heart) to the Pavilion, when cartoon characters share the ice from 11 a.m. – 1 p.m. If you're looking to combine your gliding with some up-tempo music and a few dance moves, then the Friday night "Rock n Skates" might be your time on the ice. Thursdays are College Nights, when students with I.D. save $2 from 6 - 9 p.m.
There's also plenty of ways to learn or improve on your skating abilities. The Ice Skating School at the RTC Ice Skating Pavilion offers lessons for skaters from 2 and half years old and up following the U.S. Figure Skating's Basic Skills Curriculum, with specialty classes for pre-schoolers, Advancing Skaters, and Adults. New for this season, the Skating School is also offering its Center Ice Academy (CIA), "for skaters ready to take their skating to the next level." Membership in the CIA includes up to 12 group lessons, 15 free practice sessions, priority access to Sunday morning freestyle/private lesson sessions, the ability to move up through levels without re-registering, and more. The Skating School also facilitates registration with instructors for private lessons.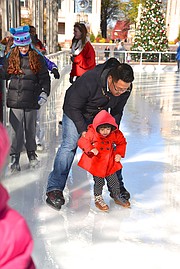 Through their website at www.rtclearntoskate.com, skaters seeking individualized instruction can contact a teacher directly, or use the website to be matched with an instructor. The Pavilion is also available for birthday, group and private rentals and fundraising opportunities. This year's annual celebration of outdoor skating will take place on Saturday, Nov. 22, from 11 a.m. – 12:30 p.m. Free and open to the public, "Elements at the Center – Skating with Style," will feature performances by local figure skaters and skating teams, as well as an on-ice fashion show highlighting local retailer Athleta's winter activewear. The rink will re-open for public skating at 12:45 p.m.
With so many options and so much to do, surrounded by the offerings of "urburb" Reston Town Center, there's no excuse not to come down and join in the fun – even if that just means watching the action from the sidelines with a cup of hot chocolate in hand. Check out www.restontowncenter.com for all the pertinent information. The Pavilion Office and skate shop are located at 1818 Discovery Street, Reston.