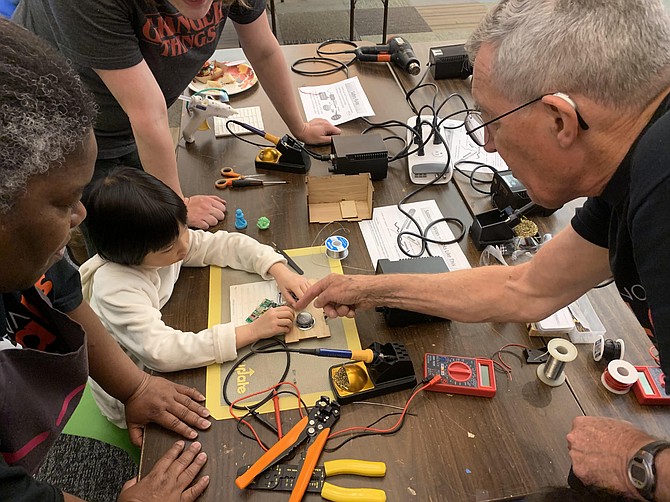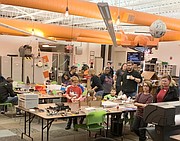 NovaLabs, a local educational nonprofit, hosted its second Kids Open Maker monthly event on Saturday, Nov. 16, at its facility in Reston. Children explored and learned about robotics, coding, drones, deconstruction, crafts, and blacksmithing, with the help of volunteers.
Founded in 2011 as part of the "maker movement," NovaLabs is the largest makerspace in the DMV (D.C., Maryland, Virginia) area and runs 24/7. It is supported by memberships and a vast array of volunteers including inventors, artists, engineers and entrepreneurs. The nonprofit offers classes to foster learning, teaching, and collaboration in a 10,500 square-foot space equipped with classrooms, offices, tool shops and manufacturing equipment. It hosts a multitude of popular meetups, "the largest of which is cybersecurity and hacking, one of the hottest careers in STEM right now," said Jennyfer Peterson, operations services leader.
"Nova Labs's mission is to create a community that makes things, all kinds of things. We have a lot of tools here, but the thing that makes it different is the community of people who help each other make things using those tools," said Peterson.
As for the nonprofit's future, nothing could be more at stake than its own facility. A new high-rise is set to replace the current facility within the next two years. The immediate goal is to find a new home that is affordable and allows the nonprofit to remain independent.
"NovaLabs is one of the true meaningful things for residents to (participate in) besides going to dinner and shopping. We are a family learning space and very successful. It is critical that we get some help to remain in the Reston area so we can continue to serve the community to rediscover the joy of making things," said Peterson.
NovaLabs will host a Kids Open Maker on the third Saturday of each month, starting again in January.
For more info on NovaLabs and its events, visit https://www.nova-labs.org/