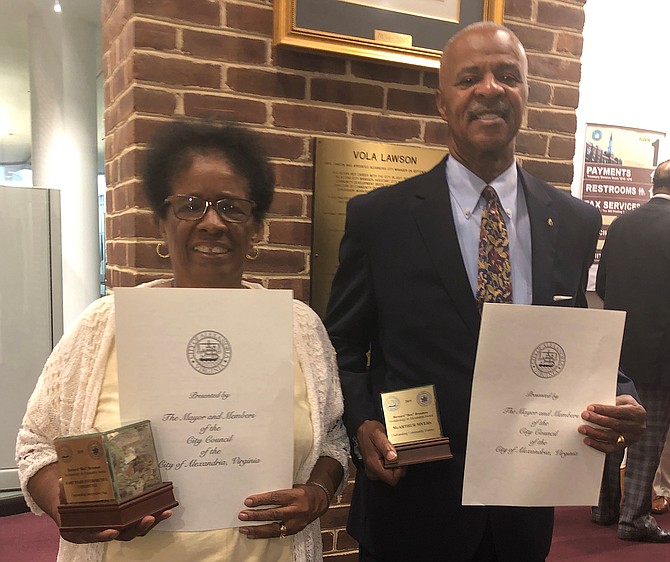 The Alexandria Archaeological Commission presented its annual Ben Brenman Archeology in Alexandria Awards during a proclamation ceremony Oct. 2 at City Hall.
Named in honor of the late Bernard "Ben" Brenman, a longtime Commission chair, the award recognizes businesses, organizations, families, professional preservationists, volunteers, students and other individuals who have demonstrated work or efforts in archaeological investigation, research, site protection, education, public interpretation, open space design, collections, or conservation.
Councilmember Del Pepper presided over the awards presentation, reading a proclamation recognizing the 2019 honorees. Two awards were presented, one to members of the Fort Ward Interpretive Committee and one to McArthur Myers.
The Fort Ward Interpretive Committee, consisting of members Frank Cooling, Mary Furlong Minkoff, Carol Johnson, Krystyn Moon, Frances Terrell, Adrienne Washington and Charles Ziegler, was recognized with the Outstanding Interpretive Plan award for their dedication to the ongoing interpretation of history at Fort Ward Park.
The committee has implemented interpretive experiences for visitors to the park as a Civil War fort and then as the center of an African American community based on the theme "Bastions of Freedom," which charts the arc of history at the park from Civil War to Civil Rights.
Myers was presented with the Outstanding Community History award in recognition of his dedication to the preservation and interpretation of Alexandria's African American heritage.
Through organizations including the Historic Alexandria Resources Commission, the Society for the Preservation of Black Heritage, and the African American Heritage Trails Committee, Myers has worked to interpret Alexandria's history at the Universal Lodge #1, Third Baptist Church and the Historic Waterfront.
The Alexandria Archaeological Commission established the Brenman Award in 2007 in honor of the late activist and retired U.S. Army colonel. Brenman was a founding member of the Commission, serving as its chair for 21 years. A City of Alexandria commission, it was the first of its kind established in the country.