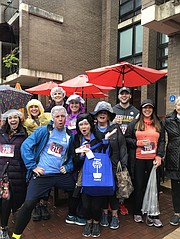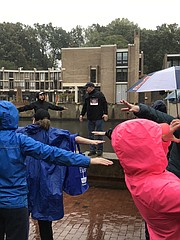 The local community turned out to support the 2nd Annual South Lakes High School PTSA Food Pantry Do it Your Way, the ultimate run for those willing to laugh at themselves while helping others. Held on the Washington Plaza at Lake Anne in Reston, Sunday, Oct. 20, participants registered as a student, adult team or family with all funds raised directed to the SLHS PTSA Food Pantry.
Every $250 raised would fill 75 much-needed orders at the valuable in-house resource where students can discreetly shop for food and toiletries. Approximately 730 students, 30 percent of all SLHS students experience food insecurity, according to event organizers. To shop at the pantry, students complete a shopping list available in English, Spanish and Arabic and turn it in on Thursdays or students can come in. Volunteers pack shopping bags and have them ready for student pick-up on their way out the door on Fridays. The pantry caters to students in the SLHS pyramid and is operated by the school's Parent Teacher Student Association.
Andy Sigle, event announcer and one of the original organizers of the Food Pantry, waited in the heavy rain outside Lake Anne Brew House, the start and finish line for the race. With a shower cap on his head, he thanked "resilient Restonians and resilient Herndonites" and everyone who is here, for showing up. "We cannot do this without your support...The population at the pantry has more than doubled... Since we opened in March of 2017, we have filled more than 10,000 orders for food and over 20,000 bags of food and toiletries... Your in-kind donations and monetary support are the only way that happens, so thank you."
On hand at the registration table, members of Team High Energy, Powerful Reston, gathered with umbrellas and rain caps for their epic run. "We're out to raise $1000 for the Food Pantry. Rain won't stop us," said team leader Carol Welsh to mates, Susan McGeehan, Mariah Wilson, Rob Cox and Loaryn Merkley of Reston. "I'm doing this because I want to help disadvantaged students have the food they need and families cannot afford. Their money is going to pay for rent and other necessities," said Wilson.
To assure 'healthy" fluid and nutrition intake during the most rewarding and fun 650 steps participants would take this month, event organizers and co-founders of the Food Pantry, Roberta Gosling, Amy Shaw, Abbe Pascal, Sherri Pudner and Andy Sigle of Reston mapped a stop on the official route mid-way for donuts and water.
Charlotte Geary of Reston waited for the race to begin with her daughter, Katie Pritchard, 6, who participated last year. "I hope I have on the right shoes. I like the donuts," said Katie. Asked how many she planned to eat, Katie replied, "It depends on how many my mom will let me." To keep race memories alive, organizers arranged for runners to snap a picture of themselves with the bench-seated statue of Reston's founder, Robert E. Simon Jr.
The morning after the event, organizer Roberta Gosling reported $18,000 raised, enough to fill 5,500 student orders with 11,000 bags of food. The pantry at SLHS accepts toiletries, canned goods, boxed and dry goods, cooking oil, laundry detergent, and dish soap. Donations can be dropped off at the school's main office during school hours. The SLHS PTSA Food Pantry sponsored the race, operated independently of the Fairfax County School Board, the Superintendent and SLHS.