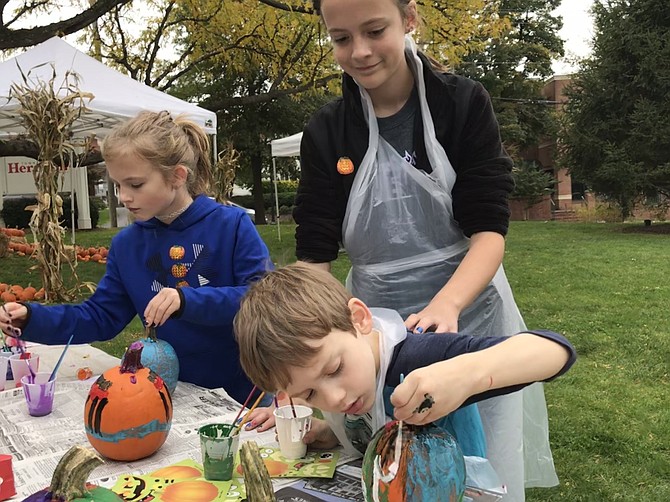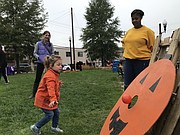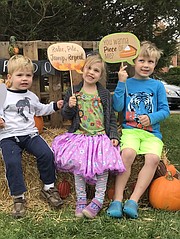 The Herndon Town Hall Square turned into a Parks and Rec Pumpkin Palooza, fueling the love of the big orange squash. The Saturday morning event, held the weekend before Halloween, provided a variety of activities centered on the seasonal favorite; like a pumpkin derby, pie-eating contest, pick-and-paint pumpkin patch and more, all free fun for the whole family.
While the Manwaring children of Herndon, Huck, 2, Eliza, 4, and Calvin, 6, climbed on the straw bales, mom Amanda said, "We came into town to look at costumes at The Closet of Greater Herndon, didn't find anything but found this fun on the Town Square instead."
Creativity and genius soared in the 14-year-old and younger set that brought their self-designed, non-motorized pumpkin racers to compete in Herndon's inaugural Pumpkin Derby. Contestants constructed their non-power driven racers incorporating axles and making sure wheels aligned — no skateboards or pre-constructed bottoms here. Children and youth let their creations rip down a steep incline only to have some crash and spill, but others roll on to victory. Both children and adults tested their yum of pumpkin pie by claiming seats at the pie-eating table, seeded by age in three heats. First place finishers received more pumpkin pie, provided by Sprouts Farmers Market, according to Stephanie Moore-Brewer, Herndon Parks and Recreation Department.
Christy Frogale of Herndon brought her daughter Kayla, 3. "I'm always looking for outside events," she said. Moore-Brewer, who organized the event, understood the need to motivate and entice children and parents back outside to play without other distractions.
"One of the purposes of Parks and Recreation is to get people out and downtown in our family-friendly community," she said. Looking around at all the people on the Town Square, the department obviously succeeded.