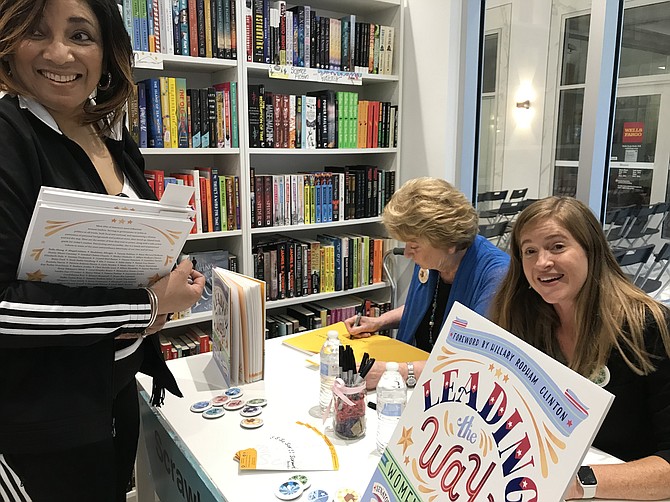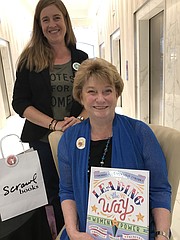 Authors Janet Howell of Reston, State Senator for District 32, and Theresa Howell, Janet's daughter-in-law, launched their newly released compendium, 'Leading the Way: Women in Power' on Oct.13 at Scrawl Books in Reston. Due to the number of attendees, staff set up chairs in the hallway lobby of the building, which housed Scrawl Books, located at 11911 Freedom Drive. One of Janet Howell's first sentences caught the audience's attention. Howell recalled three years ago while she and Theresa sat at the family kitchen table, chatting, Theresa lamented while she would like her daughters to get into politics, they didn't know how nor did they have many examples of women who had done anything. In that moment, the Howells' came up with the idea of writing a book for young readers. It would highlight fifty American women who blazed trails and changed the country through politics.
In an interview, the senator and Theresa clarified why they wrote the book, target audience and feedback. "I wanted the book to inspire kids nine and over to become involved in politics and learn how to be effective… (And) I wanted any child who opened the book, to see someone who looked like them – women representing economic, cultural and racial differences and different political perspectives," said the senator.
Theresa added, "We wanted it to appeal on many different levels. One reader could flip through and enjoy the pictures and stories; another could have it read to them. The stories are of women who built America and overcame obstacles. The book was tested for cultural sensitivities, and my two children, 11 and 14, read it…and had little or no criticism."
While speaking to the audience, Theresa shared one of her favorite women featured in the book. "I honestly, thought everybody else in the world knew about her, but I did not…Victoria Woodhull. She was the first woman in the United States to ever run for President, and it was in 1872. …She was a suffragist; she was writing newspaper articles about women's rights; she tried to vote and got arrested."
The Howells wanted the book to be more than just stories about women with the desire to make a difference and improve life for fellow citizens. So they included a special section in their book titled: 'How to Stand Up, Speak Out, and Make a Difference: A Take-Action Guide.' Theresa explained that next to each biography in the book, readers could find tactics women used to make changes.
"Eight qualities women in the book have…courage, empathy, communication, persistence, resourcefulness, diligence, community, integrity. …Then next to each woman on her page, we highlighted the three to four things that she identified best in her career."
The Howells also printed the attributes on buttons for readers to take with them, one that best represented current qualities or ones they sought to develop further.
"Count me in with people who want you to write a sequel, 'Leading the Way: Part Two' aimed at the teenage audience," said Debra Steppel of Reston.
'Leading the Way: Women In Power,' (Hardcover) written by Janet Howell and Theresa Howell with forward by Hillary Rodham Clinton is available through Amazon and locally at Scrawl Books, 11911 Freedom Drive.
Book Reviews & Author Biographies
Former Secretary of Homeland Security Janet Napolitano: "The women profiled here were once girls who not only dreamed big but went big. These women from different backgrounds, in different circumstances, chose to lead, and I hope the young readers of this book do the same!"
U.S. Congresswoman Jennifer Wexton: "It is so important that we inspire young people to become active in politics. The fifty women in this book are groundbreaking role models for our kids."
U.S. Senator Tim Kaine: "Inspiring more young women to be politically active makes this book important to our future!"
Janet Howell has been a Virginia state senator since 1992. She is second in seniority in the state senate and the longest-serving female Virginia legislator. Credited with major legal reforms, she was also the first woman to serve on the powerful Senate Finance Committee and the first and only woman so far to be appointed as a senate budget conferee. A civil rights worker in college and a longtime community leader, she has been honored with many awards, including a Child Health Advocate Award from the American Academy of Pediatrics. She lives in northern Virginia with her husband, Hunt.
Theresa Howell is the co-author of the award-winning "Maybe Something Beautiful" with F. Isabel Campoy, illustrated by Rafael López. She is also the author of the picture book series "Scout Moore, Junior Ranger." She lives in Colorado with her two daughters and husband, Brian.
Sourced from Scrawlbooks.com