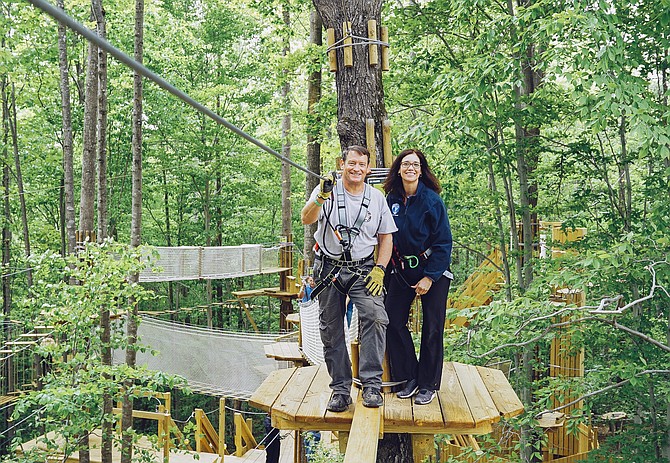 Springfield District encompasses everything from the historic town of Clifton, to the bustling shops of Fair Oaks Mall, to miles of trails at beautiful Burke Lake Park. Our district offers a variety of attractions for the whole family throughout the year. From our nationally ranked parks, fine restaurants, and shopping there is something for everyone in Springfield.
There are some exciting new developments in Springfield District. One major project is the renovation of the Old Keene Mill Shopping Center. The shopping center's owner, Federal Realty Investment Trust, is giving the entire shopping center a face-lift through renovations including a double-sided outdoor fireplace and a communal village design, with new storefronts and signs, wider sidewalks, as well as new landscaping and pavilions. I recently attended the opening of an interactive art exhibit at the shopping center sponsored by ARTSFAIRFAX. This project is expected to be complete by Thanksgiving 2019.
There are also a number of critical transportation improvements in the pipeline for Springfield District – Rolling Road from Old Keene Mill Road to the Parkway will be widened to 4 lanes with trail improvements; the Fairfax County Parkway will be widened from four lanes to six lanes from Popes Head Road to Route 29 and the interchange at Popes Head will be grade-separated (no traffic light); Route 29 will be widened from 4 to 6 lanes from Buckley's Gate to Union Mill Road; Route 28 will be widened from the Route 29 interchange to Bull Run and a new interchange is being constructed at I-66. There will be new HOT lanes on I-66 and many other minor transportation improvements that will help to get you home to your families.
Top Ten
My top 10 favorite places in the District (it's hard to pick just 10):
Burke Lake Park was named "Best Public Park" by NoVA magazine in 2018 and is the most visited park in Fairfax County's Park system. The park contains a trail that goes around the lake and is great for walking (with or without your dog), running and cycling. American Hiking Society has named these trails in the top ten in the nation. There is also fishing, boat rentals, camping, disc golf, mini golf, an 18-hole golf course, a newly renovated driving range, volleyball courts, a miniature carousel, and miniature train. My favorite event at the park is the Springfield Nights Concert Series that runs from July through August sponsored by my office and the Park Foundation. With free music by nationally and internationally recognized bands, beautiful scenery, and the best of local food vendors from Two Silos Brewery and Peterson's Ice Cream, these are a great way to spend your summer nights. (7315 Ox Rd, Fairfax Station).
Fair Oaks Mall, one of the region's largest shopping destinations in Fairfax, features a collection of 200 shops, services, and dining establishments in an enclosed, two-story retail center. The mall offers one of the most diverse and compelling retail and dining collections under one roof and is the perfect destination on a sweltering or rainy weekend afternoon. (11750 Fair Oaks Mall, Fairfax).
The Children's Science Center Lab in Fair Oaks Mall is a fantastic museum that allows children (and their parents) to get hands on experience with STEM concepts (Science, Technology, Engineering and Math). Education is so important, and this museum, which is designed for kids between 2 and 12 years old, does an excellent job of challenging and shaping young minds. Be sure to stay and shop and/or eat at one of the best malls in the area. (11948 Fair Oaks Mall, Fairfax).
Make sure to catch your fill of Friday Night Lights! The Springfield District has some of the best high schools both academically and athletically in the country. As a West Springfield High School alumnus, there are few things I enjoy more than getting to a football game in the fall where there's a buzz in the air and a little snap of cold from the changing seasons. Go cheer on your local high school team at West Springfield, Lake Braddock, South County, Robinson, or Centreville.
The newest addition to Fair Oaks Mall, Dave & Buster's is a great time no matter what age you are. With a full arcade and an entire room of potential prizes, plus you can get half-priced games all day, every Wednesday. After playing your favorite arcade games, you can make it a complete afternoon or evening by stopping by the restaurant for dinner or bar for drinks and snacks.
One of our most visited "one-stop shops" is South Run RECenter. Not only does it feature a two-story fitness center with heated indoor pool and poolside spa, but the surrounding park offers soccer and baseball/softball fields, two tennis courts, two outdoor basketball courts, a field house with newly installed athletic turf playing surface, accessible playground, and an off-leash dog area. In addition, the newly opened Go Ape ropes and ziplining course is another great feature of South Run Park. (7550 Reservation Dr., Springfield).
Peterson's Ice Cream Depot is a family owned and operated business in Historic Clifton, and let me tell you, they serve some of the best gourmet ice cream in Northern Virginia. (7150 Main St, Clifton).
Don't miss Fairfax's own little slice of paradise: the award-winning Paradise Springs Winery. The land the winery is built on has remained in the same family since it was granted to them by Lord Fairfax in 1716. Head down on Friday nights between 5 and 9 p.m. to hear live music and best wine in Fairfax County. (13219 Yates Ford Rd, Clifton).
Acres of undisturbed woodland, quiet trails, splashing streams and a tranquil pond are just a few of the reasons to visit Hidden Pond Nature Center. The nature center, which is accessible to everyone, features exhibits and live displays which orient you to the park and the natural world of Fairfax County. In addition, the center has a small sales area featuring books and other items for the nature enthusiast and nature study areas for group visitors. (8511 Greeley Blvd., Springfield).
The Annual Clifton Day Festival (the Sunday before Columbus Day) is a unique opportunity to bring your family to the historic town of Clifton and enjoy arts and crafts, antiques, demonstrations, the Town Market, live music, children's activities, and lots of good food. With so many fun things to do and see, you can easily spend an entire day enjoying the charm of Clifton.
Most importantly, if there is ever anything my office can do for you, do not hesitate to ask. I have always agreed with Thomas Jefferson's notion that government closest to the people is best, and you cannot get much closer to the people than being a Supervisor. Our jobs are multi-faceted; I would go as far to say that somewhere around 80 percent of an individual's contact with government at any level is at our level. Whether it's land use, transportation, education, public safety, or tax related, my staff and I are always here to answer your questions.