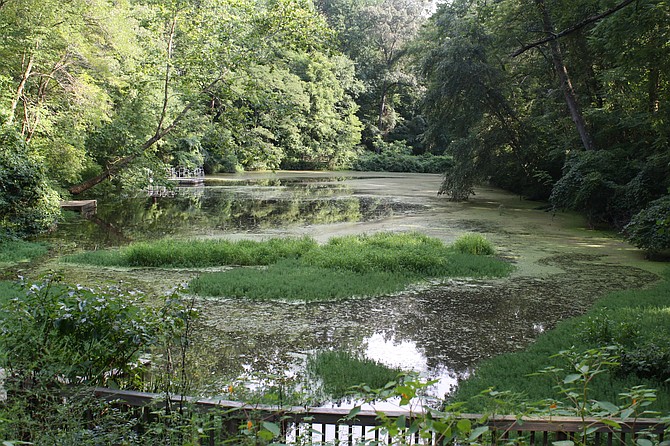 Springfield District encompasses everything from the historic town of Clifton, to the bustling shops of Fair Oaks Mall, to miles of trails at beautiful Burke Lake Park. Our district offers a variety of attractions for the whole family throughout the year. From our nationally ranked parks, fine restaurants, and shopping there is something for everyone in Springfield. For this year's edition, we are highlighting ways for the family to enjoy the best of Springfield District while abiding by social distancing guidelines.
There are some exciting new developments in Springfield District.
One major project is the renovation of the Old Keene Mill Shopping Center. The shopping center's owner, Federal Realty Investment Trust, gave the entire shopping center a face-lift through renovations including a double-sided outdoor fireplace and a communal village design, with new storefronts and signs, wider sidewalks, as well as new landscaping and pavilions. Restaurants on site are currently open for carry-out and distanced seating on site at certain locations.
There are also a number of critical transportation improvements in the pipeline for Springfield District – Rolling Road from Old Keene Mill Road to the Parkway will be widened to 4 lanes with trail improvements; the Fairfax County Parkway will be widened from four lanes to six lanes from Popes Head Road to Route 29 and the interchange at Popes Head will be grade- separated (no traffic light); Route 29 will be widened from 4 to 6 lanes from Buckley's Gate to Union Mill Road; Route 28 will be widened from the Route 29 interchange to Bull Run and a new interchange is being constructed at I-66. There will be new HOT lanes on I-66 and many other minor transportation improvements that will help to get you home to your families.

Supervisor Herrity's Top Ten Favorite Places in the District:
1) Burke Lake Park was named "Best Public Park" by NoVA magazine and is the most visited park in Fairfax County's Park system. The park contains a trail that goes around the lake and is great for walking (with or without your dog), running and cycling. American Hiking Society has named these trails in the top ten in the nation. There are also fishing, boat rentals, camping, disc golf, mini golf, an 18-hole golf course, a newly renovated driving range, volleyball courts, a miniature carousel, and miniature train. Burke Lake Park is free for Fairfax residents to use. Under current guidelines, campgrounds are currently open, as well as the Ice Cream parlor and the marina for fishing. You may also continue to reserve facilities at the Park, but please note that there may be lower than advertised reservation capacity due to social distancing efforts. (7315 Ox Rd, Fairfax Station, VA 22039)
2) One of the region's largest shopping destinations in Fairfax, Fair Oaks Mall features a collection of 200 shops, services, and dining establishments in a two-story retail center. The mall offers one of the most diverse and compelling retail and dining collections under one roof and is the perfect destination on a sweltering or rainy weekend afternoon. (11750 Fair Oaks Mall, Fairfax, VA 22033)
3) The Children's Science Center Lab in Fair Oaks Mall is a fantastic museum that allows children (and their parents) to get hands on experience with STEM concepts (Science, Technology, Engineering and Math). Education is so important, and this museum, which is designed for kids between 2 and 12 years old, does an excellent job of challenging and shaping young minds. While the facility is currently closed to the public, the Children's Science Center Lab continues to host virtual camps, field trips, and events through their website. For more information, please visit childsci.org.
4) The newest addition to Fair Oaks Mall, Dave and Buster's is a great time no matter what age you are. With a full arcade and an entire room of potential prizes, plus you can get half-priced games all day, every Wednesday. After playing your favorite arcade games, you can make it a complete afternoon or evening by stopping by the restaurant for dinner or bar for drinks and snacks. Under current guidelines, Dave & Buster's is open and works to maintain the facility clean by requiring masks from guests and providing gloves upon request. Staff works to maintain a safe experience by separating tables, providing disposable menus and some games are currently unavailable due to social distancing. (11958 U Fair Oaks Shopping Center, Fairfax, VA 22033)
5) One of our most visited "one-stop shops" is South Run RECenter. Not only does it feature a two-story fitness center with heated indoor pool and poolside spa, but the surrounding park offers soccer and baseball/softball fields, two tennis courts, two outdoor basketball courts, a field house with newly installed athletic turf playing surface, accessible playground, and an off-leash dog area. In addition, the newly opened Go Ape ropes and ziplining course is another great feature of South Run Park. South Run RECenter facilities are currently available through a reservation system on the Fairfax County Park Authority website. To access the fitness center and the pool, please make reservations online. Guests will undergo a temperature check, health screening at entry, and masks/face coverings are required for entry. Go Ape has also reopened in accordance with social distancing guidelines. (7550 Reservation Dr., Springfield, VA 22153)
6) Peterson's Ice Cream Depot is a family owned and operated business in Historic Clifton, and let me tell you, they serve some of the best gourmet ice cream in Northern Virginia. Peterson's is currently open for take-out orders in Clifton. (7150 Main St, Clifton, VA 20124)
7) Don't miss Fairfax's own little slice of paradise: the award-winning Paradise Springs Winery. The land the winery is built on has remained in the same family since it was granted to them by Lord Fairfax in 1716. Paradise Springs is now open! Guests are asked to abide by social distancing guidelines and wear masks/face coverings when visiting the winery. (13219 Yates Ford Rd, Clifton, VA 20124)
8) Acres of undisturbed woodland, quiet trails, splashing streams and a tranquil pond are just a few of the reasons to visit Hidden Pond Nature Center. The nature center, which is accessible to everyone, features exhibits and live displays which orient you to the park and the natural world of Fairfax County. Hidden Pond is currently open in accordance with distancing guidelines and continues to host events for children and families to study and foster interest in nature enthusiasts of all ages. (8511 Greeley Blvd., Springfield, VA 22152)
9) Looking to catch up on some reading? Pohick Library is now open under social distancing guidelines. Under express services, patrons can browse shelves and pick up reading materials for checkout at Pohick. Patrons are asked to limit visits to 30 minutes and wear masks/face coverings upon entry. (6450 Sydenstricker Rd Burke VA 22015- 4274)
10) Hemlock Overlook Regional Park in Clifton offers a convenient day hike location to explore nature without having to drive too far! While facilities at the Park are currently closed, the hiking trails are open. Enjoy a scenic day hike through the Bull Run-Occoquan Trail which runs through Hemlock to the Fountainhead Regional Park. (13220 Yates Ford Road Clifton, VA 20124)
As we all endure this pandemic, it is important to recognize the impact that this has had on our community and our need to come together. Our senior population has been especially hit hard by this pandemic. By continuing to find safe ways to practice social distancing and support one another, we will be able to work together to make sure we are taking care of each other and staying healthy.
If there is ever anything my office can do for you, do not hesitate to ask. I have always agreed with Thomas Jefferson's notion that government closest to the people is best, and you cannot get much closer to the people than being a Supervisor. Our jobs are multi-faceted; I would go as far to say that somewhere around 80 percent of an individual's contact with government at any level is at our level. Whether it's land use, transportation, education, public safety, or tax related, my staff and I are always here to answer your questions.