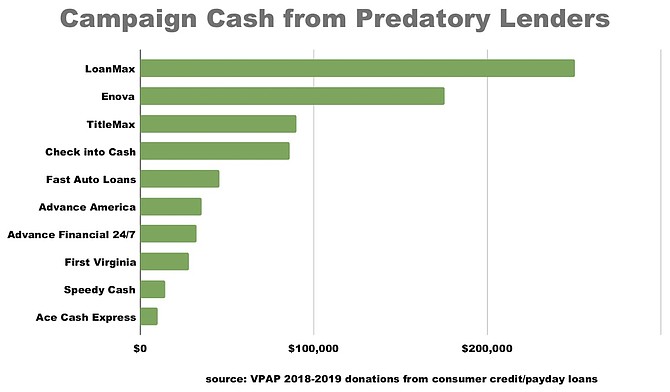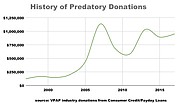 Alexandria has eight car-title lending locations and two payday lenders, plus a growing number of companies offering online loans at nosebleed interest rates. It's an industry that's been under fire in recent years, and now campaign-finance disclosures show these companies are spreading their money around to Democrats and Republicans in an effort to influence the next General Assembly. So far this election cycle, the industry has given about $840,000, although some of the biggest donations might still be to come as the campaign season heats up this fall.
"There's a lot more contributions from internet lenders that I've never seen before," said Jay Speer, executive director of the Virginia Poverty Law Center. "That's probably because there's pressure being put on them from lawsuits from the attorney general and also there's been a push in the last couple of General Assembly sessions to do something about the internet loan loopholes."
Georgia-based LoanMax is the most generous, forking over a quarter of a million dollars this campaign cycle. The company offers car-title loans, which can have interest rates as high as 264 percent under Virginia law. Critics have long charged that LoanMax and other car title lenders like TitleMax and Fast Auto Loans take advantage of people in financial crisis by trapping them in a cycle of debt. Defenders of the industry say these companies offer loans to high-risk borrowers, which is why they say the high interest rates are justified. Alexandria has five TitleMax locations, two LoanMax locations and one Fast Auto Loans.
"You're talking about a relatively vulnerable population that may not be able to get conventional loans, and that environment is the kind of place where Democrats might be ready to legislate," said Stephen Farnsworth, professor at the University of Mary Washington. "If the Democrats control all the levers of power come January, these so-called lenders of last resort will miss the Republican majorities that have let them operate the way they have over these last several years."
Although the industry gives mostly to Republicans, the campaign cash extends to prominent Democrats in key positions. LoanMax, for example, gives mostly to Republicans. But its two largest donations this campaign cycle went to Democrats: $30,000 to the Virginia Senate Democratic Caucus and $25,000 to Senate Democratic Leader Dick Saslaw, who represents Alexandria in the state Senate.
One of the top recipients is Del. Tim Hugo (R-40), who took in more than $50,000 from the industry this campaign cycle. Another Northern Virginia lawmaker who routinely takes money from car-title lenders is Del. Kaye Kory (D-38), who received $500 from LoanMax a few days before the General Assembly session began this year.
"There's no question that special interest money is given to people not so much to bribe them in terms of their vote, but they are certainly going to support candidates who have been sympathetic to their industry or their positions or their policies in the past," said Bob Denton, professor at Virginia Tech. "When it comes to car-title lenders, Republicans have protected that industry by and large."
The influx of campaign cash comes at a time when the industry has been under intense scrutiny and growing calls for tighter rules to prevent abuse. So far, industry leaders have been able to thwart reform efforts by quashing bills with unrecorded votes in House subcommittee meetings. That's a procedural move that allows General Assembly members to avoid answering questions about predatory lending on the campaign trail. The political donations also come at a time when Attorney General Mark Herring is suing Enova in Fairfax County.
"We've seen more and more Virginians turn to online lenders in a time of need only to find they've signed up for a debt trap that is going to cost them hundreds if not thousands of dollars in finance charges and interest," said Herring in a written statement when he announced the lawsuit in May 2018. "I believe we need stronger laws to protect Virginians from predatory loans, whether issued online or in-person. But until we get those, I'm going to make sure the laws we have are enforced and make sure that companies can't come into our state and abuse financially vulnerable Virginians."
A Look at the Top Givers
$250,000 from Georgia-based LoanMax, which offers car-title loans
$175,000 from Chicago-based Enova, which offers internet loans
$90,000 from Georgia-based TitleMax, which offers car-title loans
$86,000 from Tennessee-based Check-Into-Cash, which offers open-end lines of credit
$46,000 from Georgia-based Fast Auto Loans, which offers car-title loans
$36,000 from South Carolina-based Advance America, which offers payday loans
$33,000 from Tennessee-based Advance Financial 24/7, which offers internet loans
$28,000 from Ohio-based Community Choice Financial, which offers open-end lines of credit as "First Virginia"
$15,000 from Kansas-based Speedy Cash, which offers internet loans
$10,000 from Texas-based Ace Cash Express, which offers payday loans