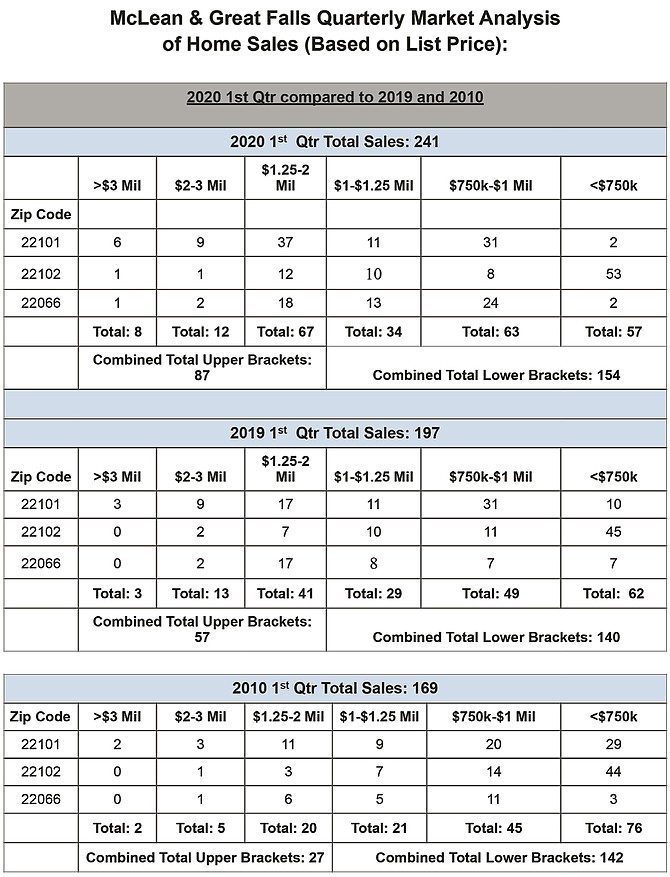 The first quarter of 2020 has come to a close. January showed the signs of an early spring, February a robust market and March experienced the initial impact of COVID-19. The statistics for real estate transactions in McLean and Great Falls have been tallied. The number of sales are up 22 percent year over year, with 241 total transactions in first quarter 2020 compared to 197 in 2019. The even better news is the market is considerably improved over 2010 which came in at only 169. That represents an increase in sales of 42.6 percent over the last decade. The improvement in the early months of 2020 in the market is likely due to several reasons.
The weather in January and February was more springlike than is typical for the Northern Virginia winter season. There was considerable pent up demand in many segments of McLean and Great Falls. The emergence of COVID-19 later in the quarter led to volatility in the stock market and many people sought the security of a home as a safe haven. Further many view real estate as a more stable investment.

In light of Governor Northam's Temporary Stay At Home Order effective March 30, 2020, many may wonder how this affects real estate activity in our market area. The good news is that the US Department of Homeland Security Cybersecurity and Infrastructure Security (CISA) updated the list of essential services during the coronavirus (COVID-19) crisis and expressly included residential real estate. Housing is a basic human need.
The real estate community continues to serve all of our clients in almost all capacities. As professionals we have responded quickly to the current market to provide the best and safest service to all of our clients. Agents continue to list houses for sale, show houses to buyers, write contracts and settle on transactions. With the powerful and nimble technology available to agents today in the real estate arena, many of these functions have moved to virtual platforms which includes virtual showings and open houses, Zoom meetings, eSigning, and online notary cam closings. And, when activities must be conducted in person, real estate professionals follow CDC guidelines to take necessary precautions for the safety of all parties, which includes maintaining a 6-foot distance from others, sanitizing surfaces and washing hands.

Many people have asked how the market is doing and I am pleased to say that 82 properties in McLean and Great Falls have gone Under Contract since March 1, 2020 and there are 408 in Active/Coming Soon status as of April 1, 2020. Even as we as a nation and world navigate the impact of COVID-19, people still are in situations where they have a need to move!

Karen Briscoe with HBC Group at Keller Williams is an active and experienced Realtor® in the Northern Virginia marketplace. Karen, alongside her business partner Lizzy Conroy and team, works with sellers, buyers, investors and builders in all price ranges. www.HBCGroupKW.com, 703-734-0192, Homes@HBCGroupKW.com.