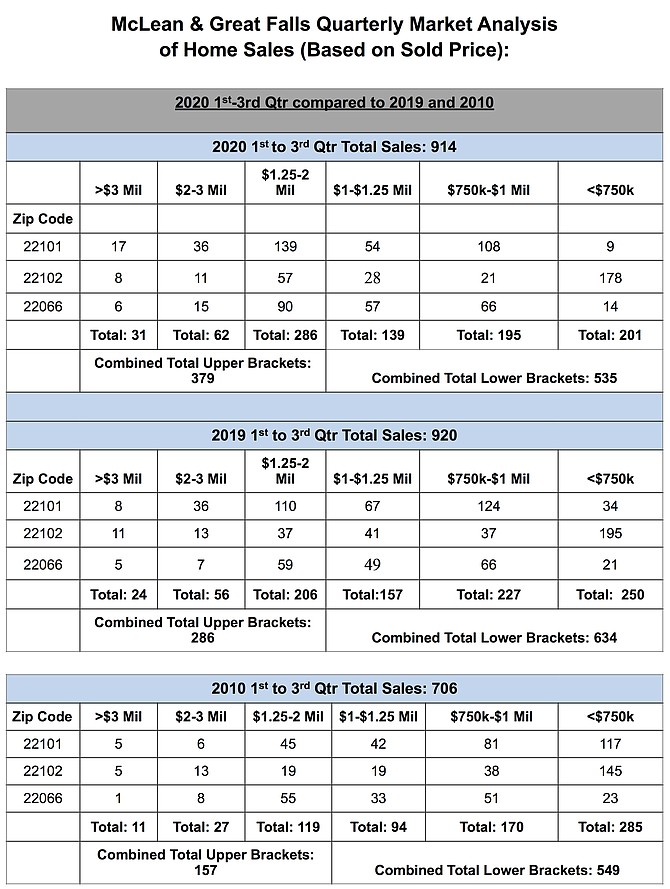 The first three quarters of 2020 have come to a close and the number of real estate transactions in McLean and Great Falls have been tallied. Year over year, sales are relatively similar in total count with 914 in 2020 compared to 920 in 2019. The even better news is the local real estate market has considerably improved over 2010, which came in at only 706. That represents an increase in sales of almost 30 percent over the last decade.
The first quarter was more springlike than is typical for the Northern Virginia winter season. There was a lot of pent-up buyer demand in many segments of McLean and Great Falls. The emergence of COVID-19 later in the quarter led to volatility in the stock market and many people sought the security of a home as a safe haven. The US Department of Homeland Security Cybersecurity and Infrastructure Security (CISA) recognizes housing as a basic human need and thus includes residential real estate activities in the list of essential services during the crisis.
Home for many now represents the place where people live, work, play, educate their children, as well as enjoy physical activity and entertainment. As our nation and world navigate the impact of COVID-19, people still find themselves in situations where they have a need to make a move!

In the local McLean and Great Falls area, the greatest impact for the first three quarters was in the upper brackets, priced over $1.25 million. In particular, the $1.25 million to $2 million price range realized the most significant gain with 286 sales in 2020 which represents a 39 percent increase over 2019 of 206 sales. The upper brackets most commonly include estate type properties which offer the advantages of more physical space for interior living as well as outdoor areas. Homes in good show condition and priced correctly for the market are in low supply. With strong demand and lower supply, many segments are experiencing price appreciation for the first time in over a decade. These market conditions are advantageous for Sellers considering a move.

The real estate community continues to serve customers and clients in almost all capacities. Industry professionals have responded quickly to provide the safest and most secure service to all. Agents continue to list houses for sale, show houses to buyers, write contracts and settle on transactions. Meeting the demand to use technology and go virtual, the real estate arena has shifted to offer Zoom meetings, eSigning, and online notary cam closings. When activities are best conducted in person, real estate and related professionals follow CDC guidelines to take necessary precautions for the safety of all parties.
Karen Briscoe with HBC Group at Keller Williams is an active and experienced Realtor® in the Northern Virginia marketplace. Karen, alongside her business partner Lizzy Conroy and team, works with sellers, buyers, investors and builders in all price ranges. We are available to assist with your real estate needs. https://www.hbcgroupkw.com/index.html, 703-734-0192, Homes@HBCGroupKW.com.