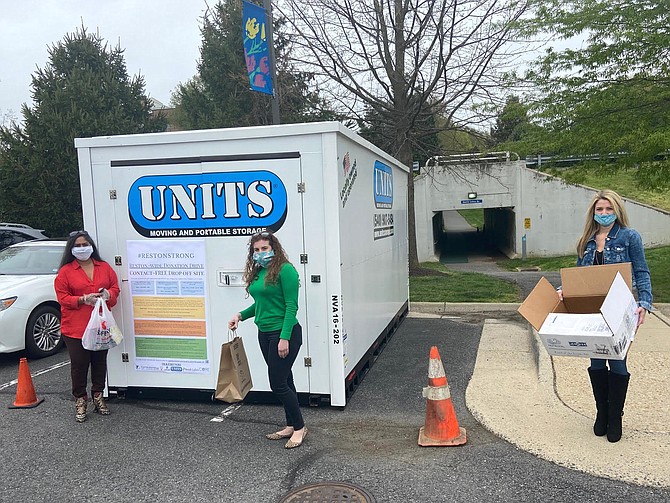 What started with a conversation by leaders on how to unite the community during COVID-19 has evolved into a grassroots movement: #restonSTRONG is a community action group collaboration bringing together charity partners, local businesses, the medical community, and the Greater Reston Chamber of Commerce to address the needs in the community during this pandemic and beyond.
In those conversations, it was apparent that many of local charities were tackling the same issues related to COVID-19. "Pooling our resources and collectively taking action as a team provides our best chances for collective success," says Taralyn Tharp Kohler, Executive Director of CORE Foundation. "In addition to creating a series of drop off points for multiple charities throughout Reston, a task force has been formed to leverage contacts and match resources with needs."

"No contact'' storage pods donated by UNITS have been placed in multiple locations in Reston, creating a donation infrastructure for various charities. The white pods with the blue UNITS logo can be found at the Lake Anne Village Center, South Lakes Village Shopping Center, North Point Village Shopping Center, and the Reston YMCA. Residents can participate by dropping off designated requested items benefiting Cornerstones, Reston Hospital Center, and Helping Hungry Kids of Northern Virginia, a CORE Cause. These items will be collected and disseminated to the organizations in need daily. Monetary tax-deductible donations to assist with the #restonSTRONG COVID-19 relief effort can be made through the CORE Foundation at www.corefoundation.org.
Pods by UNITS will be open daily for donation drop-offs as follows:

Cornerstones: 11484 Washington Plaza West: Monday - Friday 9 a.m. - 7 p.m.

North Point Village Shopping Center near Safeway: Wednesday - Sunday 9 a.m. - 7 p.m.

South Lakes Village Center near Chick-fil-A: Wednesday - Sunday 9 a.m. - 7 p.m.

YMCA of Reston: Monday, Wednesday and Thursday 10 a.m. - 5 p.m.
Items needed for Helping Hungry Kids include microwave popcorn, fruit cups in 100 percent juice, applesauce with no sugar added, granola bars, single serve packets of oatmeal, pop tarts, Chef Boyardee 7.5 oz single serve cups, ramen noodles, single serve mac and cheese, and pudding cups.


Cornerstones is in need of brown rice, cereal, oatmeal, peanut butter, jelly, wild rice, quinoa, canned vegetables and fruit, canned tuna, coffee, sugar, flour, spices, condiments, canola oil, olive oil, diapers, baby wipes, baby formula, toilet paper, deodorant, shampoo, tooth paste, laundry detergent, feminine pads.
Reston hospital's high-demand list includes n95 respirators, surgical masks, protective goggles, face shields, booties, gowns, wipes and disinfectants.
We are #restonSTRONG. For more information, visit corefoundation.org.