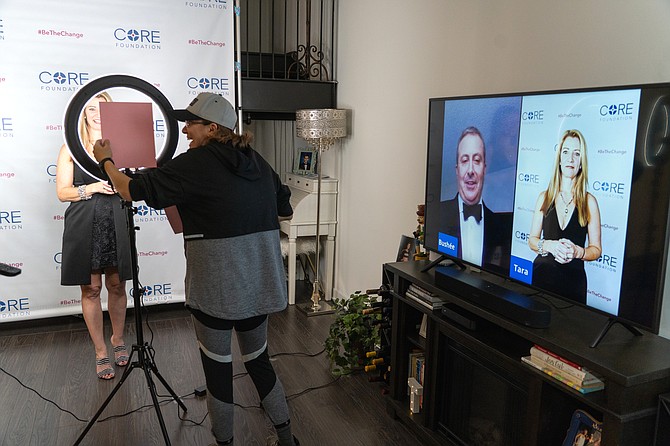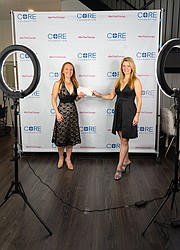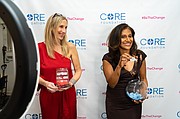 CORE Foundation in Reston, "Helping Others Be the Change for 15 Years," held its MASKerade and Community Hero Awards Saturday evening, Jan. 16. Celebrating the nonprofit organization's 15th anniversary, co-hosts Doug Bushée, founder and Chairman of the Board, and Taralyn Tharp Kohler, Executive Director, welcomed guests and honorees to the virtual event.
"The MASKerade gala serves to unite our community at a time when we can't be in person," said Bushée.
The celebration kicked off with ticketed guests picking up their swag bags and wine purchases late in the afternoon at Pinot's Palette, followed by a youth-targeted, hot chocolate and painting experience led by CORE Young leaders and pre-game entertainment. "Show Joe," a.k.a. Joseph Dagbe of Reston, emceed local musicians. The organization raised funds through the digital experience ticket that offered three hours of entertainment and access to the virtual photo booth, silent auction, and raffle.
But it was the CORE Gala Presentations that held the heart of the program. Its video stories presented the good work of community members who made a difference.
"We celebrate the tremendous efforts of our volunteers and share their amazing stories. Our hope is that their stories serve to inspire others to do good work in 2021," Bushée said.
Among the many honorees, CORE Foundation selected Restoration Church in Reston recipient of its Community Partner Award. Reverend Tim Ward, who serves as the pastor, said, "The partnership between Restoration Church and the Core Foundation has been a real gift, especially during the pandemic. CORE Foundation holds the same value as Restoration, to serve the needs in our community with the strongest partnerships possible. We were able to do immeasurably more because of the partnership."
According to Tharp Kohler, CORE Foundation reached more than 150 people that night, many sharing their screen with others yet uncounted. "The release of this event could not have been possible without the technical expertise of dedicated volunteers committed to delivering an engaging professional experience. To everyone who contributed to this herculean effort, on behalf of CORE Foundation, I say thank you," said Tharp Kohler.
2021 CORE Foundation Honorees
Desk Dream Team (E4E, D4D, Woodworking with a Purpose) CORE Cause Impact Award
USA Triathlon Foundation - Community Partner Award
John Schaller - Volunteer Award
Restoration Church - Community Partner Award
YMCA Fairfax County Reston - Community Impact Award
Allison McCue - Volunteer Award
Off the Charts Club - CORE Cause Rookie of the Year
Helping Hungry Kids - CORE Cause of the Year
Susie Livingood - Volunteer Award