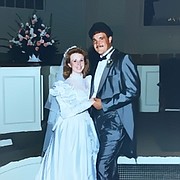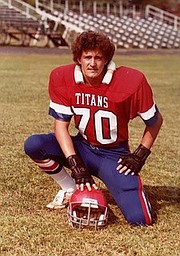 Like many Alexandrians, James Breeding was a frequent visitor to Al's Steakhouse in Del Ray. Opened in 1955, the iconic Mount Vernon Avenue restaurant became a family favorite for Breeding, who dreamed of one day owning Al's despite having no experience in the food industry. But Breeding made that dream a reality in 2016, keeping alive the tradition of serving the best Philly cheesesteaks in the region. On July 26, the lifelong Alexandrian died in Washington, D.C. from complications of diabetes. He was 52.
"All of Del Ray is saddened by Jim's passing," said "Mango" Mike Anderson, owner of several city restaurants, including three in Del Ray. "When [previous owner] John Severson passed away, everyone was excited that a local family and T.C. graduate would be taking over and keeping the business in the Alexandria family. They have done a great job of keeping the tradition of Al's alive. This is a great loss for the city."
James Vincent Breeding was born Jan. 23, 1968, in Alexandria, one of five siblings born to James D. and Myrtle E. Breeding. At six-foot, six-inches tall, he had a commanding presence and a standout career as defensive tackle for T.C. Williams High School, where he graduated in 1986. It was during his sophomore geometry class at T.C. when Breeding met his future wife, Dorothy Bradley.
With an interest in architecture, Breeding began studies at the Annandale campus of Northern Virginia Community College. He transitioned to a successful roofing and construction business that continued until he was broadsided in a 1992 car crash that left him out of work for two years.
In the mid-1990s, Breeding began building houses for D.R. Horton but eventually returned to roofing when he was offered a contract to construct the dome skin roof on the Presidential Hangar at Andrews Air Force Base. Over the next 21 years, Breeding Construction did significant work throughout the region, including roofs for the U.S. Naval Research Laboratory, Howard University, and large commercial projects in Pennsylvania.
But Breeding never forgot about Al's, always letting Severson know that he was interested in buying the restaurant when Severson was ready to sell. When Severson died in 2015, the Breeding family stepped in to keep the local favorite alive.
Breeding used his expertise in construction to give Al's a facelift and install new equipment. With much anticipation, the newly renovated restaurant opened July 6, 2016, only to suffer a catastrophic fire that closed the venue four hours later. It would be another year before the restaurant would reopen.
"That fire was devastating, not just to the Breeding family but to the entire community," said Anderson, who along with partner Bill Blackburn transformed the Holy Cow Burger restaurant into a "pop up" Al's Steakhouse to host a fundraiser to help the Breeding family rebuild. "Everyone was anxiously awaiting the reopening of Al's. But the Del Ray community really came together to do what it does best — support one another when times are tough."
Breeding is survived by his wife, Dorothy; four children, Amanda Owens and her husband Raheem, Emily Breeding, Tyler Breeding and Shannon Bartolac; and five grandchildren, A'Dyn, Brooklyn, Peyton, Skylar and Kloie. He is also survived by a sister, Terri L. Clark of Fort Washington, Md.; brothers Geary A. Breeding of Indian Rocks Beach, Fla., and Glen A. Breeding of Accokeek, Md.; as well as many nieces, nephews, cousins and friends. He was preceded in death by his parents James D. and Myrtle E. Breeding, stepmother Phyllis J. Breeding and brother Darrel L. Breeding.
A funeral service was held Aug. 1 at Del Ray Baptist Church followed by interment at Fort Lincoln Cemetery in Brentwood, Md. In lieu of flowers, donations may be made to the National Kidney Foundation, American Heart Foundation or the American Diabetes Association.