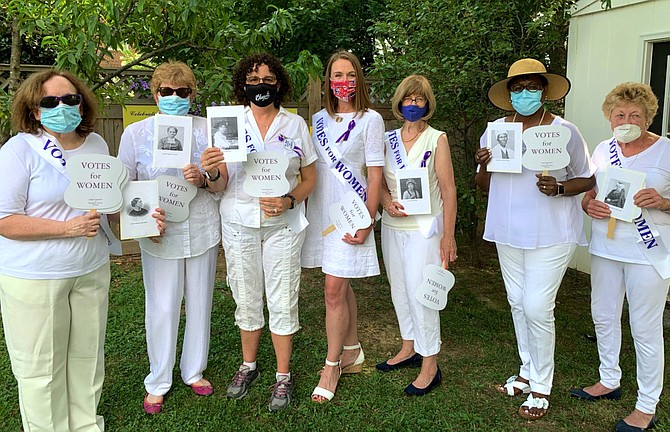 The Commonwealth Republican Women's Club (CRWC) met briefly – with masks and social distancing – to commemorate the 100th Anniversary of the ratification of the 19th Amendment granting women the right to vote in August of 1920.
Members and guests took turns reading biographical information while showing photographs of some of the well-known figures from the decades of leadership of the women's suffrage movement beginning in the early 1800's until the ratification in 1920. The program highlighted efforts at coordination and synergy between the abolitionist and suffragist movements, the turn-of-the-century black women's Republican Party clubs, the "Silent Sentinel" protests in Washington, D.C., and the "Night of Terror" in nearby Occoquan. The leaders highlighted included: Sojourner Truth, Harriett Tubman, Susan B. Anthony, Elizabeth Cady Stanton, Lucy Burns, and Alice Paul.
Special guest Wendy Gade, wife of the Republican nominee for U.S. Senate Daniel Gade, provided closing comments regarding the law's ratification in 1920.
Attendees wore white with "Votes for Women" sashes and purple, white, and gold ribbons in honor of the colors worn by the suffragists. CRWC President Linda App said, "We owe those women a debt of gratitude, and we all need to remember what a sacred duty it is to cast a vote. Voting today determines the path our community and our nation will take tomorrow. We must choose wisely."
CRWC is the Alexandria chapter of both the Virginia and the National Federation of Republican Women (VFRW and NFRW). More information is available at www.alexandriacrwc.org . NFRW has posted a special message on the important historical role of the Republican Party supporting the right of women to vote at https://www.nfrw.org/women-suffrage