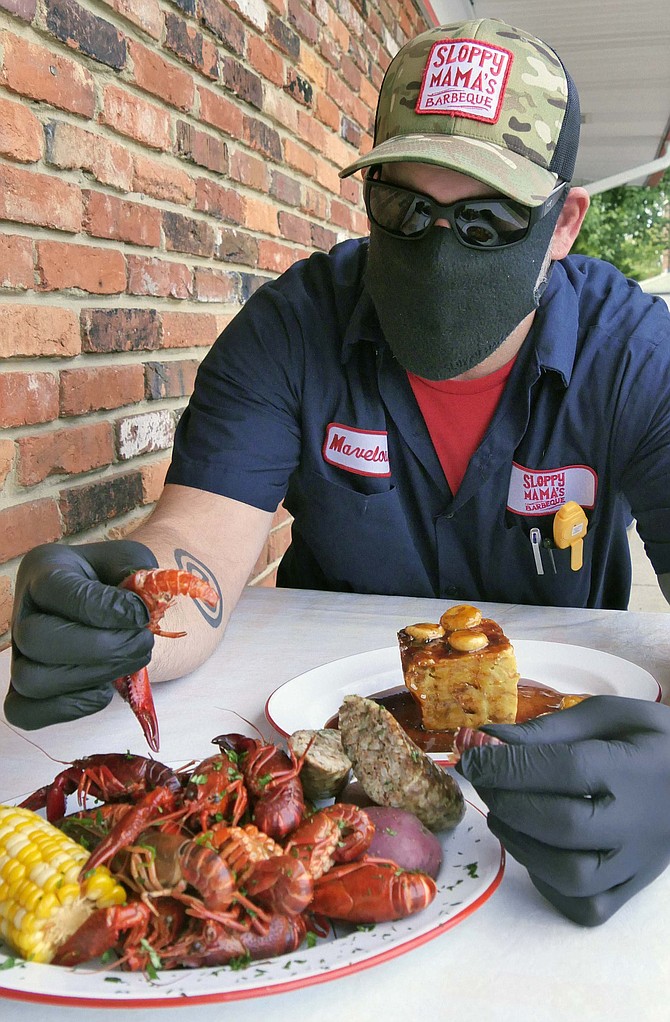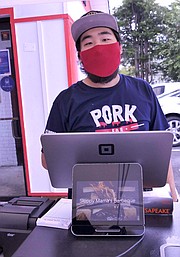 Joe "Hogmaster" Newman picks up a glistening pink crawfish from a pile of crawfish and snaps off the head. "Look at that. That crawfish came out. It means it is cooked perfectly." Newman is the owner of Sloppy Mama's Barbeque on Lee Highway.
Since the coronavirus closed down his indoor dining in March, Newman has become inventive by adding featured items to his regular barbeque menu which includes brisket, turkey and ribs, beans and coleslaw. His summer supper series each Thursday night during August features a different menu each time "and gives regular customers a change. And we like doing it because it is different and fun for us." Tonight is a crawfish boil and next Thursday is steak special followed by a crab feast. "We sold out with 38 of our crawfish suppers tonight."
Newman and his wife Mandy had been experimenting with barbecue since their wedding 11 years ago when they catered their own wedding with a pig pickin.' "We wanted good food and we didn't want to pay $55 a head." Then people started asking them to do a pick pickin' for them and it grew into a food stall at Union Market and Ballston and a local food truck in 2019. Finally they opened their own restaurant on Lee highway on July 4, 2019. And the pandemic hit.
"We closed our restaurant before everyone else. We thought our daughter was sick and by Saturday March 14 we all had the sniffles, and then by Monday her cough was worse. We couldn't find a place to get her tested and much was still unknown so we quarantined for 6 weeks." He said by closing they could figure out what to do. "You can't both operate and figure out what to do at the same time. We went into emergency mode."
He said they knew Federal assistance would be coming so they concentrated full time on what to do. "We were focused on being first in line. Our application was number 54,000 for the Economic Injury Disaster Loans of three million applications nationwide." He said although they also got a government Paycheck Protection Program loan, the way it worked out it helped the business just a little.
By the weekend of May 17 they felt they could reopen safely for curbside delivery. "We couldn't stay closed until the pandemic was over. There was no end in sight." They opened up with a limited menu in the height of the supply chain disruption. And the brisket, their most popular item, was priced sky high by the supplier.
Then on July 5, a year after their opening, the day was super hot, and there were power surges all day. They decided to close early at 5 p.m. because the electricity would turn off just as they would get everything going again. But at 4:58 p.m. they smelled smoke and called 911. The firemen arrived "with their thermal sensors out" but couldn't locate a fire despite the enveloping smoke. Turns out their HVAC had caught on fire on the roof. Sloppy Mama's shut down for a week.
Gradually they started to expand once they got going again. Neuman says they reached out to the community to ask, "what does the community need." The answer was family meal kits such as the most popular Number 2, with pulled pork, brisket, ribs, mac and cheese and beans for four. Just last week he added breakfast biscuits, which he hasn't advertised heavily yet. "We had to be sure we could standardize the biscuit making. We make all of our food from scratch — all the sauces, rubs and sides."
Newman says their restaurant revenue is currently down about 10 percent due to the pandemic but closure of their two food court stalls and catering has led to their overall business being down by 60 percent.
But he and Mandy continue to look forward. "We plan to open up outdoor dining once we have the permits and should have our full ABC license by then."
He says if he had to choose one item from the menu to eat himself it would probably be the brisket but "I eat here every day. Sometimes I want sausage and if I want to go lighter, I have the turkey." He says that growing up in southern Virginia, every family occasion called for a pig pickin.' Now they have one every day.