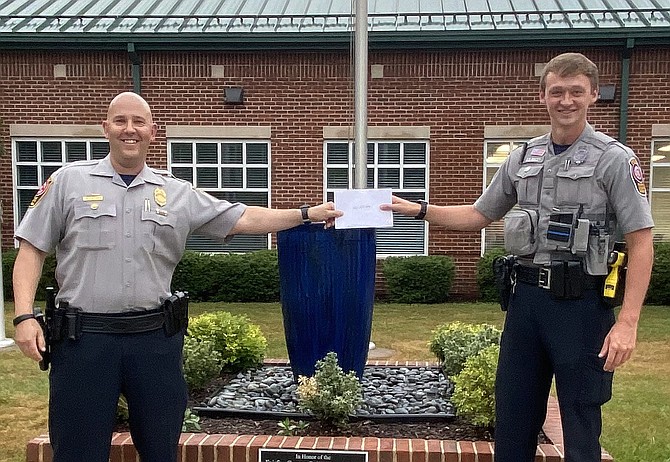 Officer Kyler Racey is the Sully District Police Station's Officer of the Quarter for the second quarter of 2020. He was honored during the July 14, online meeting of the station's Citizens Advisory Committee.
A member of the Midnight A Squad, he's been at the station for two years. Nominating him for this honor was 2nd Lt. Nick DiPippa, who described Racey as a "proactive, young officer." He also noted that, between April and June, there were several examples of "great police work where Racey showed his dedication to the community and the Fairfax County Police Department."
In April, he responded to Centreville High for an alarm going off at door 10. "A burglary suspect was seen inside by school security, but escaped prior to officers' arrival," wrote DiPippa. "Officer Racey met up with School Security and walked the area where the suspect was seen; however, nothing appeared to be taken."
THE FOLLOWING NIGHT, there was another alarm at the school. Racey was able to arrive quickly and went immediately toward door 10, suspecting it might be the same individual as the night before. As the officer was approaching the school, the suspect came jogging around the corner and Racey was able to quickly take him into custody.
"He interviewed the juvenile and determined that he'd used a lock-pick set to gain entry to Centreville on both nights," wrote DiPippa. "Then, working with School Security, he obtained video evidence of the suspect's path through the school." The juvenile was charged with unlawful entry and possession of burglary tools.

A second example was when Racey responded to a suspect who was reported to be in the middle of the road at Route 29 and Clifton Road and throwing objects at passing vehicles. Upon his arrival, the suspect threw something at Racey and struck his cruiser.

The officer tried to stop him, but the man ran down Route 29. Racey alerted the station that he was in foot pursuit and caught up to the suspect next to a gas station on Route 29. "The man squared off against him, took a fighting stance while refusing to show his hands, and subsequently made verbal statements that he was going to injure Officer Racey," wrote DiPippa.

Racey gave him commands and ordered the suspect to the ground. He immediately complied, and arriving units assisted with quickly placing the suspect into custody. He was charged with throwing a missile at an occupied vehicle, assault on a law enforcement officer and disorderly conduct. Wrote DiPippa: "Officer Racey's command presence and quick actions brought this encounter to a safe conclusion and prevented the man from injuring any motorists."
LASTLY, another example of Racey's motivation and calm demeanor entailed a suspicious-vehicle case at a local park. He noticed it while on routine patrol and investigated further. "Inside the car, he found a man involved in an earlier domestic-violence call, in which his wife was arrested," wrote DiPippa. "The man was in severe, emotional distress and made suicidal statements."
However, Racey was able to de-escalate the stressful situation by showing empathy to the man and listening to him. After some time, the officer was able to gain his cooperation and safely take him to Merrifield for mental evaluation.
Wrote DiPippa: "These are just some of the examples of Officer Racey's hard work and dedication to the community and Fairfax County, for which he's deserving of recognition as the Sully District Station Officer of the Quarter."