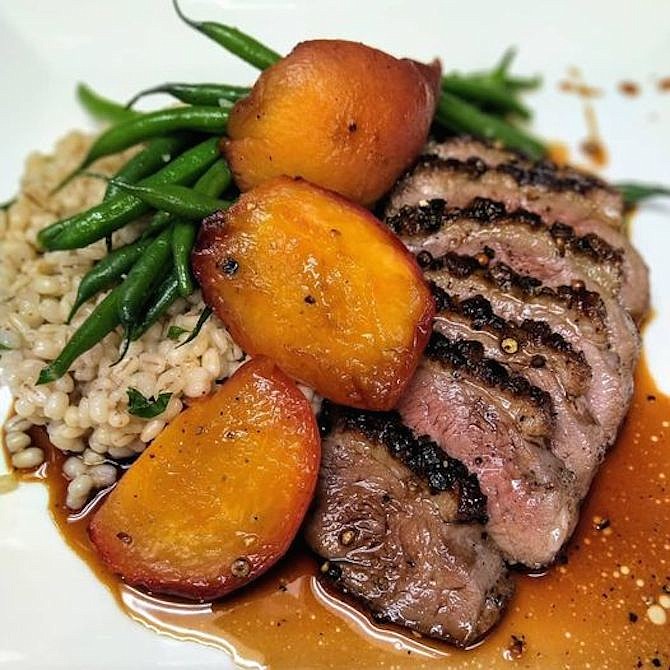 Some years, the thrill in the kitchen is gone. The holidays may be approaching, but the constant kitchen duties for families nationwide over the past half-year have begun to lose their luster. Not to worry! The city's restaurants have you covered with a home-cooked meal that requires very little home cooking. From classic Christmas dinner to extensive plant-based menus, here are a few best bets this holiday season.
Magnolia's on King, 703 King St.
The go-to place for Southern staples is offering up a multicourse feast with all the trimmings for the holiday season – and plant-based diners won't be left hungry in the process. From Dec. 16 through New Year's Day, Magnolia's is offering menus for two, four or six diners, featuring some of the season's best eats – with a Southern twist. Stuffed turkey roulade, honey-glazed ham, gumbo, devilled eggs, cornbread, mashed potatoes, collard greens, mac and cheese and more await omnivores. For vegetarians, Magnolia's has a special menu: Fried "chicken" and gravy, pan-seared "crab" cakes, Cajun black-eyed peas and rice, maple Brussels sprouts, barbecue "pork" and gouda cauliflower grits and more will send a thrill to the stomach. Each feast comes with wine and dessert – and, most likely, built-in leftovers. Limited availability; order at least 24 hours ahead. http://www.magnoliasonking.com/
Bastille, 606 N. Fayette St.
Festoon your holiday with a French flair and let Bastille do the cooking this year. The three-course prix fixe menu offers the likes of lobster bisque, salmon rillettes or winter salad to start, followed by beef tenderloin or Atlantic halibut as the main event, both with all the trimmings. Finish out the meal with a cheese trio or – of course! – a buche de Noel. Order by Dec. 20 for a Dec. 24 pickup. https://www.bastillerestaurant.com/
Ramparts, 1700 Fern St.
In terms of both timing and selection, Ramparts' holiday meal offerings are plentiful. From a classic turkey dinner to short ribs to risotto, the menu accommodates a plethora of tastes. For each three-course option, choose an appetizer and dessert to go alongside, and nosh on a bevy of side items that accompany the main course. Add on extras, such as focaccia or shrimp bisque, to round out the proceedings how you see fit, or pick up a kid's portion for younger diners. Order by Dec. 19; pick up Dec. 22, 23, 24, 31 or Jan. 1. https://www.rampartstavern.com/holidaytakeout
Northside 10, 10 E. Glebe Road.
Northside 10's menu is a family affair: The family-style offering feeds five to seven people with a classic holiday meal. With a centerpiece of Cajun fried turkey or spiral glazed ham, the menu is rounded out with mashed potatoes, gravy, cornbread stuffing, Brussels sprouts, green bean casserole, cranberry sauce and more. Order by Dec. 20. https://www.northside10.com/
Hope Nelson is the author of "Classic Restaurants of Alexandria" and owns the Kitchen Recessionista blog, located at www.kitchenrecessionista.com. Email her any time at hope@kitchenrecessionista.com.