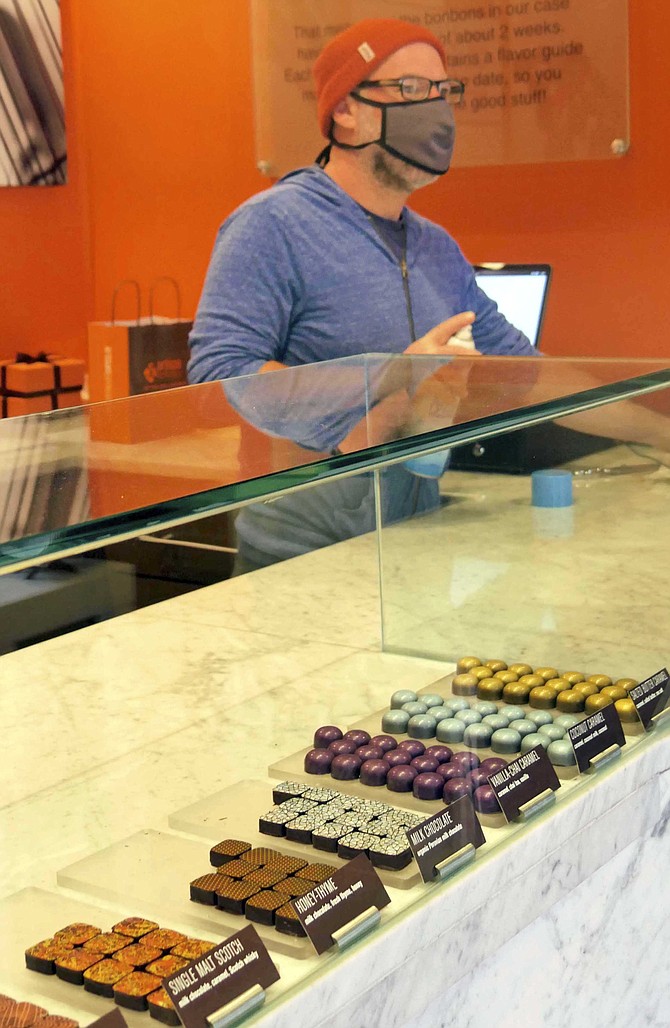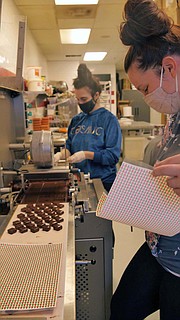 Jason Andelman has just spent all day packaging his hundreds of boxes of chocolates for shipping. Artisan Confections is now open three days a week for in-store pickup, but since the pandemic hit, the business has shifted from mostly in-store customers to mail orders. He says shipping is a lot more work. In-store, you can just hand the customer a box, but shipping requires putting the chocolates in a box, addressing the package, and usually there is a note.
Andelman started Artisan Confections on a shoestring back in 2005 and worked out of his parent's basement to save enough money to open his first shop on Lee Highway. Three years later, he moved to his current location in Clarendon, added a satellite store at Mosaic in 2012, and then in March 2020 COVID hit.
Andelman says they had struggled at the Mosaic location for many of the 8 years they were located there. "You know I was drinking the kool aid and thought I needed to expand." But it never really worked out at that location and business went down every year from the peak in 2014. The pandemic was just the icing on the cake.
Now, he says, the burden of Mosaic is gone. He says he has come full circle and is back to where he started. But he says he feels lucky and grateful to be able to get back to his roots.
"I live in Arlington, and your relationship with the community is important."
When the pandemic hit in March, he said, they closed Mosaic permanently. The Arlington store did whatever they could to sell chocolates through shipping or delivery "just to stay around." They kept making chocolates through Easter and then the shop closed down completely for the whole month of April — "no orders, nothing." Andelman was at home making food, doing puzzles and hiring someone to adapt the website for more online orders in the future.

"We didn't know if it would be fine in the summer which is not so busy anyway." He says, they just went one month at a time.
Andelman explained that they lost a lot of business from corporations who used to give out hundreds of boxes of chocolates to customers with their company logos as well as businesses who used to give out chocolates to coworkers. About 95 percent of their business is gifts purchased for someone else. Andelman says he won't know how much business has suffered due to COVID until the end of the year since they generally do 35 percent of their business for the year in December.
His own favorite of the current flavors is the caramelized dark chocolate ganache or maybe the cashew toffee. The all-time customer favorite remains the salted caramel. The chocolates are made in small batches with specialized ingredients such as the organic mint grown on a Maryland farm to the French Valrhona chocolate. Since the ingredients are fresh, the chocolates have a shelf life of just three weeks.
Although Artisan Confections won't have the normal large variety of special holiday selections this year, they will offer gift packages in different sizes with an assortment of their specially created flavors. Emily Aranda, the head chocolatier, is placing the pattern mat of Christmas trees on the chocolates which will cool for half an hour. When Aranda carefully peels back the mat, each gingerbread chocolate will have a tiny green tree design on the top.

"I used to do the flavor development myself but now I have Emily and her assistant, Rachel Green, who make the artful and flavorful confections." He says his job has shifted to running the business—paying the bills, fixing the sink, sending the packages and marketing.

Andelman says, "Although we're making less money, we're at the best place ever. The vibes are good, the quality is the best it's ever been and I'm more of a quality of life kind of guy. I think we can do alright going into the new year."