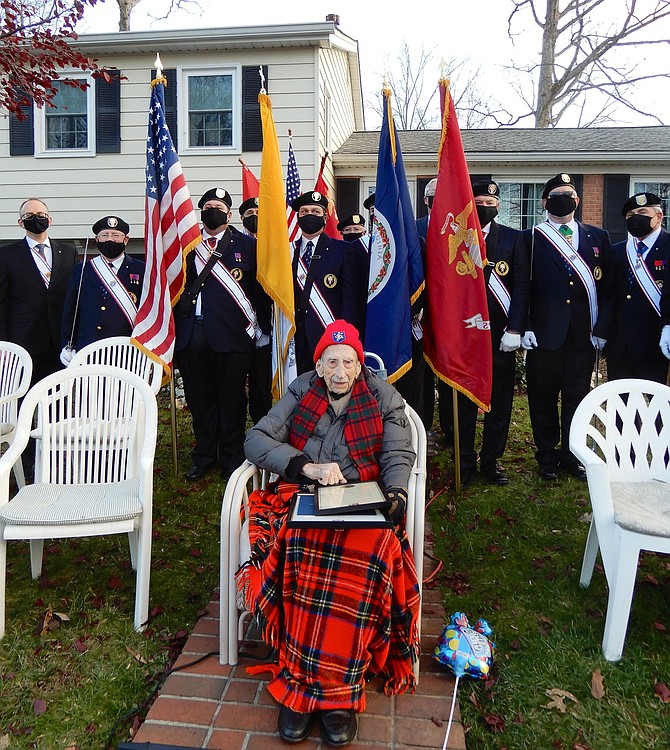 As the Knights of Columbus marched past his Fairfax City home last week, Marine Corps and WWII veteran Jim "Horse" Smith raised his arm and saluted. But in reality, everyone participating in the Dec. 7 parade was there to honor him for his 100th birthday.
Organized by Al Leightley of the Knights of Columbus, it traveled from Old Post Road to Colony Road, where Smith and his family have lived for the past 70 years. And it culminated with proclamations from the Virginia General Assembly and the City of Fairfax.
"Today is a fine example of what community is – that in the midst of a pandemic, we could all come together to honor him," said Fairfax Mayor David Meyer. Indeed, comprising the drive-by parade were many of Smith's friends in their cars, plus the City Police and Fire departments, the Knights of Columbus, American Legion Post 177 and a contingent of motorcyclists from Patriot Harley-Davidson.
And not even the cold, blustery day could dim anyone's enthusiasm. "We were more than happy to honor him," said motorcyclist Larry Larson.
Bundled up in a red-plaid blanket, Smith – who turned 100 on Dec. 6 – watched the parade from a lawn chair in his front yard, surrounded by wife Carole, other relatives and neighbors. And across the street, members of the Fairfax High band played the "Marines' Hymn" and "Main Street, America" among a medley of patriotic songs.
SMITH joined the Marines in 1939 and became a communications specialist. He and his section leader didn't get along, so Smith got the nickname, "Horse," because he wore a harness to pull a cart filled with his section's communications gear.
He volunteered for the famous USMC unit, "Edson's Raiders," in 1941. And the next year, "Edson's Raiders" deployed to the Solomon Islands, where Smith fought in two battles: Tulagi and Guadalcanal. He earned two Silver Stars for his bravery and commitment to his fellow Marines in each battle; and he was also awarded the Purple Heart for shrapnel wounds sustained during a Japanese grenade attack.
Following the war, Smith got married and took a job with Remington Rand. He settled in Fairfax City, living on Cedar Avenue for many years. He joined the CIA in 1952, serving in Taiwan, Manila, Hong Kong, Vietnam, Germany and England. Returning to the U.S. in 1960, he and his wife were now parents of five. They purchased the first house built in the Old Lee Hills community – where he and Carole still live.
Smith had assignments in both America and overseas, retiring from the CIA in London in 1989 as a Senior Executive Service Officer. He and his family then returned to their home on Colony Road in Fairfax.
After last week's parade, Meyer read a proclamation to him from the City, summarizing Smith's distinguished military and civilian careers. He also noted that one of his Silver Stars was pinned on by famed Admiral William Halsey.
Furthermore, said Meyer, "During his many years in our City, Jim and his family have been faithful members of St. Leo the Great Catholic Church, where Jim has been a devoted and beloved member of the Knights of Columbus. He was also a volunteer rugby referee, as well as a World Champion skeet shooter."
David Whitestone, the St. Leo pastor, told attendees, "I always thought, if I could hear the voice of God, it would sound like Jim." Then Del. David Bulova (D-37) and Sen. Chap Petersen (D-34) presented Smith with a proclamation from the General Assembly, recognizing him on his 100th birthday.
"Thank you for all you've done and for giving us the opportunity to celebrate you," said Petersen.
Micheal Thumm, of the Knights of Columbus, said how proud he was to honor Smith for his service to his country, the military, the Knights of Columbus and his church. "We're all better off because he protected our country," said Thumm.
Summing up the warm and heartfelt feelings of all those coming out to honor Smith, Meyer said, "We express our profound gratitude to Jim 'Horse' Smith, United States Marine, for his remarkable life of service to our nation and our community. And we extend to him our best wishes on his centennial birthday."
Afterward, Smith said the whole event came as a "huge surprise" to him. "I had no idea," he said. "It was fantastic – it blew my mind. There are some wonderful people in this world." And he credited his longevity simply to "clean living."
REFLECTING on his time as one of Edson's Raiders, he said, "The Raiders formed at Quantico; they sent the youngest, unmarried Marines to be part of it. It was a wonderful battalion – the best fighting unit I was ever in, with super people."
When he and his family moved to Colony Road, said Smith, "There was no road here then. But we liked it because Fairfax was far enough away from Washington, D.C.'s crowds, yet it was a nice neighborhood. My house was still being built when I bought it."

The grandfather of five then added, "I never thought I'd see age 100. Actually, I was lucky to make it to 21."
Smith has recorded two videos of his WWII experiences. One is on display in the Marine Corps Museum in Quantico, and the other is displayed at the WWII Memorial in New Orleans. He also represented the USMC at the 2000 groundbreaking ceremony for the WW II Memorial in Washington, D.C. For more information about him, go to https://www.ww2online.org/view/james-horse-collar-smith.