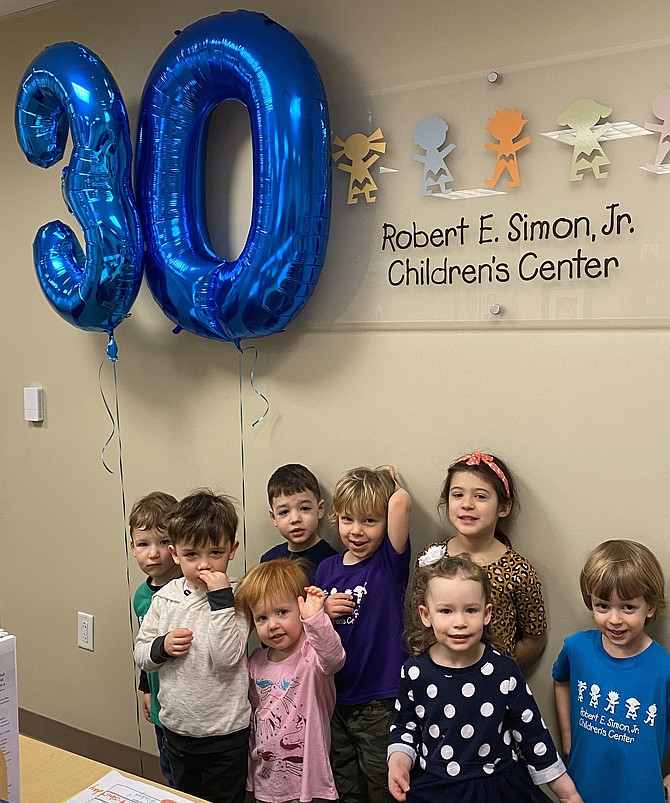 The Robert E. Simon, Jr. Children's Center announced its 30th anniversary this month, after opening in January 1990 as part of the Reston Area Child Care Consortium, composed of employers, community residents, parents, educators and varied professionals concerned about the childcare needs in the community. Located for 25 years on Cameron Glen Drive, Reston, in 2015, it relocated to 12005 Sunrise Valley Drive, Suite 120. "The Simon Center is proud to have served families for three decades," said Director Jen Peters. "My favorite thing about the Robert E. Simon Jr. Children's Center is the family atmosphere. We are a small community within the bigger Reston community. The Center is named after the founder of Reston and his idea of a community of learners – old, young and everyone in between. This is something we keep alive in our Center today," she said.
The Center provides full-time childcare to children ages 3 months to 5 years. "This is the first big anniversary that Mr. Simon has not been around to celebrate, but I believe he would be pleased with how much we have accomplished in his name," said Leila M. Kaszubinski, Assistant Director at the school. Northern Virginia Magazine named the Simon Center to its 2019 list of Best Day Cares and Preschools. Del. Ken Plum (D-36) said, "Preparing young children for a strong start to their education must be a priority for communities everywhere, and we should be proud that a partner like the Simon Center is a part of ours."
While a larger gathering is in the works for Founder's Day, April 18, 2020, staff marked the milestone anniversary month with a group photo of some of the currently enrolled children beside two Mylar balloons creating the numeral 30. Emily Riordan of Reston serves on the Board of Directors for the Robert E. Simon Jr. Children's Center and brought the balloons. Her children, Will, 4, and Ella, 1, attend the school. "The Simon Center has been a big part of what we love about living in Reston and has become like an extension of our family," said Riordan. "You can tell the staff is as proud as the parents with every new thing the kids learn and do. Finding childcare is stressful, and we're so glad to have found a place that not only supports our kids with a safe and caring environment but welcomes the entire family to be a part of the community," she said.
Kaszubinski has worked at the Simon Center for over 20 years. During that time, she said it had been her pleasure and privilege to provide local communities with quality care for so many young children who have come through its doors. "As a teacher and now as the Assistant Director, I am proud of the Simon Center for continuing to support each child with developmentally appropriate activities to foster their growth…Congratulations to the parents and staff, past and present, for 30 years of quality care," she said.
The Simon Center is licensed by the state of Virginia and accredited by the National Association for the Education of Young Children (NAEYC) since August 2000.