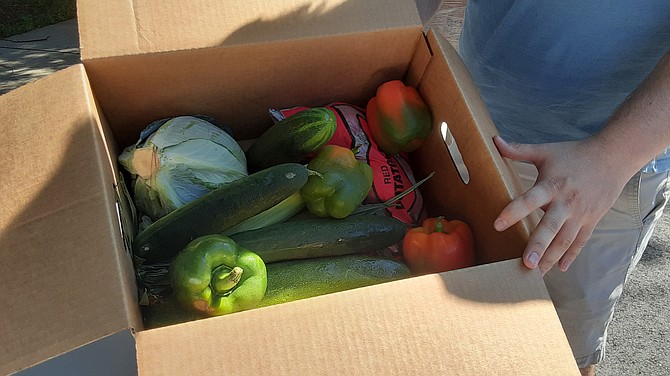 When the pandemic hit last year, it took a heavy toll on some of the residents along Richmond Highway that worked in the service industry businesses that were closed. Paychecks were drying up, so Supervisor Rodney Lusk (D-Lee) launched a food distribution early on with help from
several area businesses, and he continues the program twice a month.
Now they're using community leaders to act as the middle man so there are no long lines winding out of the Gerry Hyland Government Center parking lot anymore.
"We've asked the community leaders throughout the area to distribute the food," said Deborah Claire, Director of Equity and Outreach in Lusk's office.
In May 2020, this distribution began and for a year, the lines of cars getting loaded up wound out of the various parking lots they used. In Franconia, cars backed up to the travel lanes, causing a traffic jam. Lusk updated his distribution In May 2021, so they now reach out to community leaders to come and get the food, and they distribute it back at the various apartment and mobile home communities.
Businesses in the community made it happen too. The Fastran buses provided transportation, as did the United Community organization, and the Capital Area Food Bank stepped up with food. DeLune Corporation in Lee District helped out with the food, and the bread was from the local Knights of Columbus. Last year, there were similar events at Journey Church of Franconia Road too.
"It's amazing how this came together," Claire added.
The Fairfax County Community Emergency Response Team (CERT) participated as well. "They've been extremely helpful," said Aaron Campbell, the Transportation and Constituent Services Manager in the Lee District office.
Loaves of bread were given away along with boxes of vegetables. One per household, unless there were more people than five in the house, and then they got another loaf and box for the additional people.
The food distribution is now twice a month, and Lusk's office puts out the word through various means. "It's one of the most fulfilling things I've done as part of this job," said Campbell.
The next food distribution day is Oct. 7.