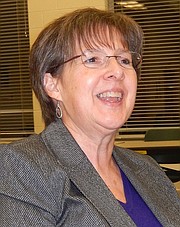 What's happening in the Sully District, land-use cases and COVID-19's effects on Fairfax County's budget were discussed during Supervisor Kathy Smith's (D-Sully) "State of Sully" talk. She spoke last Wednesday, June 24, during an online meeting of the Sully District Council of Citizens Associations.
"The pandemic has really changed everything," she said. "The unknown is really hard."
Before this global virus took a wrecking ball to the county's proposed budget, said Smith, "We were going to add money to the schools, affordable housing and employee compensation. We were also adding $25 million for more locations for preschool education and were expanding library hours."
"Then COVID-19 hit, and we're still seeing the effect it'll have on the economy," she continued. "We also planned to purchase [more] police, body-worn cameras. But staff is seeing if we can fund them with money we already have."
In these difficult times, said Smith, "The Board's focus has been on what can we do to help small businesses and people who've lost their jobs. And I'm so proud of the way our nonprofits have helped everyone. In the Sully District, Western Fairfax Christian Ministries [WFCM] has done a yeoman's job helping people, not just with food, but also with rent and electric bills."
Noting that the Board of Supervisors created a $25 million grant program for small businesses, she said it's received "a lot of interest. Some 87 percent of Fairfax County businesses are small businesses, so it's critical that we help them. In addition, we provided $20 million to community nonprofits."
On June 23, said Smith, the Board approved the bond-referendum items that county residents will vote on during the Nov. 3 election. Proposed are $160 million for transportation; $112 million, parks and park facilities; $90 million, libraries; and $79 million, community health and human services.
REGARDING THE SULLY DISTRICT, she said construction has begun on the new Sully District Community Center being built on 5 acres off Air and Space Museum Parkway in Chantilly. The facility will also contain a health clinic and a women's, infants' and children's center.
Smith acknowledged, as well, the many construction projects currently underway in Centreville, plus the progress being made on the Poplar Tree Bridge. Then came the touchy subject of land use – especially residential projects being considered for construction in Chantilly, directly under the flightpaths of departing and arriving flights at Dulles International Airport.
Many local residents and the land-use groups representing them have decried the Board's continuing to hear and act upon land-use cases during the pandemic, when it's more difficult for citizens to comment on them. But, said Smith, "The Board and I feel we have a responsibility – for our county's economic viability – to keep moving forward."
Against the advice of the Metropolitan Washington Airports Authority (MWAA) and two local land-use groups, the Supervisors recently approved construction of Elm Street Communities in the Westfields area of Chantilly. At the June 24 meeting, Smith said, "I'm happy the Board approved Elm Street because it will bring some much-needed, affordable housing."
However, it will also bring a tremendous amount of noise to anyone moving there because the 157 homes will all be built directly under an airport flightpath. Aircraft arrivals there are generally 30-60 seconds apart, and the flightpath is just 1,300 feet above this site.
The Board decided based on the airport's noise-contour map from 1993, even though it's known since last November that this map was updated in 2019 – and that airport use has intensified in the past 27 years.
The county's own Comprehensive Plan states that, as new noise-contours information becomes available, it should be included in that plan to more accurately reflect the most current and appropriate "delineation of the Dulles Airport Noise Impact Area to which land-use compatibility policies will be applied."
Yet the Supervisors have continued deciding land-use cases in the airport-noise area without including the updated noise-contour information in the Comprehensive Plan. And soon, they'll consider another residential development, Stonebrook, that'll be affected even more by the noise.
That's because jets there will fly just 950 feet above the houses. And all these homes are within the FAA's 65 DNL noise contour – meaning a day/night average decibel noise level of 65 decibels and above.
THE BOARD will also decide on another nearby application, Boulevards at Westfields, which seeks to provide homes for 442 families/individuals in an area between the 60-65 DNL noise contours.
Noting that Smith chairs the Board's Land Use Policy Committee, Sully Council member Sheila Dunheimer asked her last week why there's been "absolutely no sense of urgency" by that committee to adopt the updated contours – even though, in May 2019, Smith made a motion asking the Board to pursue doing so.
"Here we are now, 13 months later," said Dunheimer. "And the Land Use Policy Committee had no plans for this to be an agenda item until later this fall."
Smith replied it's been "a matter of scheduling" the meeting and that the Supervisors will discuss this issue during their July 21 work session. Yet Dunheimer countered that the Board only put it on its agenda "after concerned citizens started asking questions."
Furthermore, said Sully Council member Jay Johnston, "It seems the horse is already out of the barn, with three cases already being considered, [even though] two land-use committees took [opposing] positions."
But, said Smith, "We have a responsibility to do due diligence and also be concerned about the county's economic development – and not the airport, alone."
Sully Council 1st Vice President Jeff Parnes explained, "We felt that townhouses with backyards weren't the way to go because the residents won't be able to use their yards with a constant stream of noise overhead."
Smith said she considers each case individually and that the noise-level goal is for less than 65 DNL inside people's homes. But, said resident Michael Mann, "The noise-monitoring station off Willard Road [in Chantilly] is currently hitting 80 DNL as planes fly overhead. How loud is too loud for a community?"
Afterward, Dunheimer said Smith's "delay tactics will needlessly allow new residential housing to be built in inappropriate locations, intentionally exposing thousands of citizens to harmful noise levels. Who's really benefiting here? Certainly not the citizens."