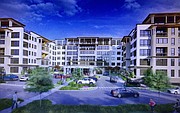 Determined to place homes underneath Dulles International Airport's flight paths, Fairfax County's Board of Supervisors recently approved developer K. Hovnanian's plan to build 442 residential units there. Called Boulevards at Westfields, it converts 23 acres in Chantilly's Land Unit J from industrial use to high-density residential – over the objections of land-use and environmental groups alike.
"We're excited to move forward with this project," said Hovnanian's representative, attorney David Gill. "It's one of the first that offers a mix of home types, all on one site."
Planned are 120 two-over-two townhouses, 67 regular townhomes and a 135-unit multifamily apartment building. The multifamily building will have underground parking, community gardens, a clubhouse and a pool on the rooftop.
Boulevards also touts its park space, with areas for games and grilling, a playground, plus a gathering space. And there'll be a crosswalk from Park Meadow Drive across to the trail system and Wegmans grocery store.
Nonetheless, the controversy at the heart of this project still exists – the fact that it's in an area the Metropolitan Washington Airports Authority (MWAA) says should be off-limits for residential neighborhoods. That's because noisy, jumbo jets will fly overhead, 24 hours/day, coming in for landings every 6-9 minutes.
IN 2019, MWAA updated its noise-contour map delineating aircraft-noise decibel levels (dba) in Westfields. But the Board of Supervisors – contrary to guidance in the county's own Comprehensive Plan, advising any new, noise-contour information be included in it – chooses to deny the new map's existence. Doing so allows it to let developers build there based on MWAA's outdated map from 1993.
As a result, Gill claims Boulevards is between the 60-65 dba noise contours and notes that potential buyers will be told about their homes' proximity to the airport and that planes will be flying overhead. But according to MWAA, that still doesn't change the reality that almost all of this project is actually in the 65 dba contour.
During the Supervisors' Sept. 29 public hearing, residents called in to voice their objections. "New residential uses in an inappropriate location could jeopardize the operation of the airport," said Sully District Council's Jeff Parnes. "Therefore, we oppose approval of this case. It's inconsistent with Fairfax County noise and environmental protections"
He said the joint Sully District Council/West Fairfax County Citizens Assn. Land-Use Committee also opposes further approval of residential projects "using obsolete noise contour" from 27 years ago. So, said Parnes, "We ask you not to approve this, for the future health and safety of the residents who might be forced to live under this sound."

Resident Tammi Patrine had some harsh words for Supervisor Kathy Smith (D-Sully) – who's steadfastly refused to allow the county to adopt MWAA's updated noise contours and consistently sided with developers. "Voters and leaders all over the county are aware of Smith's efforts to undo the county's sacred, 40-year rule of keeping housing away from the forbidden zones around Dulles," said Petrine. "The airport is a huge economic driver in our region, affecting billions of dollars in commerce and sustaining hundreds of thousands of jobs."
She also called out Board of Supervisors Chairman Jeff McKay. "We're aware that our system is broken when bad plans like this get so far," said Petrine. "During this pandemic, McKay allows controversial, non-emergency applications to proceed with haste," Instead, she urged the Board, "Please stop our pandemic of unvetted, unwise, wholesale development sweeping Fairfax County."
Sully District Council's Sheila Dunheimer also asked the Board to deny Boulevards. She stressed that the long-range timeline MWAA used in developing its newest noise contours – based on full buildout of the airport – is exactly the same as it used to develop its 1993 contours. And, she added, "MWAA didn't select this timeline – it was originally established by Fairfax County, Loudoun County and the Town of Herndon so they'd have accurate mapping to use for fact-based, land-use planning."
She said the planning timeframes Fairfax County used for other projects have ranged from 40-60 years, so it's "unrealistic to force a 5-20-year planning timeframe onto Dulles Airport" – which will actually be expanding its operations.
"Short-term timeframes don't align with a recent investment of $50 million from the business community, airlines, MWAA and the commonwealth to make Dulles a more competitive airport," said Dunheimer. "Nor do they align with an operation that's part of a two-airport, regional system contributing almost $4 billion in economic output and almost 35,000 jobs to Fairfax County."
"Other large, hub airports are focused on studies to help them with already existing – as well as projected – surrounding housing in need of mitigation," she continued. "They wish they could turn back time by actually preventing new, residential, land use from occurring in the first place – as Fairfax [previously] had the foresight to do."
Furthermore, said Dunheimer, "As the number of flights increases every year, the flight paths above the Boulevards "will become more congested – and with less quiet time between flights, residents' overall exposure to these higher noise levels will only continue to rise."
Also concerned that the updated contours are being disregarded, resident Amy Gould wondered, "How will MWAA be able to negotiate with the county in the future, if Fairfax ignores them now? Scientific data and voices of opposition have been ignored; this process is being streamlined for the benefit of the developer."
"For us to not be using the updated plan is wrong."
—Supervisor Walter Alcorn (D-Hunter Mill)
SUPERVISOR WALTER ALCORN (D-Hunter Mill) asked if Boulevards was within a noise contour, and county staff member Kelly Atkinson said, "Per MWAA's 2019 map, it's in the 60-65 contour." Smith then moved for approval.
She's pleased the project includes 24 workforce housing units for those earning 80 percent of the area median income, plus 14 affordable dwelling units for lower-income residents. "Business parks were dying, and a mix of housing plus open space will help," explained Smith. "We'll be building a community in the Westfields Business Park."
Still, said Alcorn, "My biggest concern is that we're not working with the Airports Authority. And for us to not be using the updated plan is wrong – and may come back to bite us." But because the county hasn't included the new contours in its Comprehensive Plan, he voted yes.
Supervisor Pat Herrity (R-Springfield) called the whole thing "a sin and a shame" and then abstained from voting. Supervisor John Foust (D-Dranesville) said, "It won't hurt the airport. But it'll hurt the county, from an economic-development and housing standpoint, if we don't do it." Ultimately, the Board approved it.